Southwest Region Airports Division
The Southwest Region Airports Division oversees airport development, certification, and safety for the following states.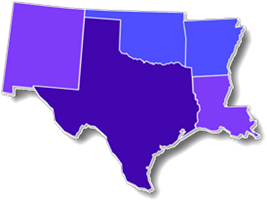 Arkansas
Louisiana
New Mexico
Oklahoma
Texas
Our office hours are 8:00 AM to 4:30 PM Central Time.
Our Location
Federal Aviation Administration
Office of Airports (ASW-600)
10101 Hillwood Parkway
Fort Worth, TX 76177
If possible, please send written correspondence via email.
See Our Contact Information section below.
Our Mission
The mission of the FAA is to provide the safest, most efficient aerospace system in the world.
The role of the FAA Airports organization in meeting this goal is to provide leadership in planning and developing a safe and efficient national airport system to satisfy the needs of aviation interests of the United States. The FAA Airports organization accomplishes this task with due consideration for economics, environmental compatibility, local proprietary rights and the safeguarding of the public investment.
Our Responsibilities
The Airports organization provides leadership and support to the aviation community for purposes of planning, developing, and maintaining a safe and efficient system of airports. We provide technical and advisory guidance in the following areas:
Airport planning and development
Environmental reviews of airport improvement projects and noise compatibility
Airport inspections to assure the safety of operations at Part 139 certificated airports
Administration and oversight of the Airport Improvement Program (AIP)
Administration and oversight of Federal Airport Grant Programs including the Bipartisan Infrastructure Law (BIL) and Covid Relief Grant Programs
Administration and oversight of the Passenger Facility Charge (PFC) program
Protection of the Public's interest and investment by ensuring Sponsor compliance with Federal obligations
Protection of airspace on and immediately adjacent to an airport
Safety Risk Management
Our Contact Information
Airport Improvement Program (AIP)
BIL - Bipartisan Infrastructure Law
Popular Information
Last updated: Wednesday, September 20, 2023