William J. Hughes Technical Center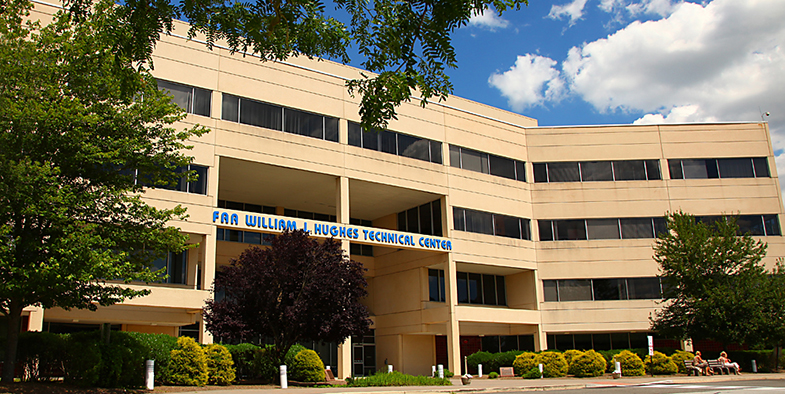 As the FAA's scientific research, development and test base, our engineers and scientists, along with our partners from the aviation industry, academia, other government agencies and international air navigation service providers, support NAS advancement through research, development, testing, evaluation and integration of systems and capabilities. The key to our continued success relies upon the expertise and passion of our diverse workforce of approximately 4,500 aviation professionals.
The Technical Center is located 10 miles northwest of Atlantic City and covers more than 5,000 acres. Our approximately 250 buildings of various sizes house 500,000 square feet of laboratory space containing unique, specialized laboratories engaged in research, development, testing, and evaluation.
The Technical Center started in 1958 as the National Aviation Facilities Experimental Center (NAFEC) in the former Naval Air Station, in Atlantic City, New Jersey. The Navy conducted significant research on jet engines, night fighter operations, and countermeasure aircraft. In 1980, the FAA changed the name from NAFEC to the FAA Technical Center. It was renamed in 1996 in honor of Ambassador William J. Hughes, a former member of Congress and long-time ardent supporter of the Technical Center.
There is a long history of high-technology laboratories in New Jersey. People like Alexander Graham-Bell, Thomas Edison, and David Sarnoff invented the very concept of industrial laboratories in New Jersey.
The FAA Technical Center continues this history by being the only national laboratory of its type in the United States. What makes it unique is the laboratories themselves. We lead National Airspace System (NAS) research, development, test, and evaluation because of our laboratories. Every fundamental improvement in the NAS, from 1958 to the present, has been developed or tested here.
We test capabilities and systems in our labs and use them to sustain the air traffic management system through system upgrades and improvements. Most of the Technical Center work requires a laboratory that simulates operational capabilities in the NAS. Our technical staff performs careful and thorough verification and validation activities to ensure changes to the system are operationally suitable and safe before they are deployed.
In short, we build the future while keeping the NAS up and running.
Director
Shelley Yak
Deputy Director
Eric Neiderman
Chief of Staff
Beth Burkett-Rice
Additional Information
Last updated: Monday, January 9, 2023