Verification and Validation
A key objective of the William J. Hughes Technical Center (WJHTC) is to develop, maintain, and improve Verification and Validation (V&V) related standards and processes. The Test Standards Board (TSB) conducts independent assessments of Test and Evaluation (T&E) work products and provides crosscutting Subject Matter Expert (SME) support for T&E services. To provide centralized V&V support to the Federal Aviation Administration (FAA), the WJHTC collaborates with internal FAA organizations and external partners to develop and implement V&V policies, processes, methods, and tools.
The Annual V&V Summit is conducted to provide the means to transform government and industry's culture, address future challenges, and promote innovative thinking. The WJHTC assesses and documents challenges and proposed strategies improving the FAA's ability to implement enterprise needs and capabilities. The WJHTC also provides animated Storyboarding capabilities relating to V&V National Airspace System (NAS) concepts, requirements, systems, and services.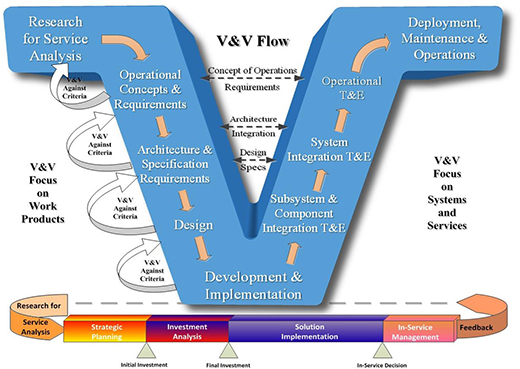 The TSB provides independent quality T&E oversight, assessment, and SME guidance with a focus on the following outcomes:
Consistent quality T&E products
Sound technical T&E strategies and methods
Defined and documented risks relating to the quality of test services and the program
The role of the TSB is to develop and institutionalize T&E best practices and support the technical integrity of testing. The TSB maintains and improves standards and methods for quality T&E services. This helps ensure effective process conformance and is charted to continuously improve FAA T&E methods. The TSB also supports T&E training and credentialing.
Centralized V&V Support
The Centralized V&V Support team establishes and maintains common V&V practices and standards across the Acquisition Management System (AMS) life cycle. In addition, the V&V team collaborates with FAA stakeholders to improve FAA acquisition planning and requirements, and provides increased knowledge-based decision-making via structured quality oversight of System Engineering (SE) acquisition work products. The team provides V&V SME support to the Acquisition Executive Board (AEB) and is the T&E stakeholder on the Joint Resources Council (JRC) in support of AMS decision points. The team provides T&E core member support to the Acquisition System Advisory Group (ASAG) for FAA policies and guidelines as well as reporting on methods and strategies for testing and implementing NAS capabilities.
NAS Animated Storyboard
The NAS Animated Storyboard team provides structured development of NAS storyboards depicting events, data, and functional flow animations. These NAS storyboards feature animations that demonstrate how various programs or capabilities within the Next Generation Air Transportation System (NextGen) NAS operate. For more information, visit the NAS Animated Storyboard website.
Initiatives
Develop and maintain V&V and T&E policy, standards, and guidelines for implementing operational improvements and enhancements across FAA domains and services
Provide independent quality T&E oversight and SME support for FAA programs

Provide TSB Endorsement Position Papers for FAA programs
Deliver monthly TSB T&E Services Status Reports
Provide annual T&E Services Performance Reports

Provide centralized V&V support

Review and approval support for FAA investment decision points
AMS policy and guidelines revisions and reviews as ASAG core member
T&E stakeholder and V&V SME support for FAA JRC and AEB

Provide animated storyboard capabilities, tools, and methods for FAA programs
Document NAS Capabilities Test Strategies
Host annual V&V summits
Standards and Reference Documents
FAA Acquisition Management System (AMS) V&V Guidelines
This document provides general guidance in the application of V&V policies across the FAA AMS life cycle. The Guidelines define terminology, illustrate how to accomplish V&V, and describe its application in each phase of the AMS life cycle. Its purpose is also to provide for continual improvement of the V&V processes themselves.
Test and Evaluation Process Guidelines
The T&E Process Guidelines document provides guidance for organizations executing the T&E Policy incorporated in the FAA AMS and AMS V&V Guidelines. The guidelines in this document define key T&E elements that should be incorporated into T&E processes that are developed and maintained by program offices and in-service organizations to determine their ability to satisfy FAA needs throughout the AMS life cycle.
Test and Evaluation Handbook
The T&E Handbook provides standard processes for conducting high-quality and consistent T&E that fulfills the mission of V&V.
Last updated: Tuesday, April 11, 2023