William J. Hughes Technical Center
Supporting the Mission
The FAA William J. Hughes Technical Center in Atlantic City, New Jersey, is the nation's premier federal aviation laboratory for advancing the United States National Airspace System (NAS) and sustaining its continued safe and efficient operations.
The Center's partners and highly diverse, technical workforce use a vast array of state-of-the-art laboratories to enable research, engineering, development, test, and evaluation of advanced aviation technologies. These combined assets deliver capabilities that modernize and sustain the nation's airspace system while simultaneously making it the safest, most efficient aviation system in the world.
Organizationally, the Technical Center Directorate (ANG-E) reports to the NextGen (ANG) organization. The director of the Technical Center oversees and leads a campus comprised of approximately 3,000 civil servant and contract scientists, researchers, engineers, and support staff who engage with stakeholders to research, design, develop, test, and implement innovative improvements to the aviation system.
Collaboration is essential to the work performed at the Technical Center and key to attaining its five focus areas:
cultivating a qualified aviation workforce of the future,
advancing aviation technology,
communicating, building and sharing TC capabilities through outreach,
partnering with industry, academia and other government agencies, and
advancing the core work of the Center.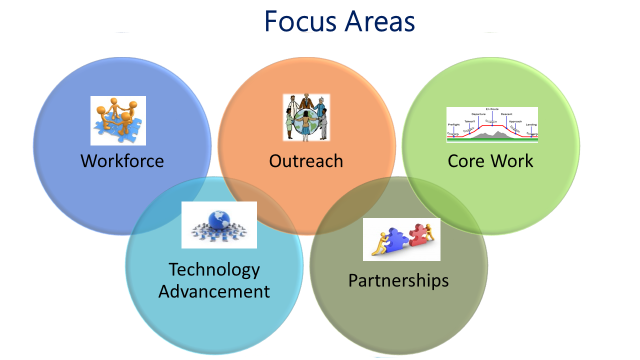 Core Work
Enables FAA to effectively and efficiently support, sustain & modernize the NAS. The Core Work of the Center is performed by ANG-E and by other FAA, federal and state government organizations that consider the Technical Center home.
The ANG-E Directorate is comprised of six divisions:
The Center is also home to other FAA organizations:
Other federal and state organizations located at the Center:
Atlantic City International Airport, South Jersey Transportation Authority (SJTA)
Department of Homeland Security
Department of Justice US Marshal Service
National Aviation Research and Technology Park
US Army Corp of Engineers
Technology Advancement
Maximizes capabilities through innovation, exploration and implementation of enabling technologies.
Initiatives:
Technical Center's Innovation and Technology Advisory Council (ITAC): leads WJHTC employees in the identification and implementation of technology innovation and advancement opportunities.
Big Data Analytics Working Group: collaborates across the FAA to capitalize on opportunities to turn data into actionable information.
Technology Transfer: promotes FAA collaboration with partners, protects intellectual property and disseminates FAA research results for the benefit of the public.
NAS Animated Storyboard: provides animations that demonstrate how the various programs or capabilities of the NextGen NAS operate.
Workforce
Shapes the future workforce through recruitment, hiring, development, execution of projects, employee involvement, and recognition.
Initiatives:
Outreach and Partnerships
Fosters awareness of the Center's capabilities and builds effective and productive global relationships with industry, academia and other government agencies.
Initiatives:
Technical Center Showcase: provides the opportunity to visit the WJHTC virtually and learn more about its core work and capabilities.
Laboratory Capability Tool: builds awareness and fosters collaboration between lab owners and project sponsors through a single source tool used to identify labs and their capabilities.
Cooperative Research and Development Agreements (CRADAs): permit the FAA to share its labs and expertise with industry and academic partners to pursue mutually beneficial research.
Key Officials
Shelley Yak, Director
Eric Neiderman, Deputy Director
Additional Information
Last updated: Monday, January 9, 2023