STEM AVSED Partnerships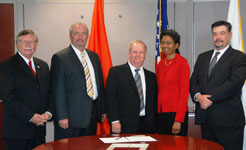 Partnerships are invaluable to FAA's STEM Aviation and Space Education (AVSED) program. They provide the resources, expertise, and networks we need to make the program a success.
With the support of our national, regional, and local partnerships, the STEM AVSED program reaches nearly 100,000 students nationwide each year.
Learn about our Industry Affiliates.
Our current formal partnerships include:
Academy of Model Aeronautics
The world's largest model aviation association
American Institute of Aeronautics and Astronautics (AIAA)
The world's largest technical society dedicated to the global aerospace profession
Civil Air Patrol (CAP) Aerospace Education Program
Program that helps citizens meet the challenges of aerospace and understand its issues
Challenger Center for Space Science Education
A global network of learning centers that offer hands-on exploration opportunities to students and educators
Experimental Aircraft Association (EAA)
Host of the annual AirVenture Oshkosh Convention, featuring the popular KidVenture program
FAA Commercial Space Transportation
Line of business that explores the connection between math, science, and technology
FAI Young Artists Contest
International contest that encourages young people to demonstrate the importance of aviation through their art
International Black Aerospace Council (IBAC)
Council that develops and coordinates outreach activities to increase the participation of Black people, women, and other minority groups in aerospace career fields
National Aeronautics & Space Administration (NASA) Smart Skies
Federal agency that sponsors the interactive Smart Skies program that teaches math with examples from aviation
National Association of State Aviation Officials (NASAO)
Association that enhances the quality of aviation education materials and programs, such as the annual NASAO art contest
National Coalition for Aviation and Space Education (NCASE)
Coalition that promotes aviation education activities and resources by increasing the public's understanding of aviation
National Coalition of Certification Centers (NC3)
A network of educational institutions and industries that embody passion for sustaining a highly skilled workforce
Ninety-Nines, Inc.
International organization of women pilots
Organization of Black Aerospace Professionals (OBAP)
Organization dedicated to advancing and enhancing the participation of Black people and other minority groups in the aviation industry
Real World Design Challenge (RWDC)
Annual engineering competition for high school students in grades 9-12
Team America Rocketry Challenge (TARC)
World's largest rocket contest in which students participate in teams to design, build, and fly a rocket
Walk in My Boots Program
Program between FAA's STEM AVSED and Flight Standards offices that provides job-shadowing experiences for students by connecting high schools with aviation maintenance facilities
Women in Aviation International (WAI)
Organization dedicated to the encouragement and advancement of women in all aviation career fields
Youth Aviation Adventure (YAA)
Hands-on program using real aircraft with opportunities for students to experience an airplane flight
Last updated: Tuesday, September 26, 2023