The Sky Is the Limit for Students!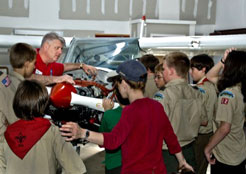 Do you know what you want to be when you grow up? Are you still figuring it out?
If you love science, technology, engineering, and math (STEM), then consider a career in aviation or aerospace! FAA's STEM Aviation and Space Education (AVSED) program offers lots of ways for you to explore this exciting world through STEM-based activities.
What Will You Be?
The sky really is the limit when it comes to working in aviation. Here are a few career opportunities that are available through FAA and other aviation and aerospace organizations:
Air Traffic Control Specialist – promote airplane safety by directing the movement of air traffic
Electrician – install, maintain, and repair aircraft electrical systems
Engineer – design and develop aircraft and related aviation/aerospace technologies
Flight Attendant – travel the world and ensure the safety and comfort of airplane passengers
Ground Crew Member – support many aspects of the aircraft while it's on the runway
Mechanic – inspect, diagnose and repair aircraft
Pilot – fly aircraft and passengers around the world
Safety Inspector – develop and administer aircraft safety standards
Sales and Service Representative – assist airline passengers with flight travel details
Technical Operations Specialist – manage various technical aspects of aircraft operations
Get Started
Check out our current STEM AVSED programs and find a good match:
More to Explore
Last updated: Wednesday, July 19, 2023