Middle School Programs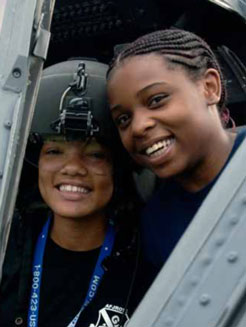 FAA's STEM Aviation and Space Education (AVSED) program offers a variety of fun, hands-on learning opportunities for middle school students across the country. Click below to learn more about our middle school programs (grades 5-8).
Joint Programs for Middle School
---
Academy of Model Aeronautics
The Academy of Model Aeronautics is the world's largest model aviation association, representing a membership of more than 150,000. Its purpose is to promote the development of model aviation as a recognized hobby/sport and family recreational activity that is both educational and fun.
American Institute of Aeronautics and Astronautics (AIAA)
AIAA is the world's largest technical society dedicated to the global aerospace profession and provides the tools and resources necessary for educators and students to take their understanding of aerospace to the next level.
Challenger Center for Space Science Education
Challenger Center for Space Science Education offers exciting hands-on exploration opportunities to students and educators around the world. Through their global network of Challenger Learning Centers, students participate in simulated space missions using interactive computerized simulators, featuring a Mission Control room patterned after the NASA Johnson Space Center and an orbiting Space Station.
Civil Air Patrol (CAP) Aerospace Education Program
The Civil Air Patrol was born one week prior to the Japanese attack on Pearl Harbor. Their aerospace education program helps prepare American citizens to meet the challenges of aerospace and understand its related issues.
DreamLaunch Tour
The DreamLaunch Tour is a national speaking tour sponsored by Embry-Riddle Aeronautical University, FAA, and numerous other organizations. This annual event runs from fall to early Spring and features world-famous pilot and aviation expert Jamail Larkins, FAA's first official Ambassador for Aviation and Space Education. Visiting schools across the country, Larkins encourages teens to follow their passions in aviation and space.
Experimental Aircraft Association (EAA) KidVenture Program
EAA is dedicated to the discovery and fulfillment of individual potential for those who are inspired by the dream of personal flight. Located in Oshkosh, Wisconsin, EAA hosts the AirVenture Oshkosh convention every July, featuring the popular KidVenture program.
FAI Young Artists Contest
Sponsored by Fédération Aéronautique Internationale (FAI), the Young Artists Contest has been held each year since 1986. This international contest encourages young people to demonstrate the importance of aviation through their art, and to motivate them to become more familiar with and participate in aeronautics, engineering, and science.
International Black Aerospace Council (IBAC)
The IABC develops and coordinates activities to enhance outreach efforts pertaining to Blacks in aerospace career fields. They're a liaison between corporations, educational institutions, organizations, government, and the military and serve as a clearinghouse for the exchange of information, ideas, and prospects for scholastic and employment opportunities.
National Coalition for Aviation and Space Education (NCASE)
The NCASE is a council of aerospace organizations. Together with FAA, the NCASE actively promotes aviation and space education while supporting school initiatives at the federal, state, and local level. The NCASE also works with aviation educators, government officials, and industry representatives to marshal education resources and train America's young people in aviation.
National Summer Transportation Institute (NSTI) Program
The purpose of the NSTI is to promote awareness of STEM education and career opportunities among disadvantaged and at-risk middle and high school students around the country. Participation is free for students who have an interest in learning more about transportation and its various modes, such as aviation.
Ninety-Nines, Inc.
Established in 1929, the Ninety-Nines is an international organization of women pilots that promotes the advancement of aviation through education, scholarships, and mutual support while honoring our unique history and sharing our passion for flight.
Organization of Black Aerospace Professionals (OBAP)
OBAP's focus is to prepare young people for a successful future and highlight the exciting potential that's available in the field of aviation. They promote educational opportunities in aviation and aerospace, and develop and sustain a process for the ongoing mentoring of America's youth.
Team America Rocketry Challenge (TARC)
TARC is the world's largest rocket contest, sponsored by the Aerospace Industries Association (AIA) and the National Association of Rocketry (NAR). It's the only aerospace-specific STEM competition in the nation and has reached over 60,000 students in 48 states during its 2015 season.
Students participate in teams to design, build, and fly a rocket. Just like aerospace companies that work within specific design parameters, students are required to achieve the same basic mission-oriented goals of hitting a precise altitude, landing within a specific flight time window, and returning raw eggs ("the astronaut") without cracking.
Women in Aviation International (WAI)
WAI encourages the advancement of women in all aviation career fields and interests. Their resources encourage young women to consider aviation as a career.
Youth Aviation Adventure (YAA)
The YAA's mission is to introduce the exciting world of aviation to boys and girls aged 12-18. Through a pool of over 100 pilots and adult volunteers, YAA offers hands-on programs that explore many aspects of aviation.
Last updated: Friday, September 23, 2022