Video
Grounded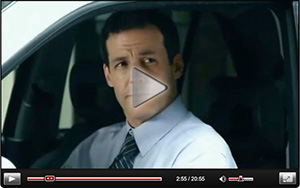 There is trouble on the home front and fires at work! Gregg is an airline manager who needs some rest. Can he get the aircraft back in the air and also correct his poor sleep habits? Or, will he go through life "Grounded?" This video is about sleep but is not a sleeper. Watch the story and learn ways to correct your own sleep habits. Share the challenges of shiftwork operations and how to cope regardless of your job or position in the organization. This action packed video can apply to you!
Counting Sleep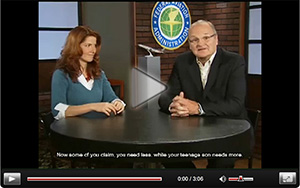 How much sleep do you need? Most people overestimate the amount of sleep they actually get. Dr. William Johnson, Chief Scientific and Technical Advisor for Human Factors in Aircraft Maintenance Systems, shows you how to use your "hand-held sleep calculator" to determine the correct amount of sleep you need and when you should be going to bed.
Training
This interactive training keeps you interested and involved as you learn the basics about fatigue, sleep, and fatigue risk management.
Editable HTML Training File (Zip, 33.7 MB)
You may download the editable version of the countermeasures training course for your specific organizational needs.
Download instructions for editable file: You will need to download the zip file, extract the files from the zip and then copy them to your web server. Be sure to maintain the existing folder structure for the files. The launch file is index.
You may also request a copy of this training.
Tools and Forms
Fatigue Risk Assessment Tool — The Fatigue Risk Assessment Tool can be used to record incident data, and give feedback regarding fatigue levels and incident risks.
Fatigue Symptom Checklist (PDF) — Fatigue-related symptoms can be divided into three categories: physical, mental and emotional. If you experience two or more of the symptoms listed in the checklist, you may be experiencing some level of fatigue or reduced alertness. If you exhibit fatigue-related symptoms on a regular basis, you should consider seeing a doctor.
Fatigue Risk Assessment Worksheet (PDF) — The supplemental accident form asks a series of behaviorally based questions to help you better identify when fatigue is a contributing factor. Collecting this data will allow your company to make educated plans for improvement.
Fatigue Risk Index (MS PowerPoint) — Helpful tool used by many in the transportation industry to assess fatigue risk.
Sleep Log (MS Excel) — To help you accurately track your sleep and assess your sleep habits, use this interactive sleep log to total your sleep each day and calculate your average sleep period, number of awakenings, and sleep ratings per week.
Return on Investment Calculator
The Return on Investment Calculator for Human Factors Safety Interventions was developed to provide an easy to use, no cost tool to the aviation maintenance industry in order to promote the concept that safety improvements can be sound investments. Visit Training and Tools for information about the ROI Calculator.
Posters
The Federal Aviation Administration has produced a series of educational posters designed to bring awareness to human fatigue in aviation maintenance (MX).Each poster is part of a MX fatigue themed series designed to improve awareness of fatigue related issues. The posters provide information on how MX personnel can change their lifestyle and work habits to improve safety and quality of life. These eye-catchy posters provide helpful and practical tips to battle the problem of human fatigue. Print any size and display in work and rest areas.
Poster(s) are available in a high resolution PDF format. Print on your desktop, or for 11" X 17" size, send to commercial printer.