Advanced Technologies & Oceanic Procedures (ATOP)
Overview
The ATOP program replaced the original oceanic air traffic control system, updated procedures, and modernized the oceanic automation systems located at Oakland (ZOA), New York (ZNY), and Anchorage (ZAN) Air Route Traffic Control Centers (ARTCCs). The ATOP system:
fully integrates flight and radar data processing;
detects conflicts between aircraft;
provides satellite data link communication and surveillance capabilities;
removes the need for paper flight strips;
automates the manual processes; and
allows customers to take advantage of investments made in cockpit digital communications.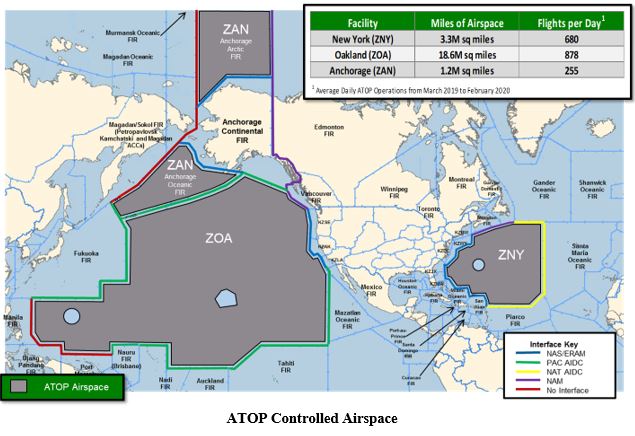 Full operational capability was achieved at all three ARTCCs from 2005 to 2007, and an initial technology refresh of the system hardware and operating system was completed in 2009. A second technology refresh solution was deployed at the three oceanic ARTCCs in 2020 to support the system through 2028.
With ATOP, the Federal Aviation Administration (FAA) significantly reduced the intensive manual processes that limited the ability of controllers to safely handle airline requests for more efficient tracks or altitudes over long oceanic routes. It allows the FAA to meet international commitments of reduced aircraft separation standards, thereby dramatically increasing capacity and efficiency for customers, and reducing carbon emissions.
For a visual representation of ATOP capabilities and operations, click on the following link to the ATOP Storyboard:
ATOP Capabilities and Operations Storyboard
ATOP Capital Investment Plan (CIP) Investments
ATOP Sustainment 2 (S2) investment is a full system technology refresh that replaced the hardware (including every server, display, network switch, printer, and data storage device) and operating system, and integrated the new technology with the baseline ATOP applications. Deployment of the new hardware configuration and the upgraded operating system was completed at the William J. Hughes Technical Center (WJHTC) maintenance lab and the three oceanic ARTCCs by February 2020. The ATOP S2 investment:

addresses system performance through 2028, software end of service, and data storage shortfalls;
reduces maintenance and logistics costs; and
supports software changes and new capabilities for future improvements for Next Generation (NextGen), Surveillance Broadcast Services (SBS), and the National Airspace System (NAS).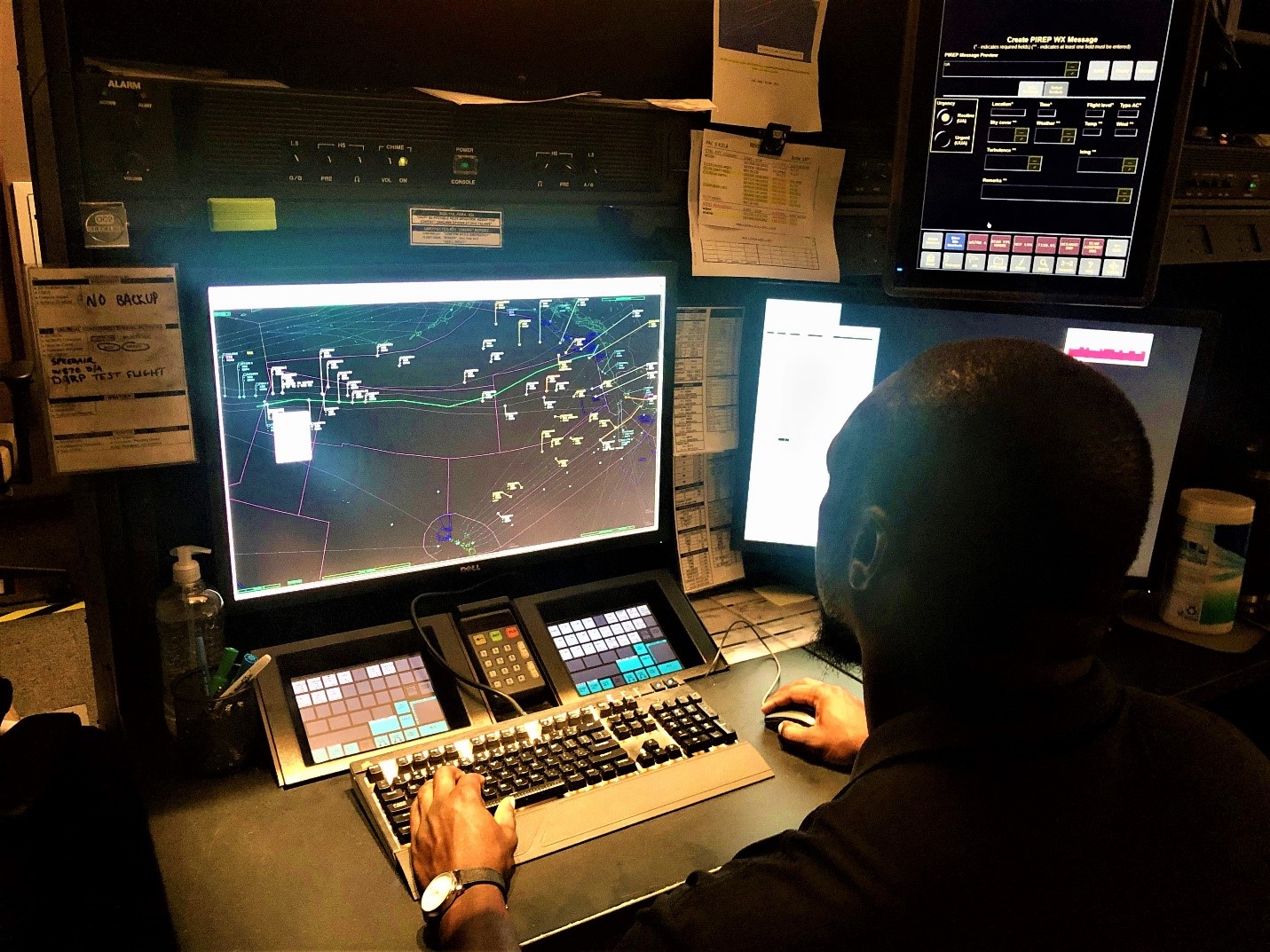 Donald White, Oakland ARTCC, controlling oceanic air traffic over the Pacific Ocean utilizing the S2 Platform
ATOP Enhancement 1 (E1) investment addresses the operational shortfalls of the current oceanic system as the FAA moves forward with NextGen and other NAS upgrades. The investment is composed of five large-scale capabilities that continue the evolution of oceanic services and is planned for deployment from 2021 to 2024 in four yearly ATOP software releases: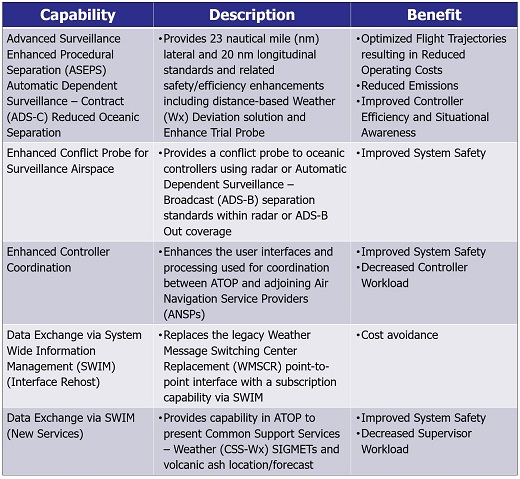 The Oceanic Improvements (OI) investment continues to support operational analysis, engineering analysis, solution development, and solution implementation activities designed to improve the delivery of oceanic domain services. The scope of these NAS enhancements is limited to small-scale operational changes that require an expedited solution but do not require significant capital investments, involve significant system complexity, or interdependencies. The deployment of these capabilities began in 2018 and are projected to continue through the life of the ATOP system.
Last updated: Friday, August 28, 2020