Hot Spot Standardized Symbology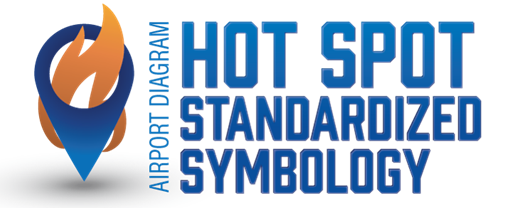 A hot spot is a location on an airport movement area with a history or potential risk of collision or runway incursion, and where heightened attention by pilots and drivers is necessary.
It is easier for users of an airport to plan the safest possible path of movement in and around that airport if they can see the hot spots. Planning is a crucial safety activity for airport users — pilots, air traffic controllers and airfield drivers. By making sure that aircraft surface movements are planned and properly coordinated with air traffic control, pilots add another layer of safety to their flight preparations. Proper planning helps avoid confusion by eliminating last-minute questions and building familiarity with known problem areas.
View a complete list of all Airport Diagram Hot Spots. This information from the Sectional Chart Supplement is updated every 56 days.
Hot Spot Standardized Symbology
The FAA is taking several proactive steps to address wrong surface events, reduce the potential for runway confusion and help improve safety in the National Airspace System (NAS), including standardizing hot spot symbology and verbiage.
Arrival Alert Notices
To address wrong surface events where an aircraft lines up with or lands on the incorrect runway, taxiway, or airport, the FAA is releasing Arrival Alert Notices (AAN) at several airports with a history of misalignment risk. Learn more about Arrival Alert Notices.
Additional Resources
Last updated: Thursday, August 17, 2023