Rotorcraft External Load Operators (Part 133)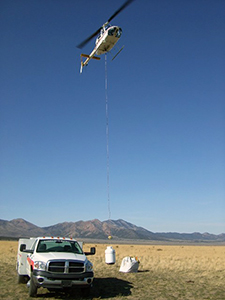 The Federal Aviation Administration (FAA) grants the authority to operate on-demand, external load air service in the form of a 14 CFR Part 133 certificate. Air carriers with a Part 133 certificate utilize helicopters to carry external loads for a variety of missions. These operators are routinely tasked with maneuvers ranging from the placement of a commercial air conditioning unit on the roof of a skyscraper to providing supplies to locations where a conventional air carrier operation is not suitable. Many Part 133 operations transport items classified as hazardous materials and must take extra precautions when performing these services – especially when operating over populated areas. Most Part 133 air carriers are required to have a FAA approved hazardous materials (dangerous goods) program. Part 133 air carriers who accept, handle, or transport hazardous materials in air commerce must develop and submit a hazardous materials program for FAA approval. This program must cover all aspects related to the acceptance and transportation process involved with the carriage of hazardous materials as well as training for all employees. These operations also require a Special Permit from the Pipeline and Hazardous Materials Safety Administration (PHMSA) and a safety mitigation plan to ensure the safety of persons on the ground.
Regulations outlining the acceptance, handling, transport of dangerous goods and required training can be found in the Hazardous Material Regulations (49 CFR Parts 100-185) and the ICAO Technical Instructions for the Safe Transportation of Dangerous Goods by Air. Compliance with the regulations is mandatory for all Part 133 air carriers.
In addition to the regulations and guidelines issued by FAA Flight Standards, Part 133 air carriers work closely with the FAA Office of Hazardous Materials Safety to develop, maintain, and implement approved hazardous materials programs.
Last updated: Saturday, January 2, 2021