Unmanned Aircraft System (UAS) or Drone Operations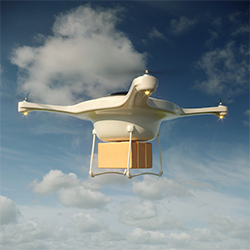 Individuals or entities that transport dangerous goods, also known as hazardous materials, via UAS must meet the same regulatory requirements of manned aircraft. A brief description of applicable regulations as they apply to UAS is listed below:
We support the FAA's UAS Integration Pilot Program (IPP) and the FAA's BEYOND program by working with industry, state, local, and tribal governments to help realize the benefits of drones while informing the development of a more mature drone regulatory framework.
For questions about Dangerous Goods involving a UAS, please contact the FAA Office of Hazardous Materials Safety via e-mail at hazmatinfo@faa.gov or via voice message at 405-954-0088. Please allow 1–2 business days for answers to questions.
 
Traveling With Your Drone/UAS
When you take your drone with you onboard passenger aircraft – whether you use drones for recreation, commercial activities, or as a public aircraft operator – your drone might be a dangerous good! Lithium batteries, fuel cells, and components of certain parachute systems can all be classified as dangerous goods.
Download a copy of our Drone/UAS Passenger Brochure – Your Drone Might Be a Dangerous Good (PDF). Also, see FAA's PackSafe page to make sure you travel safely with your UAS.
Last updated: Thursday, December 1, 2022