UAS Integration Pilot Program
Program Overview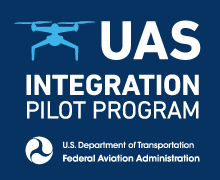 Beginning in 2017, the Unmanned Aircraft System (UAS) Integration Pilot Program (IPP) has brought state, local, and tribal governments together with private sector entities, such as UAS operators or manufacturers, to test and evaluate the integration of civil and public drone operations into our national airspace system. The program is assisting the U.S. Department of Transportation (USDOT) and Federal Aviation Administration (FAA) craft new rules that support more complex low-altitude operations by:
Identifying ways to balance local and national interests related to drone integration
Improving communications with local, state and tribal jurisdictions
Addressing security and privacy risks
Accelerating the approval of operations that currently require special authorizations.
The program has created a meaningful dialogue on the balance between local and national interests related to drone integration, and provide actionable information to the USDOT on expanded and universal integration of drones into the National Airspace System.
The IPP Lead Participants are evaluating a host of operational concepts, including night operations, flights over people and beyond the pilot's line of sight, package delivery, detect-and-avoid technologies and the reliability and security of data links between pilot and aircraft. Fields that could see immediate opportunities from the program include commerce, photography, emergency management, agricultural support and infrastructure inspections.
The IPP program concluded on October 25, 2020. To continue work on the remaining challenges of UAS integration, the FAA launched a new program called BEYOND on October 26, 2020.
Read the UAS IPP Final Report (PDF).
Read the Federal Register Notice: Unmanned Aircraft Systems Integration Pilot Program-Announcement of Establishment of Program and Request for Applications.
Last updated: Friday, June 3, 2022