Drone Safety Day
​

Annual Drone Safety Day is Saturday, April 29, 2023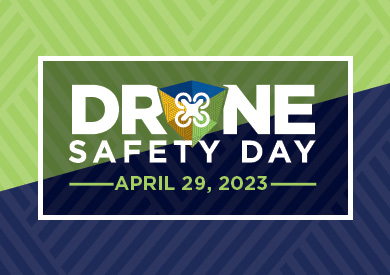 Drones are the fastest growing segment of aviation in the United States. As of January, there are over 871,000 drones registered with the FAA, and over 307,000 certified Remote Pilots. These numbers are projected to continue to grow and we want everyone who operates drones to have fun and be safe!
Drone Safety Day (DSD) is an annual campaign dedicated to educating the drone community of the importance of flying safely. DSD will highlight the societal, economic, and safety benefits of safe drone operations with in-person, virtual, and hybrid events in focus areas such as Education, Economics, Equity, Environment, and Emergencies.
Download the 2023 Drone Safety Day Playbook  and 2023 Drone Safety Day Flyer  to learn more on how you can participate. These materials will give you an outline of what Drone Safety Day is all about and ideas for how to put together your DSD event. You can also visit our Drone@Home page to find fun ideas to participate at home. 
When you're ready, register your event. And don't forget to "Fly Right":
Register your drone – FAADroneZone
Interact with others
Gain knowledge
Have a safety plan
TRUST and Train
Downloadable FlyRIGHT Graphics (Instagram | Twitter)
R (Instagram | Twitter)
I (Instagram | Twitter)
G (Instagram | Twitter)
H (Instagram | Twitter)
T (Instagram | Twitter)
Downloadable Backgrounds (click on image to download):
Last updated: Wednesday, April 12, 2023