Operations Over People rule
became effective on April 21, 2021. Drone pilots operating under
Part 107
may fly at night, over people and moving vehicles without a waiver as long as they meet the requirements defined in the rule.
Airspace authorizations
are still required for night operations in controlled airspace under 400 feet.
The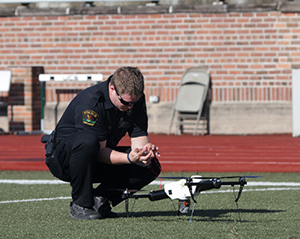 Public Safety Agencies, such as Law Enforcement, are in the best position to deter, detect, and investigate unauthorized or unsafe UAS operations. While drones can serve as a useful tool, these agencies also have an important role in protecting the public from unsafe and unauthorized drone operations. This information will help law enforcement and public safety professionals understand safe drone operations and their authority.