Arrival Alert Notices
Wednesday, March 16, 2022
Arrival Alert Notices (AAN) are new graphics produced by the FAA that visually depict an approach at specific airports to help mitigate wrong surface misalignment risks for pilots.
What is happening? 
To address wrong surface events where an aircraft lines up to, lands on, or departs from the incorrect runway, taxiway, or airport, the FAA is releasing Arrival Alert Notices at several airports with a history of misalignment risk. AANs provide a graphic visually depicting the approach to a particular airport with a history of misalignment risk. There is also language describing the misalignment risk area.
AANs will incorporate the new standardized hot spot symbology.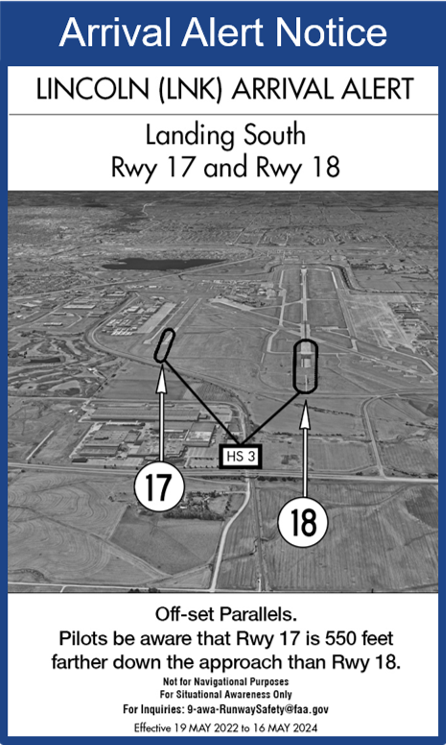 Why is this happening? 
Wrong surface events continue to be a focus area for the FAA as they can present a significant safety risk. The FAA has taken a number of steps to address wrong surface events but there is still a need to provide a more permanent awareness of these events, especially to general aviation pilots, who comprise 83 percent of wrong surface events. The remaining percentage is pilots operating commercially. Many wrong surface events occur during the daytime and in visual meteorological conditions, and the majority of the time, the pilot has read back the correct landing or departure clearance. AANs can serve as an additional planning and awareness tool for pilots.
Which airports will have AANs? 
The FAA will initially release AANs for the following airports and will continue to monitor wrong surface events at these locations to determine whether to create additional AANs.
Lincoln Airport; Lincoln, Nebraska 
Flying Cloud Airport; Flying Cloud, Minnesota 
Tucson International Airport; Tucson, Arizona 
Reno-Tahoe International Airport; Reno, Nevada 
Palm Springs International Airport; Palm Springs, California
Reid-Hillview Airport; Reid-Hillview, San Jose, California 
Daniel K. Inouye International Airport; Honolulu, Hawaii 
Idaho Falls Regional Airport; Idaho Falls, Idaho 
McKinney National Airport; McKinney, Texas 
Greater Rochester International Airport; Rochester, New York 
DeKalb-Peachtree Airport; Chamblee, Georgia 
When will the AANs be available? 
The AANs will be released in the May 19, 2022 charting cycle. Access digital aeronautical charts here.
For inquiries or feedback and comments contact 9-awa-RunwaySafety@faa.gov