Part 450: Streamlining of Launch and Reentry Licensing Requirements
---
This rulemaking arose from work by the National Space Council that led to Space Policy Directive-2 (SPD-2) in May 2018, directing the U.S. Department of Transportation to streamline the regulations governing commercial space launch and reentry licensing. Part 450 consolidates multiple regulatory parts to create a single licensing regime for all types of commercial space flight launch and reentry operations, and replaces prescriptive requirements with performance-based criteria.
A key shift in Part 450 is that the safety analysis aspects of the license have shifted from a focus on products to a focus on methods. This allows more flexibility in the approaches for analysis that operators may take. In addition, the license is now more flexible with respect to the specifics of flight plan. Provided the assumptions of the methodology used are still valid, a license modification is not necessary for a new flight path (there also may be environmental, policy, etc. which could necessitate a new license). However, methodology reviews initially may require additional time. The FAA is developing Advisory Circulars to aid applicants for these topics.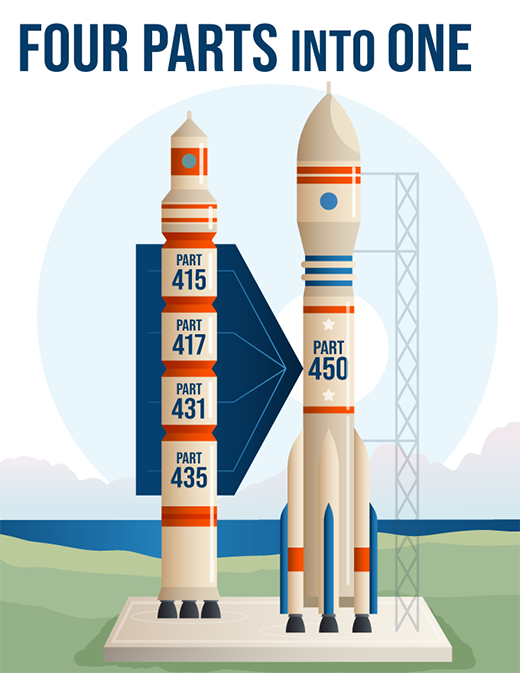 Advisory Circulars and Other Part 450 Guidance
The FAA has developed Advisory Circulars to provide guidance on meeting the regulations. As discussed above, Part 450 is oriented toward approving methodologies to obtain a license, but these may require more time, and 14 CFR 450.35(a) requires that some means of compliance (MOC) be accepted by the FAA prior to application submission. The flight safety analysis MOC, required by § 450.35(a)(1), needs to include the methods for each FSA sub-analysis. The high-reliable flight safety system MOC, required by § 450.35(a)(3), is necessary to ensure that the FSS design and testing plan will satisfy the requirements. Normally the lightning hazard mitigation, per § 450.35(a)(4) is accomplished by one of the accepted means of compliance. The other two requirements § 450.35(a)(2,5) apply to toxic analyses, which are currently uncommon.
The table below contains all of the Part 450 Advisory Circulars and other guidance documents. The Part 450 Means of Compliance Table provides an estimated issuance date for all planned AC.
The FAA seeks public comment on each of these documents for a period of 30 days when issued. FAA will issue an updated version if warranted based on comments received. Each guidance document contains a feedback form with instructions on how to provide feedback at any time during the process. *Feedback for ACs may also be submitted via the AC feedback form (PDF) and emailing the form to astapplications@faa.gov. Please include the AC number/title in the subject line.
Part 450 License
Lifecycle Management Process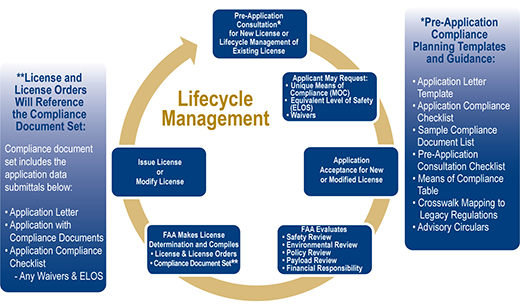 Pre-Application Consultation Guidance Materials for Applicants and Legacy Operators
Other Links
February Workshop
An overview of Advisory Circular (AC) 450.115-1 High Fidelity Flight Safety Analysis;
How this AC relates to the sections of Subpart C in Part 450 Streamlined Launch and Reentry License Requirements; and
AST responses to formal industry comments submitted.
Speakers include Erik Larson Ph.D., FAA/AST Contractor and President of Marigold RISE, and Paul Wilde, Ph.D., FAA AST Senior Technical Specialist.
Part 450 Workshop November 4–6, 2020
FAA hosted a virtual Part 450 Workshop on November 4-6, 2020. FAA's subject matter experts have reviewed each topic under Part 450 in chronological order. A crosswalk mapping tools that compare the new rule to legacy regulations was also presented on Day 3.
Video of the Part 450 Workshops
Last updated: Monday, April 11, 2022