SWIM Questions & Answers
What is SWIM?
SWIM is a Federal Aviation Administration (FAA) information-sharing platform designed to facilitate an increased common situational awareness and a greater sharing of Air Traffic Management (ATM) system information. As one of the five transformational NextGen programs, SWIM is the infrastructure that offers a single point of access for aviation data, with producers of data publishing it once and users accessing the information they need, in the way they need it, through a single connection. As the digital data-sharing backbone of NextGen, SWIM facilitates an innovative and efficiently run NAS.

How does SWIM work?

SWIM consists of standards, infrastructure and governance that make a wide range of capabilities available through a common infrastructure of reusable and shared services.
Two major SWIM features allow more efficient data sharing among Aviation Partners than ever before possible:
SWIM streamlines connections among different data systems so that users can now access multiple systems through one connection. Previously, a new connection needed to be created every time someone wanted to access a set of data. SWIM was created to eliminate the need to have point to point connections every time a user wants to access the data they need. With SWIM, there is a standard connection instead of a unique connection created every time.
SWIM also translates data from different systems into standard data formats, thereby supporting collaboration among industry and governments both within the U.S. and around the world (international, FAA internal, Airlines, Service Providers, etc.).

Who are SWIM customers?

A customer is anyone producing or consuming data from SWIM.
We work with data producers to collect the information they have access to so it can be shared through a single source.
We work with data consumers to provide easy access to the information they need.
How do I find out about SWIM-enabled services that already exist or are planned for the future?

The NAS Service Registry and Repository (NSRR) contains information about all SOA services which currently exist or are under development in the NAS. This information includes a Point of Contact for every service. An introductory presentation to NSRR is also available on the SWIM website. Additional information about SWIM services is available on the SWIM Fact Sheet (PDF). General SWIM updates are available on the SWIM website.

Will there be subscription/user fees to airlines?

Currently there is no cost for data. Costs to develop a SWIM interface are the responsibility of the party interested in consuming the data.

What services does SWIM provide?

See the chart below for an overview of SWIM services--More information on SFDPS is available on the SFDPS page.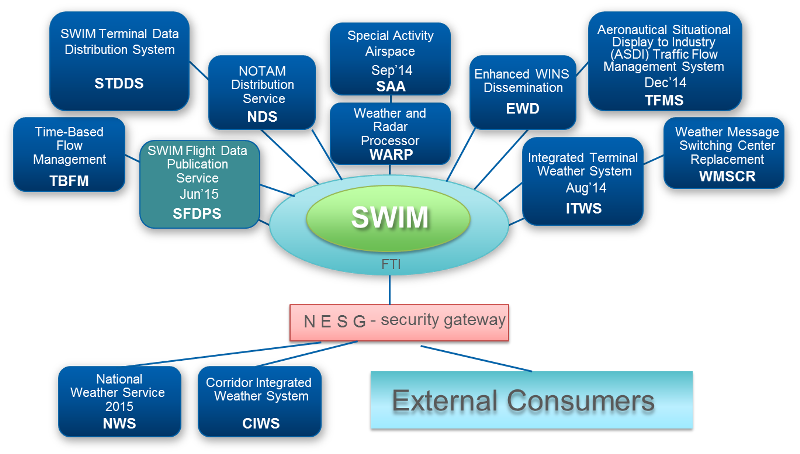 SWIM consumers include: Industry, Airlines, Non-FAA Government entities, Academic and Research Centers; Airports, FAA Facilities and FAA Programs.
Was SWIM functionality previously covered under other programs? 

SWIM functionality was never covered under another program. In the past, a new connection was created every time someone wanted to access a set of data. With SWIM, there is one standard connection that uses the same programming language so there is a universal language across all data.

How did SWIM originate?

Eurocontrol initially presented the SWIM concept to the FAA in 1997, where it has been under development ever since. In 2005, the International Civil Aviation Organization (ICAO) Global Air Traffic Management (ATM) Operational Concept adopted the SWIM concept to promote information-based ATM integration. SWIM is now part of development projects in both the United States (NextGen) and the European Union (Single European Sky ATM Research - SESAR).

Where does SWIM go from here? What does it enable? And is it now about worldwide implementation - or the next generation of systems?

SWIM continues to add NAS Air Traffic Management content providers and consumers. There are at least three more years of data publisher on-ramping to aid additional NAS and Mission Support information, including several new FAA programs such as Common Support Service-Weather and the Terminal Flight Data Manager. This SWIM growth and maturity will enable cost effective and efficient exchange of NAS information and increasing levels of interoperability.
Some road-map items for the five year forecast of FAA SWIM include extensive international exchange of ATM data as well as accommodating very high levels of quality of service such as mission and safety critical data services with data standards. By doing so, FAA SWIM will have the flexibility to more easily connect to networks in regions with some of the heaviest air traffic in the world.
What is SWIM Cloud Distribution Service (SCDS)?

SWIM Cloud Distribution Service (SCDS) is a publicly accessible cloud-based infrastructure dedicated to providing near real-time SWIM data to the public via Solace JMS messaging. This service includes access to the same public data that is currently offered via the NAS Enterprise Service Gateway (NESG) SWIM implementation. SCDS provides data users (a.k.a. consumers) with a simplified, quick method of accessing FAA SWIM data in comparison to the more complex process of connecting to the NESG. All product(s) provided by SCDS have been pre-approved for public release by the National Data Release Board (NDRB) and are intended for non-National Airspace System (NAS), non-Operational use.
Why should I care about SWIM? What benefits does SWIM provide?
SWIM offers numerous important benefits to Aviation Partners and the flying public, namely:
SWIM makes it possible to have access to real-time, relevant, and reliable aeronautical, flight, and weather information so users (both within the NAS and outside of the NAS) can respond faster and more accurately.
SWIM helps to reduce implementation and operating costs and increase agility for the air traffic community...to do MORE with LESS.
SWIM creates collaboration opportunities across borders to address some of aviation's most complex problems.
By offering efficient and streamlined access to a rich source of aviation data, SWIM stimulates innovation in the public and private sectors to address the needs of aviation partners and the general public.
SWIM enables the Aviation Community to drive innovation and create value-added products to create a better in-flight experience for the flying public.
While SWIM is not visible to the flying public, passengers experience the benefits because air traffic management, pilots, and controllers can all manage the airspace more efficiently. Lower infrastructure costs and higher efficiency standards lead to fewer delays, less time airborne, and the benefits of less impact on the environment.
What problems was SWIM created to solve?
SWIM was designed to:
Reduce costs for all NAS users of NAS data
Improve aviation safety and efficiency through common situational awareness
Deliver consistent information to different users (pilots, controllers, dispatchers) that support proactive decision-making
Provide a secure data exchange among the NAS user community that meets FAA's security standards

What does SWIM do that Air Navigation Service Providers (ANSPs) couldn't do before?

In the past, the state of the art for connecting two systems required a fixed network connection and custom, point-to-point, application level interfaces. In 2007, FAA identified a need to reduce the high degree of interdependence among these systems. With it came the establishment of SWIM.
Becoming the data sharing backbone of the FAA, SWIM aided common situational awareness, and improved the National Airspace System's (NAS) agility through its information-sharing platform that offers data publishing through a single connection to many consumers including airports, airlines, and the aviation industry. With this new found flexibility, SWIM consumers are able to use multiple types of aviation data in standard formats to create applications and more easily convey aviation information. This leads to many immediate benefits that are just being realized. For example:
The FAA can now efficiently maximize coordination among data stakeholders to better manage air traffic
Pilots have electronic access to critical updates such as power outages and airspace restrictions
Industry is able to leverage the SWIM network to develop applications to suit the needs of the flying public
The transition to the global harmonization of air traffic is being accelerated through governance to increase data accuracy in regard to flight safety
Why is SWIM important for 21st century aviation?
The transformation to NextGen requires programs and technologies to provide more efficient operations, including streamlined communications capabilities. The SWIM program is an integral part of that transformation to connect FAA systems. SWIM enables interaction with other members of the aviation decision-making community including other government agencies, air navigation service providers, and airspace users.
Internationally, SWIM is directly influencing the way that aviation stakeholders address the quickly growing, global air traffic community. Information management tools are essential for efficient, cross-border air traffic management, and the groups with the most data readily available to them will benefit the most. By allowing air navigation service providers to connect and share more, the same benefits that are becoming available in the United States are also being implemented globally.
Currently, SESAR, an international group founded by European Union agency members that provides ATM expertise and services to its member states, is working on its own SWIM solutions and regularly collaborates with the FAA (http://www.sesarju.eu/discover-sesar/history). To help this effort, the FAA is collaborating with dozens of international stakeholders through its Mini-Global program by testing new international SWIM concepts.
What benefits does SWIM's Service Oriented Architecture (SOA) technology offer?
SWIM's use of Service Oriented Architecture (SOA) technology allows software applications in the NAS to interact with one another through information services that can be accessed without knowledge of an application's underlying platform implementation. This simplifies interface requirements to existing NAS systems and ensures new systems can be built with minimum technology (hardware, software, and data definition) constraints. Thus, NAS development and implementation costs and risks for new applications will be lower. SWIM also enables the transition to Net-Centric NAS operations, and from tactical conflict management to strategic, trajectory-based operations. The benefits of implementing SOA in the NAS can be summarized as follows:
Business and Information Technology (IT) Alignment
Adaptability
Interoperability
Reuse
Scalability
How will SWIM help reduce passenger delays and flight congestion?
SWIM allows users to request and receive information when they need it, subscribe for automatic receipt, and publish information and services as appropriate. Users are able to more efficiently access the most current information thereby improving decision-making. SWIM streamlines shared information for improved planning and execution. This may result in fewer delays at major airports and may help to reduce airlines' fuel costs by avoiding unnecessary re-routes around severe weather.
How will SWIM reduce costs and save tax-payer's money?
SWIM will reduce infrastructure costs by decreasing the number of unique interfaces between systems. New systems will interface with each other via SWIM-compliant interfaces, thereby reducing future data interface development costs. Ultimately, redundant data sources no longer will be needed, and associated systems can be decommissioned.

How does SWIM help airlines and air traffic controllers?

SWIM streamlines shared information for improved planning and execution. Airlines and other users are able to more efficiently access the most current information affecting their area than they were able to using legacy systems, thereby improving decision-making. For example, this may result in fewer delays at major airports, reduced flight congestion, and less fuel costs for airlines by avoiding unnecessary reroutes around severe weather. SWIM provides improved situational awareness to air traffic controllers.
A specific SWIM application - the SWIM Visualization Tool (SVT) - has offered many benefits to the FAA's Southern California Terminal Radar Approach Control (TRACON) Facility (SCT), including:
Improved Traffic Management Coordinator's (TMC) ability to quickly (at a glance) understand and/or confirm aircrafts ability to make departure release times based on taxiway queues;
Improved ability of TRACON to understand and manage airspace demand based on what they can see is coming using aircraft and data block color coding;
Coordination of airspace for air traffic departing in opposite directions, e.g., provides a better understanding of where the actual traffic is when aircraft are departing and arriving opposite direction, east-bound departures and west-bound arrival traffic out of San Diego (SAN);
Confirmation of landings in bad weather, i.e., heavy rain occasionally creates loss of low altitude surveillance tracks in ATC system...SVT allows TRACON to confirm if the aircraft has landed or not. This is also helpful when aircraft are given release and void times after or before a Tower opens. When the aircraft misses their departure window you can look at the SVT to see if the airplane is still safe on the ground.
Situational awareness of airport surface traffic complexities caused by anomalous events such as runway or taxiway closures due to construction, surface incidents, foreign object debris (FOD) removal, or disabled aircraft (i.e., it furnishes TRACON personnel insight into the ground controller's workload and time constraints in moving aircraft on and about a specific airport surface);
Coordination and confirmation of aircraft ready to be released for departure (during periods of high-demand and congested condition) which improves the TRACON's ability to manage airspace and reduces TRACON-to-tower telephone communications.
Will the SWIM program improve aviation safety?
Yes. SWIM will help improve aviation safety through increased common situational awareness. The program allows more decision makers to access the same information. SWIM enables access to consistent information for different users (pilots, controllers, dispatchers) that supports proactive decision-making.
How does SWIM affect FAA Offices and Programs?
SWIM offers numerous key benefits to many FAA stakeholders. SWIM increases the efficiency with which FAA shares data and users obtain data, reducing implementation and operating costs as information is migrated to a single system. SWIM significantly increases opportunities for collaborative decision making (CDM) and allows FAA to turn off aging legacy systems. In turn, SWIM is supporting transformation in the NAS.

Is SWIM implementation about improving internally (in the U.S.) or about the ability to cooperate with other ANSPs around the globe?

SWIM was implemented with the mission to be a technology enabler that provides the information technology standards, infrastructure and governance necessary for NAS systems. SWIM shares information, improves interoperability, and reuses information and services with a vision of establishing common processes and infrastructure needed for NextGen. This makes data more accessible for aviation stakeholders, including those outside of the United States.
The FAA has already demonstrated providing SWIM data to National Air Traffic Services (NATS), the ANSP to the United Kingdom. In addition, the SWIM Program Office is actively working with Eurocontrol to connect them as a data consumer on the FAA SWIM System. By being provided more aviation data such as flight planning information, these nations can better manage their air traffic operations and better collaborate with the NAS.
What onboard equipment is required? Is there any mandate for SWIM equipage? How much is it estimated to cost for equipage, for airline ground equipment?
SWIM is for ground-to-ground communications; therefore, no onboard equipment is required for SWIM, and there is no mandate for SWIM equipage.
How long will the implementation/on-ramping process take?
On-ramping time will vary for each Consumer. Typical timeframes range from 2-6 months, depending on the time required for the Consumer to develop a mature interface to SWIM, and for the Consumer to get approval for data consumption from the NAS Data Release Group.
What is SWIM governance? How does it relate to SWIM?
SWIM Governance is the realization of the concept of Service-Oriented Architecture (SOA) Governance in the context of the SWIM program, with the major goal of enabling a set of enforceable policies, procedures, processes, tools, and organizational activities to ensure that all of the independent SOA-based efforts come together to meet FAA/NAS business objectives.
SWIM Governance functionalities include:
Developing governance standards, policies, and procedural guidelines to support the functional requirements for implementing all aspects of service-oriented development.
Making all services discoverable, searchable, and retrievable, through a formal cataloging process of service metadata, by establishing and operating the NAS Service Registry/ Repository (NSRR).
Conducting SOA Suitability Assessment procedures to ensure that proposed services are appropriate for a SOA environment and to identify potential technological solutions or issues in the early stages of service acquisition.
Providing NAS organizations, support contractors, vendors, and business partners with a uniform understanding of concepts and terminology employed in the SWIM environment.
Advancing a common and shared understanding of SOA concepts in the international community by providing a means of describing all relevant aspects of a service in a commonly understood and shared manner.
Supporting outreach activities to raise awareness of SWIM activities, promote SOA concepts, and provide training about SOA methodologies and technologies.
Does SWIM require the use of specific software?
SWIM requires the use of specific software because many SOA protocols are not "on-the-wire," meaning there are multiple implementation options that meet the intent of the standard. One example is the Java Message Services (JMS) protocol, which is implemented differently by different vendors. SWIM uses industry standard format.
What is the SWIM Registry and is its use required?
NAS Service Registry/Repository (NSRR) is a SWIM-supported capability for making services visible, accessible, and understandable across the NAS. NSRR serves as a central point of information about all SWIM services in existence or currently under development. NSRR also provides a flexible mechanism for service discovery, an automated policies-based way to manage services throughout the services lifecycle, and a catalog for relevant artifacts. All SWIM-enabled service providers are required by SWIM Governance Policies to be registered in the NSRR.
What does it mean to be SWIM-compliant?
For applications and systems to be accessible and interoperable, it is necessary for these applications and systems to comply with specific IT standards and SWIM policies. These include Data Compliance, SOA Service Interface Compliance, Service Messaging and Transport Compliance, and SWIM Programmatic Compliance. Specific standards and policies are associated with each of these compliance categories.
Do we have to subscribe to everything?
No. Depending on the SOA Service, additional filtering options are available. Please consult the NAS Service Registry Repository (NSRR) for filtering details for each SWIM SOA Services.

I have more questions about how to get data through SWIM. Who do I talk to?

It's easy! Submit data requests for SWIM data here

Is SWIM the infrastructure, the data exchange standards and the messaging system? Does SWIM own the data, or does the data belong to the different entities that collect it?
 
SWIM embodies the NAS Enterprise Messaging Service (NEMS) infrastructure and data exchange standards. SWIM does not own the data; it belongs to the different entities who collect or produce the data.
What are the challenges with implementing SWIM - financial, technical, procedural etc.?
One of the key challenges of implementing SWIM is keeping pace with the demand of on-ramping additional data publishers and consumers. The SWIM network provides flexibility with its NAS Air Traffic Management operational content, which has increased its popularity and the number of its consumers. Some of these types of data that are driving demand include airport surface information, accurate flight tracking, and digital Notices to Airmen (NOTAMs). Currently, the FAA is working to give data access to more than 200 individual consumers, both inside the United States and abroad.
Maintaining currency with data interoperability and governance is also an important challenge to FAA SWIM. The maturing of international data format interoperability standards such as FIXM, AIXM, and WXXM is important to track, adopt and support. Including the international messaging standards such as the new 2014 AMQP v1.0 that substantially facilitate international interoperability is a key aspect to ensuring this challenge is met.
Is the data communications system that SWIM enables designed to be largely automated-machine-to-machine?
Yes.
Does SWIM focus on ground-to-ground, air/ground, or ground/air messaging?
At this time, SWIM is focused on messaging for ground-to-ground interactions.
How does SWIM mesh with the other big NextGen programs?
SWIM is one of the five transformational NextGen programs. The transformation to NextGen requires programs and technologies to provide more efficient operations, including streamlined communications capabilities. The SWIM program is an integral part of that transformation to connect FAA systems. SWIM enables interaction with other members of the aviation decision-making community including other government agencies, air navigation service providers, and airspace users.
Is SWIM primarily an Air Traffic Control (ATC) tool?
No. SWIM makes it possible for the aviation community to have access to real-time, relevant information so users can respond faster, more accurately, creating collaboration opportunities with industry and the international community.
Will any part of SWIM network be used for digital voice communications?
SWIM and digital voice communications are both a part of the larger FAA Telecommunications Infrastructure (FTI) network; however, SWIM infrastructure will not be used for digital voice communications.
What is net-centricity? How does it relate to SWIM?
Net-centricity refers to an evolving, complex community of people, information, and services interconnected by a communication network to optimize resources and maximize benefits. Net-centricity includes a shift from standardized, pre-defined point-to-point interfaces to a many-to-many exchange paradigm, thereby enabling many users and applications to leverage the same data. The goal of net-centricity is to provide information and capabilities that are readily visible, accessible, and understandable to existing and potential consumers. SWIM is contributing to a net-centric environment by making it easier for users to share NAS information.
Last updated: Friday, April 21, 2023