SWIM Flight Data Publication Service (SFDPS)
SFDPS Overview
The System-Wide Information Management (SWIM) Flight Data Publication Service (SFDPS) provides en route flight data to National Airspace System (NAS) consumers. SFDPS allows consumers to receive real-time data for analytics, business processes, research, and other activities.
As shown in the graphic below, SFDPS provides Service-Oriented Architecture (SOA) message patterns for publishing data from the En Route Automation Modernization (ERAM) system. ERAM data is transmitted through the Host Air Traffic Management (ATM) Data Distribution System (HADDS), which is part of the En Route Data Distribution System (EDDS). These systems are located at each of the 20 Air Route Traffic Control Centers (ARTCCs) in the contiguous United States.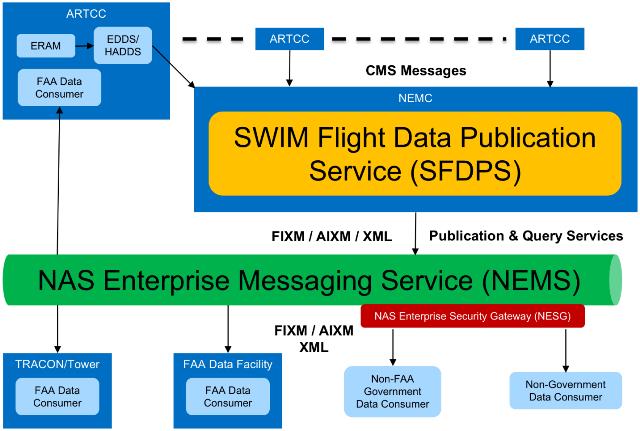 SFDPS receives data from HADDS in the Common Message Set (CMS) format, processes the messages into SWIM-compliant eXtensible Markup Language (XML) formats, and publishes the XML messages to the NAS Enterprise Messaging Service (NEMS) for distribution to authorized consumers, with external consumer access provided via the NAS Enterprise Security Gateway (NESG). SFDPS also provides this en route data on request to authorized consumers using the request-response (query) message pattern from an archive of data it maintains.
SFDPS provides consumers with access to National Airspace System (NAS) en route information by providing the following services:
En Route Flight Data Publication & Query
En Route Airspace Data Publication & Query
En Route General Message Publication & Query
En Route Operational Data Publication & Query
SFDPS provides additional functionality including transformation of data into Flight Information Exchange Model (FIXM) and Aeronautical Information Exchange Model (AIXM), flight-matching across centers, and Globally Unique Flight Identifier (GUFI) generation.
SFDPS Release 1.2.9 is the current operational release running in the FAA Network Enterprise Management Centers (NEMCs) in Atlanta and Salt Lake City. SFDPS Release 1.3.0 will be available operationally in February 2017.
SFDPS News and Events
SFDPS Release 1.3.1 (coming May 15, 2018)
SFDPS Release 1.3.1 will be installed and available in the NAS operational domain after 1 AM on May 15, 2018. There are no interface changes with this release.
Note: For a brief period of about 30 minutes after the release, you may see two versions of some SFDPS messages, one version containing beacon code information and the other without beacon code information.
For a list of issues addressed by this release, please refer to the document SFDPS Release 1.3.1 PTRs (PDF) in the SFDPS Documents section of this page.
---
Important notification regarding beacon code information (11-Oct-2017)
Please see the new document in the SFDPS Documents section, Beacon Code Notification (10/11/2017) (PDF), for further information.
---
Update on the 12 second feed (04/07/2017)
The batched 12 second track updates are being turned on in operations. Consumers who requested these updates in February or earlier should see this data in their queues by 4/14/2017, if they are not receiving it already.
Contact your SWIM project lead if you would like to request the 12 second feed. Please keep in mind that it takes about six weeks for the request to be fulfilled.
---
SFDPS cutover successful - SFDPS Release 1.3.0 Live in R&D, FNTB, and Ops (as of 2/22/2017).
SFDPS Release 1.3.0 with the batching function is now operational in all environments. Consumers subscribing to flight track data from SFDPS will receive batched one minute track data updates.
Please contact the FAA's Enterprise Service Desk at neo-es@faa.gov or at 1-855-322-6362, option 3, if you are an existing SFDPS consumer and experience any problems with the cutover in the operational environment. You may also refer to this flowchart (PDF) for help in diagnosing your issue. If you are experiencing issues in the R&D or FNTB environments, please contact your SWIM Project Lead.
Batched 12 second track updates will soon be available to consumers connecting via Solace. Those consumers who have already requested the 12 second updates should receive them in the late March time frame. Consumers who would like to receive 12 second batched track updates and have not yet initiated a request with their SWIM Project Leads should do so as soon as possible, since it takes several weeks to place and fulfill service orders.
Last updated: Friday, April 21, 2023