Airway Transportation Systems Specialist (Electronics Systems Technicians)
The FAA is Hiring Technicians
Are you looking for a challenging rewarding career that impacts the nations travel and commerce on a daily basis? FAA Technical Operations technician positions in the FAA are called Airway Transportation Systems Specialists (ATSS). Search series 2101 on USAJOBS for career opportunities in Environmental; Radar; Navigational Aids; Communications; and Automation disciplines. 
Applicants are highly encouraged to use the resume builder available on the USAJOBS website www.usajobs.gov. Visit the USAJOB resource center at help.usajobs.gov/ to learn how to build your resume, and access tips and tutorials on applying and interviewing for federal jobs.
US Citizenship is required.
Selective Service Registration is required for males born after 12/31/1959.
Designated or Random Drug Testing required.
Transcripts required if qualifying based on education.
You must provide proof of claims of veteran's preference.
Valid Driver's License is required.
Required documents must be submitted at the time of application.
---
We are the safe-keepers of the systems and equipment that keep air travel safe. Our team of talented technicians, more than 4,000 strong, installs, operates, maintains and repairs more than 74,000 pieces of radar, communications, navigational aids, airport lighting, backup power, heating, ventilation and air conditioning (HVAC) equipment. We provide the services that support the technical backbone of our national airspace system, managing hardware and software that support safe and efficient flight operations.
| | |
| --- | --- |
| ALASKA | ANCHORAGE |
| CALIFORNIA | FREMONT |
|   | RED BLUFF |
| COLORADO | WATKINS |
| CONNECTICUT | NEW HAVEN |
| FLORIDA | ORLANDO |
| GEORGIA | ATLANTA |
| HAWAII | HONOLULU |
| ILLINOIS | ELGIN |
| INDIANA | SOUTH BEND |
| LOUISIANA | NEW ORLEANS |
|   | SHREVEPORT |
| MARYLAND | GLEN BURNIE |
| MINNESOTA | FARMINGTON |
|   | ST PAUL |
| MISSISSIPPI | JACKSON |
| MISSOURI | CHESTERFIELD |
|   | WELDON SPRING |
| NEW HAMPSHIRE | MERRIMACK |
|   | NASHUA |
| NEW MEXICO | ALBUQUERQUE |
| NEW YORK | NEW YORK |
| NORTH CAROLINA | CHARLOTTE |
| OREGON | MEDFORD |
|   | REDMOND |
| PENNSYLVANIA | LESTER |
| TENNESSEE | MEMPHIS |
|   | NASHVILLE |
| TEXAS | AUSTIN |
| UTAH | SALT LAKE CITY |
| WASHINGTON | BURIEN |


We work indoors and outdoors, at locations in every U.S. state and territory, and run a 24/7 non-stop operation. Here's a quick look at what it's like to be on the Technical Operations team:
---
The following five specialties encompass the duties of an Airway Transportation Systems Specialist (electronics systems technician):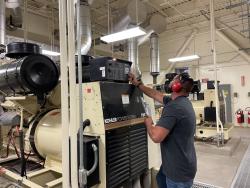 Environmental
 
Technicians maintain and repair the following types of equipment: Lighted Navigational Aids Systems, Engine Generators (with or W/O Transfer Switches), Heating Ventilating and Air Conditioning Systems and Power Sources/Power Conditioning Systems.
---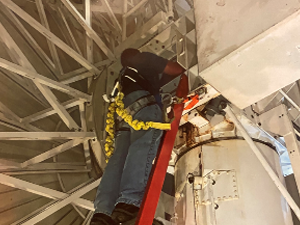 Radar
 
Technicians maintain and repair the following types of equipment: Airport Surveillance Radar, Air Route Surveillance Radar, Air Traffic Control Beacon Indicator, Airport Surface Detection Equipment, and Terminal Doppler Weather Radar.
---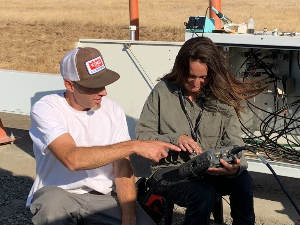 Navigational Aids
 
Technicians maintain and repair the following types of equipment: Instrument Landing Systems, Very High Frequency Omnidirectional Range (VORs), Doppler Very High Frequency Omni Directional Range (DVOR), Tactical Aircraft Control and Navigation (TACAN), and Distance Measuring Equipment (DMEs).
---
Communications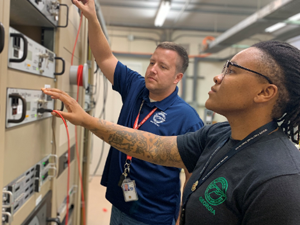 Technicians maintain and repair the following types of equipment: Motorola, ITT, or General Dynamics radios, Radio Communications Link Repeater, Low Density Radio Communications Link Repeater, Small Tower Voice Switch, Enhanced Terminal Voice Switch, Rapid Deployment Voice Switch, Digital Voice Recorder System, Digital Audio Legal Recorder.
---
Automation
 

Technicians maintain and repair the following types of equipment: Automated Radar Terminal System, Direct Access Radar Channel, En Route Automation Modernization.
---
The Air Up There Podcast: How to Become a Technician
Have you ever wanted to start a career in aviation? Well, becoming an aviation technician might be the right path for you! In this episode, we're exploring what it means to be a technician for FAA and in the aviation industry.
---

Videos
---

Resources
---
If you have questions about a career with the FAA as an Airway Transportation Systems Specialist, contact us at TechOpsRecruitment@faa.gov attention: Technical Operations