Information Technology Careers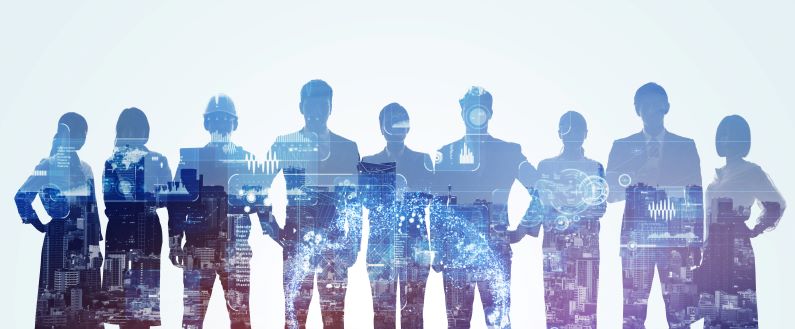 Technology for today. Innovation for tomorrow. We make IT work.
If you are interested in driving innovative technology solutions to solve complex challenges, a career in IT at the FAA offers meaningful, mission-driven work coupled with the ability to continuously develop your skills. Our team has more than 600 employees across 7 different services who are dedicated to partnering with stakeholders to deliver secure, reliable and cutting-edge technologies. Whether it's configuring network infrastructure, securely connecting more than 1,100 FAA facilities, or designing new applications to meet specific mission needs, we have an extensive array of jobs for IT, Cybersecurity, and Data Science professionals.
To learn more about our careers, our team and some of our amazing achievements, please review the items below.
Information Technology Careers
Overview: 
The Office of Information and Technology offers a wide variety of IT careers in many focus areas and disciplines. The Information Technology series is comprised of 13 specific titles to identify the duties and responsibilities performed as well as the special knowledge and skills needed.
To locate current opportunities, choose any of the specific titles noted below as "Keywords" in the search field on https://www.usajobs.gov/.  You can also search within a specific location.
To learn more about future job openings, create a USAJobs profile and opt to receive alerts for one or more of these IT areas of expertise.
Application Software - Design, document, develop, modify, test, install, implement, and support new and existing application software. 
Customer Support - Provide customer assistance and training. Deliver installation, configuration, and troubleshooting services. 
Data Management - Plan, develop, implement, and administer systems for the acquisition, storage, and retrieval of data. 
Enterprise Architecture - Analyze, plan, design, implement, document, assess, and manage the enterprise structural framework to align IT strategy with the FAA's mission and goals. 
Internet - Plan, design, develop, test, implement, and manage internet, intranet, and extranet activities, including system/application development and technical management of websites. 
Network Services - Plan, analyze, design, develop, test, configure, install, implement, integrate, perform maintenance, provide quality assurance and/or management of networked systems. 
Operating Systems - Plan, install, configure, test, implement, and manage the systems environment in support of the FAA's IT architecture and business needs. 
Policy and Planning - Execute a wide range of IT management activities, including strategic planning, capital planning and investment control, workforce planning, policy and standards development, resource management, knowledge management, auditing, and information security management. 
IT Project Manager - Direct management of information technology projects that provide a unique service or product.
IT Program Manager - Manage multi-year IT initiatives of such magnitude they must be carried out through multiple, related IT projects. Includes project selection, prioritization, evaluation and monitoring, cost schedule management, risk management, quality management and resource allocations. 
Security - Ensure the confidentiality, integrity, and availability of systems, networks, and data through the planning, analysis, development, implementation, maintenance, and enhancement of information systems security programs, policies, procedures, and tools. 
Systems Administration - Plan and coordinate installation, testing, operation, troubleshooting, and maintenance of hardware and software systems. 
Systems Analysis - Apply analytical processes to plan, design, and implement new and improved information systems. 
Requirements and Benefits
Qualifications vary according to job position. You must have either a B.S. degree in the appropriate discipline or an equivalent combination of education and experience for entry-level positions. You must be a United States citizen. To find out more about the FAA and our outstanding career opportunities and benefits, visit our Career website at http://www.faa.gov/jobs
Cybersecurity Careers 
Overview: 
Advancements in technology have brought unprecedented gains in both the safety and efficiency of air travel across the globe. Those same advances have further emphasized the importance of securing the networks and systems required to keep such a complex ecosystem operational. Cybersecurity empowers the Agency's mission and is critical in supporting the nation's air navigation services.
Are YOU ready to protect the next generation of air travel?
FAA Cybersecurity professionals work together on a variety of domains, including:
The National Airspace System (NAS) Domain - The NAS consists of over a hundred systems and an ever-growing networking infrastructure. The networking infrastructure is dedicated to NAS Domain operations and segregated from non-NAS infrastructures via secure monitored gateways. The NAS Domain provides the following five major FAA mission-critical services that directly support air travel - automation, communications, navigation, surveillance and weather. 
Mission Support (MS) Domain - The MS Domain provides a common infrastructure of interconnected general support systems and services for the operation of administrative functions. The MS Domain hosts FAA's two Trusted Internet Connections (TICs) or Internet Access Points (IAPs) along with the associated Demilitarized Zones (DMZs) and provides interfaces to the NAS and R&D Domains for external access. The MS Domain is operated by Information & Technology Services (AIT), the FAA's IT Shared Services Organization.
Intelligence - Cyber Threat Intelligence is a critical element to understanding the threat and how this threat is targeting FAA equities and the Aviation Ecosystem. The intelligence cycle is an iterative process that collects, processes, analyzes, and disseminates analysis to inform and help stakeholders manage risk to FAA equities and the Aviation Ecosystem.
Research & Development Domain - The R&D Domain is a separate security perimeter of the FAA Enterprise that provides an environment for research and development activities, programs, and industry partners. The R&D Domain provides a limited emulation of the FAA systems environment and provides a safe conduit to share both unclassified and classified information for R&D purposes
Requirements & Benefits
Qualifications vary according to job position. You must have either a B.S. degree in the appropriate discipline or an equivalent combination of education and experience for entry-level positions. You must be a United States citizen. To find out more about the FAA and our outstanding career opportunities and benefits, visit our Career website at http://www.faa.gov/jobs
Data Science Careers
Overview:
FAA Data Scientists leverage the agency's vast and diverse data assets to describe mission-critical operations and system states; diagnose potential problems or concerns; predict impacts and outcomes; and prescribe actions, which enhance the safety and efficiency of the National Airspace System (NAS).  
Data Scientists employ advanced analytics methods and tools to extract and interpret findings from varied structured and unstructured data sets.  They develop and operationalize models and algorithms to provide deeper insights into the data.  Findings are communicated through visualization and storytelling to support data driven decision-making.  Specific work functions include:
Access diverse data assets from multiple sources, including Big Data environments.
Utilize exploratory data analysis techniques to become familiar with structure, characteristics and anomalies.
Wrangle (prepare, cleanse and/or enrich) data to facilitate analysis.
Employ the Scientific Method to develop hypotheses; design studies; and select appropriate analytics models. 
Work in development environments and apply programming skills for advanced analytics.
Develop and deploy automated processes to identify, collect, process and analyze large data sets.
Leverage advanced analytics techniques, including Machine Learning and Natural Language Processing, to design and operationalize models.
Communicate research findings and insights and support data-driven decision making through data visualization and storytelling techniques.
Requirements & Benefits
Data Science applicants should have professional knowledge of computer science, mathematical and statistical theories, techniques, and methods to gather, analyze, design and construct new processes for modeling, interpreting, and/or reporting quantitative information, trends, relationships and correlations among or within data sets.
Qualifications vary according to job position. You must have either a B.S. degree in the appropriate discipline or an equivalent combination of education and experience for entry-level positions. You must be a United States citizen. To find out more about the FAA and our outstanding career opportunities and benefits, visit our Career website at http://www.faa.gov/jobs
AIT Services - Our Teams 
Overview:
Business Partnership Service (APS)
Provides the primary interaction with stakeholders to understand their needs and foster effective solutions.
Manages the MyIT Service Center, FAA's 24x7 IT helpdesk, to provide support and quickly resolve IT issues.
Maintains the MyIT Service Catalog, the central location for stakeholders to fulfill their standard IT needs.
Collaborates with business partners who require additional IT services to achieve their missions.
Strategy & Performance Service (ASP)
Responsible for AIT's business management activities.
Focuses on AIT's policies, processes, and investment portfolio, along with IT purchasing, hardware management, lifecycle management, and IT contract strategy and support.
Enterprise Program Management Service (AEM)
Provides program and project management services for AIT efforts.
Organizes and manages resources to execute approved programs and projects within defined scope, quality, time, and cost constraints.
Solution Delivery Service (ADE)
Provides technical expertise and develops innovative products and services.
Focuses on planning and quality management, solution and enterprise architecture, information delivery, application development, testing, and sustainment.
Infrastructure & Operations Service (AIF)
Manages AIT's operational environments and protects them from harm.
Delivers effective back-end solutions, and monitors the integrity of and optimizes the operation of the agency's networks, on-premise and cloud data centers, client computers, and applications to ensure the FAA runs on effective and efficient infrastructure.
Information Security & Privacy Service (AIS)
Fortifies the security of the FAA's networks and infrastructure.
Develops and ensures compliance with IT security and privacy policies and controls.
Operates the Security Operations Center (SOC), FAA's 24x7 monitoring and technical support center to detect security threats and attacks against the agency and the Department of Transportation.
Chief Data Office (ADO)
Focuses on the opportunities, threats, capabilities, and gaps related to managing FAA information as a strategic asset.
Manages information for decision-making and operational efficiency and manages risk inherent in massive and fast changing data resources through effective governance.
 
Why Choose a Career with Our Teams?
Our Information Technology teams work together to do some amazing things in support of the FAA's mission to provide the safest, most efficient aerospace system in the world.  Each of our accomplishments require ongoing commitments and support, not only from our technical experts but also from our project and program support subject matter experts.  Listed below are some of our teams' recent achievements.
Robotic Process Automation – Expanded the RPA program through innovative events such as "The Battle of the Bots" to help FAA citizen developers use RPA technology to automate manual, repetitive processes in order to focus on strategic work.  
Drones – Supported the safe integration of drones into the national airspace by successfully deploying a major update to FAA DroneZone, one of the many technology solutions AIT has developed and/or supported to ensure drones are operated safely within a rapidly evolving and complex compliance landscape.
Artificial Intelligence - During "Art of the Possible" Week, employees gained insight into cutting edge technologies related to advanced analytics and AI, including natural language processing and game-theory/digital twins.
Data - Implemented the FAA's Dynamic Regulatory System (DRS), a comprehensive knowledge center that includes all regulatory guidance material from the FAA's Office of Aviation Safety.
Safety – Partnered with the Air Traffic organization to create Aviation Risk Identification and Assessment (ARIA), an automated tool that supports risk-based, data-driven decision-making to provide better insight into potential risks in the National Airspace System (NAS).
Teamwork - Reconfigured 60 applications to leverage the DevSecOps toolchain, migrated 12 applications from on-premises datacenters to the FAA's cloud environments, and migrated the FAA.gov website to a content management system.
Career Development – Offered a wide variety of IT training and development programs that are in addition to those offered by the FAA to all employees.  Piloted the AIT Career Navigator program which enables participating employees to focus on career development by aligning their learning/training paths to their career goals through a series of self-assessments and engagement activities. 
Last updated: Tuesday, July 11, 2023