Applying for Federal Jobs with FAA

The FAA has partnered with USAJOBS to enhance your application experience. If you have not already created an account and built a resume on USAJOBS, please do so. You will need an account in order to apply for a position through USAJOBS. Once you've found the opportunity that interests you within your area of consideration and confirmed your eligibility to apply and meet qualifications (see "Who May Apply" and "Qualifications Required" sections of the vacancy announcement), you're ready to "Apply Online."
If you have a USAJOBS account already, log in. If not, you'll be prompted to create one.
Upload or create a resume and upload any supporting documents you wish to include with your application.
Click "Apply Online" on the vacancy you wish to apply and select the appropriate resume and any other required documents you wish to attach. Please ensure that your resume contains all information requested in the vacancy announcement and choose "Apply for this position now!"
You'll be automatically redirected to the FAA's Online Job Application System — AVIATOR. Click "Continue" and AVIATOR will walk you through a short application process.
Once complete, click "Return to USAJOBS." You'll be redirected to USAJOBS once again to finish the process.
If you have elected to receive email notifications from USAJOBS, you will receive confirmation of your application.
You can also check on your application status at any time by logging into your USAJOBS account.
Tips
Review the "How to Apply" section and be sure to follow the specific instructions for that job, or your application could be considered incomplete and ineligible. Be sure that your resume contains all the information requested in the vacancy announcement. For internal announcements open to Current or Former Federal Employees please ensure your resume contains pay plan, series, grade, start and end dates (including month, day, and year), hours worked per week, and a detailed description of duties for your federal employment. Determining eligibility or qualifications for these positions is dependent on the above information and failure to provide all of this information may result in a finding of ineligible.
When applying for a position, print out the job description to refer to later or when checking status.
Check the status of your application from the "Application Status" page on USAJOBS. Clicking on "More Info" for your application's status will direct you to the AVIATOR system for more detailed information.
Each vacancy announcement contains a "View Application Questionnaire" link. Click this link to see a preview version of the questions you will be asked during the application process. You may use this preview to gather the necessary information you will need once you begin to apply for the job.
For more information on Federal employment and the application process, visit the USAJOBS Resource Center to learn about Employment Information, Federal Hiring Processes, and how to assess your skills and interests to match potential career opportunities.
Career Fields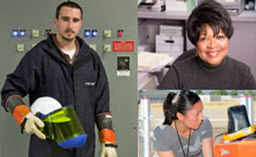 Take control of your career. The FAA has many opportunities for you to contribute to our safe and efficient skies. Below is a sample of possible career fields:
Last updated: Wednesday, March 23, 2022