Flight Program Operations
David Wil Riggins
Vice President, Flight Program Operations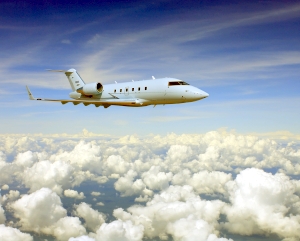 The Air Traffic Organization established Flight Program Operations to consolidate six separate flight program operations into a single operations organization. This organization is responsible for all aspects of aircraft operations, aircraft maintenance, flight safety program, and flight program administration. Flight Program Operations holds operational control of all flight program operations, as well as responsibility for scheduling missions and implementing standardized flight control procedures (flight release and flight following) for all flights conducted in FAA aircraft.
What We Do
Flight Program Operations is responsible for FAA Flight Program safety, policy/standards, operations, training, maintenance, administrative services, financial and business management, acquisition, reporting, regulatory compliance, and other internal/external requirements. Flight Program Operations conducts multiple missions in FAA aircraft to include aviation safety training; flight inspection; research, development, test and evaluation support; and critical event response/transportation.
Core Business and Missions
Flight Program Operations core business is safe flight operations and efficient execution of its four primary missions:
Aviation Safety Training is responsible for providing training and currency/proficiency services to the Office of Aviation Safety personnel. These aviation safety inspectors and flight test personnel require training to remain qualified and current to operate FAA aircraft, in order to perform their primary job duties in a proponent/applicant aircraft. Flight Program Operations personnel, including contract flight instructors, assigned to the Aviation Safety Training mission are based at Fort Worth Alliance Airport.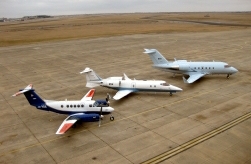 Flight Inspection ensures the integrity of instrument approaches and airway procedures that constitute our National Airspace System infrastructure and the agency's international commitments. Flight Program Operations accomplishes this mission through the airborne inspection of all space- and ground-based instrument flight procedures and the validation of electronic signals in space transmitted from ground navigation systems. Flight procedures and surveillance systems are evaluated for accuracy, aeronautical data, human factors fly-ability, and obstacle clearance. Flight Program Operations also performs inspections of Department of Defense navigational facilities designated as essential to the defense of the United States, both foreign and domestic. Crewmembers at six Flight Operations Group Field Offices located throughout the continental United States, and one in Anchorage, Alaska support this mission.
Research, Development, Test & Evaluation (RDT&E) Support conducts flights directly related to research, development, test, and evaluation of new electronic aids, air traffic procedures, and aircraft improvement, under established agency projects. Crew members assigned to this mission are based at the Signature Flight Support at Atlantic City International Airport.
Critical Event Response/Transportation to accomplish official FAA responsibilities in times of emergency or disaster, as well as support the National Transportation Safety Board in carrying out its duties. Flight Program Operations also serves the transportation needs of Department of Transportation and FAA senior executives. This mission supports other federal agencies under reimbursable agreements, including the Department of Energy, Department of Homeland Security, Federal Emergency Management Agency, and Transportation Security Administration. Crew members assigned to this mission are based at Ronald Reagan Washington National Airport, Hangar 6.
Flight Program Operations Structure
The Flight Program Operations organization is structured around four functional areas:
Aircraft Operations, which supports flight operations in FAA-owned and exclusive-use leased aircraft in accordance with Title 14 of the Code of Federal Regulations (14 CFR), federal directives, and the Flight Program Operations Air Operator/Air Carrier Certificate(s). Flight Program Operations missions include: aviation safety training, flight inspection; RDT&E support; and transportation.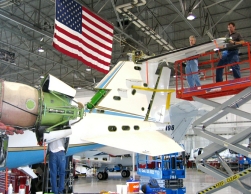 Aircraft Maintenance, which provides maintenance services in accordance with 14 CFR, federal directives, and operating and repair station certificate(s) held by the Flight Program Operations organization. Aircraft Maintenance is also responsible for engineering support for Flight Program Operations, to include software, structures and avionics, and R&D.
Flight Program Safety, which administers and executes the Flight Program Operations safety management system to include all flight and ground safety programs (e.g., aviation safety action program (ASAP), environmental management system, flight operational quality assurance (FOQA), occupational safety and health (OSH) program).
Flight Program Administration, which develops and implements policies, programs, processes, and procedures governing administrative, fiscal, and human resource management and acquisition support including, but not limited to: capital investments, training requirements, staffing, travel, budget, program planning, and internal/external reporting requirements for the FAA Flight Program.
Certificated Operations
AJF holds multiple operating/air agency certificates to conduct operations. AJF holds a 14 CFR Part 135 Air Operator Certificate and a 14 CFR Part 135 Air Carrier certificate, currently in the process of consolidation (which apply primarily to the flight inspection and critical event response/transportation missions). AJF holds letters of authorization (LOA) to operate under 14 CFR Part 91 (which primarily applies to the Aviation Safety Training and RDT&E support missions). In addition, AJF conducts aircraft maintenance under its Part 135 Air Operator Certificate and 14 CFR Part 145 repair station certificate. All missions are conducted to 14 CFR standards equivalent to industry operations of similar size, scope, and complexity.
FAA Aircraft Fleet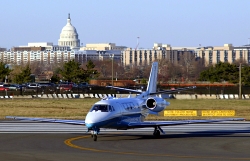 The FAA operates and maintains 39 owned/exclusive-use leased aircraft performing four primary missions as described above. Flight Program Operations initiated a Fleet Assessment/Modernization Study through the Center of Excellence for Technical Training and Human Performance. Based in the recommendations and anticipated customer requirements, Flight Program Operations will develop a comprehensive long-term acquisition strategy.
Address
FAA National Headquarters
800 Independence Ave., SW
Orville Wright Bldg. (FOB10A)
Suite 1028
Washington, DC 20591
Phone: (202) 267-0523
Last updated: Wednesday, April 13, 2022