Close Calls and the New York Times: What You Need to Know
Monday, August 21, 2023
The U.S. aviation system is the safest in the world, but one close call is one too many. The FAA and the aviation community are pursuing a goal of zero serious close calls, a commitment from the Safety Summit in March. The same approach virtually eliminated the risk of fatalities aboard U.S. commercial airlines. Since 2009, U.S. carriers have transported more than the world's population with no fatal crashes.
 
Multiple layers of safety protect the traveling public, including: Traffic Collision Avoidance Systems on commercial aircraft, surface safety technology at the country's biggest airports, and robust procedures. Air traffic controllers and pilots all play critical roles.
The FAA maintains extremely conservative standards for keeping aircraft safely separated. Safety experts follow up on all events — even those in which no collision was imminent or even possible — and evaluate them for safety risks. The agency publishes this information on our website, updating it as new information becomes available. 
In addition, the agency has hired 1,500 controllers for FY2023. This is in addition to the more than 2,600 controllers that are at various levels of training at air traffic facilities across the country.
We welcome scrutiny and look forward to the recommendations from the FAA's independent Safety Review Team this fall.  
Tracking the Data
The data in the below chart shows that the number and rate of runway incursions are steadily declining since the pandemic.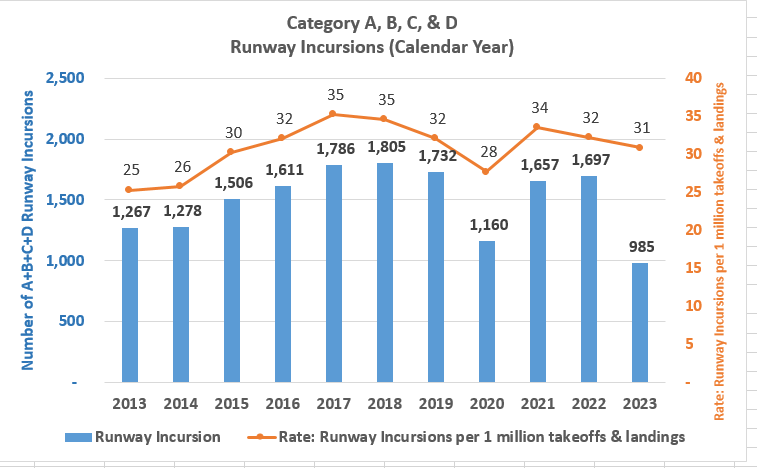 Cause of runway incursions for CY2023: 
60% are Pilot Deviations
20% are Operational Incidents
20% are Vehicle/Pedestrian deviations
You can stay updated on runway incursion data and the latest steps the FAA is taking on our call to action page.  
Taking Action
The FAA is taking action. Since March we have:
1. Issued a safety alert to ensure operations are conducted at the highest level of safety, including changes to procedures or training. 
2. Announced steps the agency's Air Traffic Organization will take to ensure supervisors devote their full attention to the operation and airfield during peak traffic.  
3. Formed Independent Aviation Safety Review Team
4. Invested $121M to reduce runway incursions at 8 airports, in addition to the more than $100M invested in 12 airports earlier this year.
5. Launched Controller "Stand Up for Safety" Campaign
6. Began the search for the new surface situational awareness tool
Runway Safety Planning and Mitigation
Air traffic control facilities host annual Runway Safety Action Team meetings, where all users of that airport (pilots, controllers, vehicle drivers) come together and discuss any incidents, safety concerns and solutions. These meetings are the primary forum for pinpointing and addressing airport-specific risk in the surface environment. The product of the meeting is a Runway Safety Action Plan where stakeholders document and agree to pursue specific actions to improve surface safety.
After analyzing years of national runway incursion data, we initiated a comprehensive multi-year Runway Incursion Mitigation (RIM) program to identify, prioritize, and develop strategies to help airport sponsors mitigate risk.
To learn more, read about the FAA's runway safety program and runway safety fact sheet.