Engineering Designee Training Information (DER & ODA UM)
Program News
The Engineering Designee Training Program continues to undergo significant revisions. Our training program offers a blend of Initial and Recurrent training. Our training is developed to convey current and new policy, and provide applicable technical information to Engineering Designees, ODA UMs and ACO Engineers who manage these designees.

While some of the material learned in long term evolution training programs is intricate, our goal is to make it as simplified and easy to understand as possible. For help and community support, view our Frequently Asked Questions (FAQs) page.

The following courses are offered:
Technical Sessions

EDR & ODA Training
Face-to-Face Supplemental Training
The DER General Session has been eliminated as a separate requirement. Information previously offered in the General Session will now be included in the Recurrent General Training Overview course, which is required prior to completion of elective courses. We will hold optional face-to-face supplemental training sessions at multiple locations every year. These optional sessions will not fulfill any training requirement but will be free to anyone who has registered and paid for online recurrent training. These sessions will include both subject specific presentations by FAA personnel as well as an open forum format to allow attendees to discuss issues of interest with FAA personnel.
Due to the COVID-19 public health emergency, the optional face-to-face supplemental training sessions have been suspended. As the vaccine becomes more widely available and COVID-19 case numbers drop, we hope to resume these sessions. Once we are able to resume the optional supplemental training sessions, we will post schedule information on the Engineering Designee Training web page.
Renewal Requirements
Policy Memorandum AIR-600-19-6F0-PM01, Changes to FAA Order 8100.8D Recurrent Training Program Requirements and New Due Dates for DERs, ODA Engineering Unit Members, DER Advisors, and Aircraft Certification Engineering OMT Members makes significant changes to the Engineering Designee Training Program and Policy. Policy Memorandum AIR-600-19-6F0-PM01 supersedes Policy Memorandum AIR100-17-160-PM02.
Additional information on the implementation of this change is provided in the Frequently Asked Questions (FAQ) document.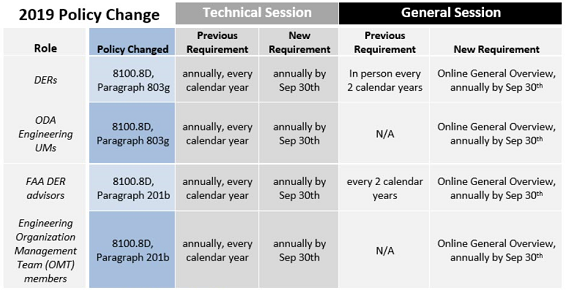 ---
Links
Visit our page often to stay current with program updates.
Last updated: Tuesday, January 3, 2023