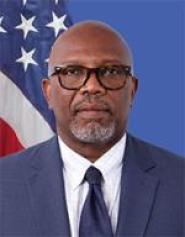 Jeffrey Vincent is the Federal Aviation Administration's Vice President for Air Traffic Services within the Air Traffic Organization (ATO). Mr. Vincent provides leadership and direction to more than 18,000 employees who collectively provide safe and efficient air navigation services to 45,000 flights and 2.9 million airline passengers every day across more than 29 million square miles of airspace.
Before assuming his current role, Mr. Vincent served as Vice President for Safety and Technical Training, responsible for the integration of safety and training standards into the provision of air traffic services.
Prior to that, Mr. Vincent was Director of Air Traffic Services, Eastern Service Area (North), and held various positions in the FAA, including Quality Control Group Manager, Operations Manager, Support Manager and Tower Manager.
He began his FAA career in 1988 as an air traffic controller and studied Aeronautical Science at Embry-Riddle Aeronautics University.
Mr. Vincent is a member of the FAA Managers Association (FAAMA) and works with the National Black Coalition of Federal Aviation Employees (NBCFAE) to promote aviation careers to future generations.