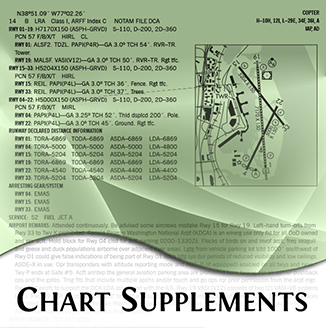 Chart Supplements is a pilot's manual that contains data on public use and joint use airports, seaplane bases heliports, VFR airport sketches, NAVAIDs, communications data and weather data sources.
Chart Supplement Alaska is civil/military flight information publication issued by the FAA every 56 days. It is a single volume designed for use with the Enroute Charts, Alaska Terminal Area Charts.
Chart Supplement Pacific is designed for use with Flight Information Publication, Enroute Charts and with the Hawaiian Islands, Mariana Islands and Somoan Islands Sectional Aeronautical Chart.
North Pacific Route are designed for FAA Controllers to monitor transoceanic flights. The charts show established intercontinental air routes, including reporting points with geographic positions.
North Atlantic Route is designed for FAA Controllers to monitor transatlantic flights, this 5-color chart shows oceanic control areas, coastal navigation aids, oceanic reporting points.
Gulf of Mexico Vertical Flight is designed for helicopter operations, this 5-color chart depicts and IFR GPS way-point grid system that aids in the direct routing to oil platforms in the gulf.
Aeronautical Chart Users' Guide contains a listing of every charting symbol used on each FAA product and its meaning.
Airport Obstruction Charts are 1:12,000-scale graphics (1:18,000 scale for Denver International DEN 9077) showing general obstruction information, FAR Part 77 surfaces, runways, taxiways and apron areas.