2022 V&V Summit
« Return to Verification and Validation Summits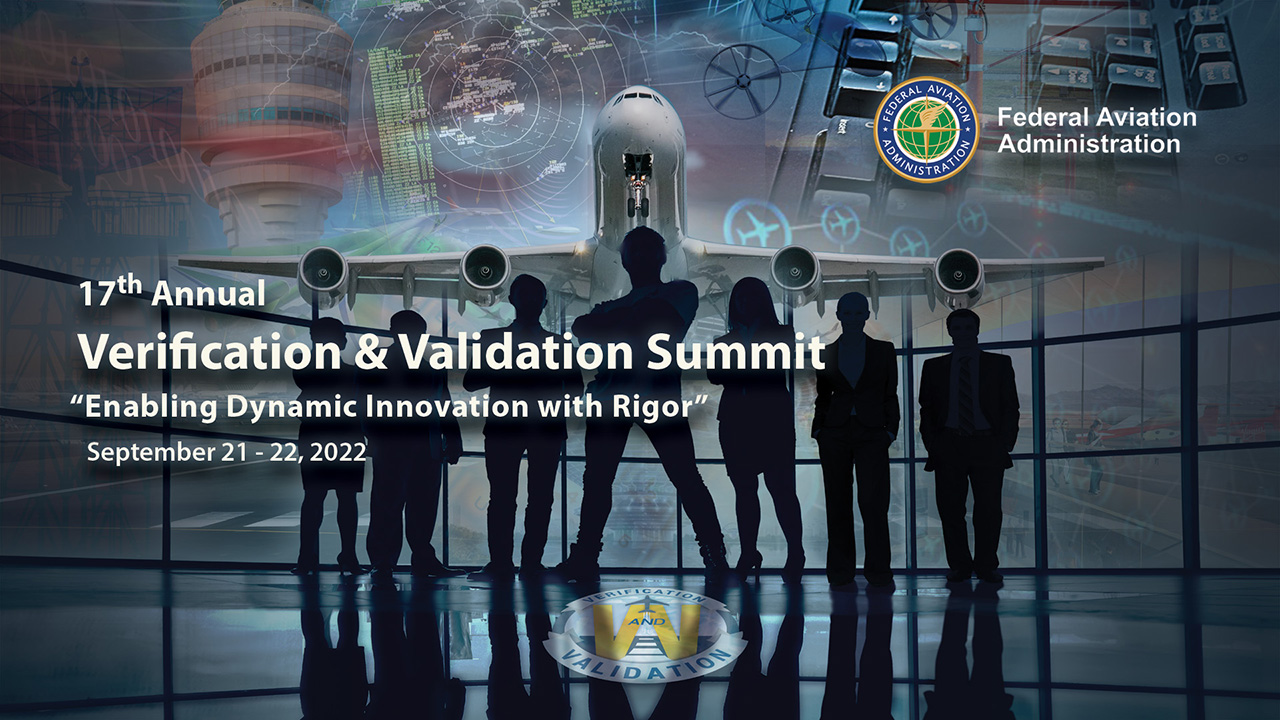 Records from the 17th Annual Verification and Validation Summit held virtually September 21st and 22nd, 2022
Summit Presentations
September 21st, 2022
Welcome to V&V Summit - Opening Remarks
John Frederick
FAA, Manager, V&V Strategies & Practices Branch, ANG-E5A
Download Presentation
William J. Hughes Technical Center - Opening Remarks
Eric Neiderman
FAA, Deputy Director, William J. Hughes Technical Center, ANG-E001
Download Presentation
Preparing for the United States Space Force After Next
Presentation Available Upon Request
Nackieb Kamin
Program Manager, Science, Technology and Research Directorate, United States Space Force (USSF)
Challenges in Commercial Space Transportation Research and Development
Brian Rushforth
FAA, Manager, Innovation Division, Office of Commercial Space Transportation, AST
Download Presentation
Calibrated Trust vs Blind Faith: Testing AI/MLPowered Emerging Technologies for Aviation
Colonel Daniel Javorsek
Commander of Detachment 6, Air Force Operational Test and Evaluation Center (AFOTEC), Nellis Air Force Base; Director, F-35 U.S. Operational Test Team
FAA Trust Briefing
Download Presentation
Wrap Up
John Frederick
FAA, Manager, V&V Strategies and Practices Branch, ANG-E5A
September 22nd, 2022
Day 2 Welcome
John Frederick
FAA, Manager, V&V Strategies and Practices Branch, ANG-E5A
Download Presentation
Assistant Administrator for NextGen - Opening Remarks
Paul Fontaine
FAA, Acting Assistant Administrator for NextGen, ANG-1
Accountable Agility — How Does This Work?
Nathan Tash
FAA, Deputy Assistant Administrator for Acquisition and Business Services, ACQ-001, and FAA Acquisition Executive
Download Presentation
Incrementally Assuring the Viability of Critical Software Systems
William S. Hayes
Principal Engineer, Carnegie Mellon University Software Engineering Institute (CMU/SEI)
Download Presentation
Frameworks and Measures for Dynamic Innovation with Rigor
William D. Miller
Adjunct Professor, School of Systems and Enterprises, Stevens Institute of Technology
Download Presentation
T&E of AI: Challenges & Opportunities
Jonathan Elliott, P.E. & PMP
Chief of Test & Evaluation, Department of Defense Chief Digital and Artificial Intelligence Office (CDAO)
Download Presentation
Defining Digital Twins in the Physical World: Leading with Data to Drive Real-world Outcomes
Presentation Available Upon Request
Aleksei Kac
Head of Engineering, New Business Incubation Team, Verizon
Robyn Erkelens
Head of the New Business Incubation Team, Verizon
Agility: Moving Quickly and Adapting to Change while Preserving Quality and Rigor
Huntley Parker
Solutions Architect and Lean-Agile Coach, Science Applications International Corporation (SAIC)
Philip E. Holmer
Chief Engineer/Director, Science Applications International Corporation (SAIC)
Download Presentation
Summit Closing
John Frederick
FAA, Manager, V&V Strategies and Practices Branch, ANG-E5A
Videos
Video #1 (The Importance of Mistakes, John Cleese)
Video #2 (DoD Acquisition Revolution — Airman Magazine)
Video #3 (Ameca and the most Realistic AI robots, Digital Engine)
Video #4 (AFOTEC: Major General Matthew H. Molloy)
If you require an accessible version of one of the documents provided on this page, please contact Wanda Lopez-LaBarbera.
Last updated: Tuesday, May 30, 2023