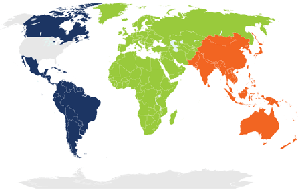 The FAA's Office of International Affairs (API) is responsible for providing international coordination and outreach to support the harmonization of global aviation system modernization efforts. This supports the FAA's international mission to promote a safe, secure, seamless, and sustainable global aerospace system. 
API's staff is located at the FAA's headquarters in Washington, D.C. and in offices strategically located around the world for in-person engagement.
Click here to view International Staff Listed by Country/Area of Assignment.
FAA's international offices are listed below:
In addition, API provides leadership for the FAA's international programs and initiatives for harmonization of aerospace standards, prioritization and coordination of technical assistance and training, cooperative research and development, information exchanges, and other forms of international collaboration. FAA launched the Fiscal Year 2022-2026 FAA Strategic Plan, known as Flight Plan 21, and it focuses on the following four pillars to build the 21st century FAA: Safety; People; Global Leadership, and Operational Excellence. These pillars set a course for the future of the FAA and align resources and processes to better enable the FAA to provide exceptional service to the flying public. The Global Leadership pillar will advance global aviation safety, operational excellence, and innovation by leading and collaborating with aviation authorities globally.
Additional Resources:
Last updated: Tuesday, August 22, 2023