NextGen Weather Processor (NWP)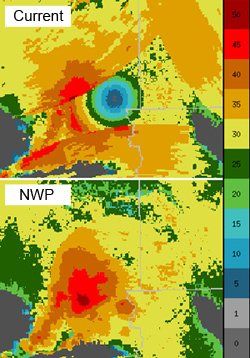 The fully-automated NextGen Weather Processor (NWP) identifies aviation safety hazards and translates weather information needed to predict route blockage and airspace capacity constraints up to 8 hours in advance.
NWP combines information from weather radars, environmental satellites, lightning, meteorological observations from surface stations and aircraft, and NOAA numerical forecast model output to generate improved products for all FAA users and National Airspace System (NAS) stakeholders.
NWP's new state-of-the-art translation products allow air traffic managers to collaboratively achieve more efficient strategic and tactical use of the airspace and significantly reduce weather-related air traffic delay.
NWP also includes an Aviation Weather Display (AWD), providing consistent weather information "at a glance" for enroute and terminal users.
Improvements with NWP
Provides a consistent weather picture, with timely analyses and short-term predictive elements tailored to specific aviation requirements
Translates the weather picture into reliable airspace constraints for integration into air traffic decision-making
Enables safe, timely, and efficient operation of the NAS in all kinds of weather and seasons
Consolidates multiple FAA weather programs with overlapping capabilities into a single NextGen weather system

Last updated: Tuesday, July 19, 2022