NextGen Weather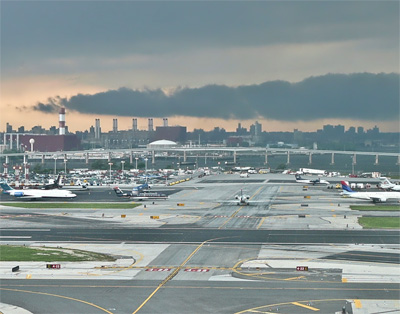 The NextGen Weather Program is a critical part of NextGen as it helps reduce the impact of weather on aviation, resulting in safer, more efficient and predictable day-to-day National Airspace System (NAS) operations.
Our stakeholders are also a critical part of the NextGen Weather Program, and we want to hear from you! If you have an aviation weather-related problem that you would like us to consider as part of the NextGen Weather Program, you can complete our NextGen Aviation Weather Request Form. We are not looking for solutions. We are looking for descriptive problem statements. On the form, we ask for the following information:
Description of the aviation weather problem
Existing operational gaps
Benefits to aviation
Potential users
Proposed solution (optional)
Other background information
If you have any questions about the form or the NextGen Weather Program, contact us.
NextGen Weather harnesses massive computing power, unprecedented advances in numerical weather forecasting, translation of weather information into airspace constraints, and modernized information management services. With this powerful combination, NextGen Weather can provide tailored aviation weather products within the NAS, helping controllers and operators develop reliable flight plans, make better decisions, and improve on-time performance.
The flying public will experience less weather delay, which means fewer departure and arrival delays, reduced number of flight cancellations and refueling stops, and overall increased dependability in flight schedules.
NextGen Weather is accomplished through collaboration between the FAA, National Oceanic and Atmospheric Administration, and NASA.
NextGen Weather Components
NextGen Weather starts with problem-solving and establishing needs from NAS users and stakeholders that can be developed into validated requirements for operational implementation. This effort includes conducting studies and surveys via the Aviation Weather Development and Evaluation Program and working with the National Weather Service (NWS) Aviation Weather Testbed. Weather technologies are transitioned and translated into useable capabilities to the NWS and FAA NextGen Weather Processor (NWP).
The FAA Aviation Weather Research Program (AWRP) sponsors applied research to minimize the impact of weather on the NAS. AWRP-sponsored research initiatives include automated turbulence, convection, icing, ceiling and visibility forecasts, and various flight planning tools and guidance.
The Weather Technology in the Cockpit program is an FAA NextGen weather research program that performs research to resolve gaps in cockpit weather information and technology, pilot knowledge and training, and pilot-weather decision making.
The fully-automated NextGen Weather Processor incorporates AWRP research to help identify terminal and enroute safety hazards, and supports strategic traffic flow management, including the translated weather information needed to predict route blockage and airspace capacity constraints up to 8 hours in advance.
The NWP Aviation Weather Display consolidates current weather displays and provides consistent weather information "at a glance" for enroute and terminal users.
Common Support Services – Weather modernizes information management services for weather and tailors weather products within the NAS via System Wide Information Management.
Connectivity between these components and their relationship within the NAS are shown in the high-level overview of NextGen Weather Architecture.
Last updated: Tuesday, July 19, 2022