Aviation Weather Research Program
The FAA Aviation Weather Research Program (AWRP) researches applied weather to minimize the impact of weather on the National Airspace System (NAS).
The research goal is to transition new or improved weather capabilities into evolving air traffic management decision support systems, incorporate them into the National Weather Service (NWS), or both to improve the delivery of FAA-required services and enhance aviation safety and efficiency.
AWRP initiatives consist of the following:
Meeting specific weather information needs by stakeholders and NAS users
Mitigating weather-related safety and efficiency issues with a line of sight to operations
Evolving weather information required today in legacy capabilities to meet emerging needs, often in collaboration with the NWS
AWRP research areas include, but are not limited to, the following:
Turbulence
Convective weather
Ceiling and visibility (C&V)
Advanced weather radar techniques
Weather prediction model development and enhancement
The FAA collaborates with the NWS via the National Oceanic and Atmospheric Administration NWS Aviation Weather Center Web Portal to provide fast, reliable access to advanced weather products and flight planning tools, including forecast products sponsored by the AWRP. A broad community of users, including pilots, dispatchers, and Flight Service Station briefers account for more than 10 million hits per day on this web portal.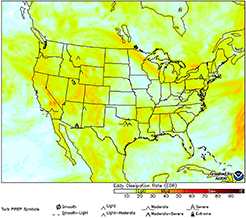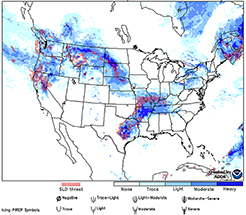 Helicopter Emergency Medical
Services (HEMS) Tool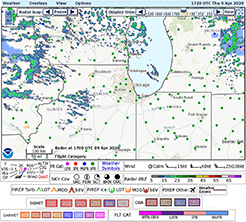 Offshore Precipitation Capability
The FAA's Non-Radar Weather Radar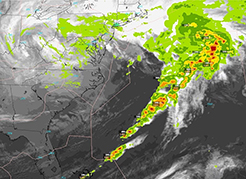 Winter in the United States can produce some of the most dangerous weather for the aviation industry, including freezing rain, freezing drizzle, and sleet. In winter of 2019, the FAA sponsored and led a field campaign, In-Cloud Icing and Large-drop Experiment (ICICLE), to collect extensive data in hazardous aircraft environments to support FAA icing research. In collaboration with scientists and engineers from Environment and Climate Change Canada and the National Research Council of Canada, the ICICLE campaign targeted weather in Illinois and neighboring states. The data from the ICICLE campaign will help develop and validate icing weather tools for the identification of icing conditions an aviation user may encounter in terminal and en route environments to enable safe operations in the NAS.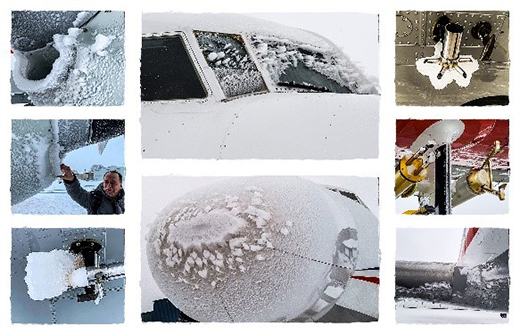 Supplemental AWRP Materials
Last updated: Tuesday, January 24, 2023