No Drone Zone
What is a No Drone Zone?
The FAA uses the term "No Drone Zone" to help people identify areas where they cannot operate a drone or unmanned aircraft system (UAS). The operating restrictions for a No Drone Zone are specific to a particular location. You can find out if there are airspace restrictions where you are planning to fly using the B4UFLY mobile app.
No Drone Zone Areas
Restricted Airspace: The FAA prohibits drone flight over certain areas of airspace.
Local Restrictions: In some locations, drone takeoffs and landings are restricted by state, local, territorial, or tribal government agencies. The FAA has provided No Drone Zone sign that can be used by these governments to identify areas where there are local flight restrictions. It is important to note, these No Drone Zones only restrict taking off or landing and do not restrict flight in the airspace above the identified area.

Temporary Flight Restrictions (TFRs) define a certain area of airspace where air travel is limited for a period and may be in place for different reasons. The FAA may use the term "No Drone Zone" to identify an area where there is a TFR. Examples include, major sporting events, presidential movements, or in security sensitive areas designated by federal agencies.

Restriction details of the TFR include, size, altitude, date/time, and what types of operations are restricted and permitted. All pilots are required to adhere to the restrictions of the TFR.
I'm a drone operator. What if I see a 'No Drone Zone' sign?
A No Drone Zone sign lets you know that taking off or landing your drone from the designated area is not allowed, per local restrictions. Be aware that even if you have an airspace authorization to fly in the airspace over this area, you do not have authorization to take off or land from the property designated as a local No Drone Zone. In other words, airspace authorization does not mean land use approval.
I'm a state, local, territorial, or tribal government entity. What resources are available to me?
Only the FAA can restrict airspace. However, the FAA recognizes that drone safety is a partnership with local, state, tribal, and territorial government entities who have rights to regulate where drones are allowed to take off and land.
We have developed a sign that government entities can customize and use for their specific needs and locations. Signage should cite specific statutes or local regulations/policies that apply. The sign is not for private landowners.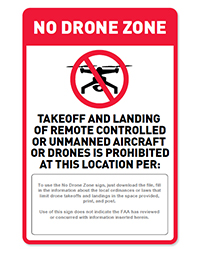 Who should not use the No Drone Zone sign?
Private landowners who are looking to keep drones off their land should not use the "No Drone Zone" sign.
Additional Resources
Last updated: Friday, August 11, 2023