Drones Are Prohibited In and Around Stadiums

Flying drones in and around stadiums that seat 30,000 people or more is prohibited by law beginning one hour before and ending one hour after the scheduled time of any of the following events:
Major League Baseball Game
National Football League Game
NCAA Division One Football Game
NASCAR Sprint Cup, Indy Car, and Champ Series Race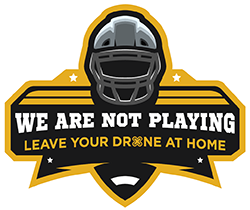 To educate fans and local communities about restrictions, the FAA and the Stadium Managers Association (SMA) created the "It's Game/Race Day: Leave Your Drone at Home" safety campaign.
The primary slogan/theme is:
IT'S GAME/RACE DAY
PUT YOUR DRONE AWAY
Alternate slogans/themes are:
WE ARE NOT PLAYING
LEAVE YOUR DRONE AT HOME
BE A GOOD SPORT
LEAVE YOUR DRONE AT HOME
Toolbox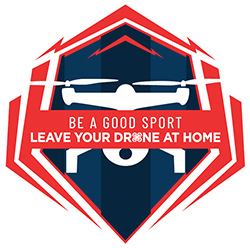 The FAA and SMA have developed a toolbox for stadium management and team representatives to use for media and outreach purposes. Toolbox contents include standard graphics files, customizable graphics files (customized with team colors), sample social media copy, and broadcast/announcer copy. Drone safety is everyone's business and the FAA is proud to work with the SMA and remind people to leave their drones at home.
Download campaign files:
Last updated: Friday, May 27, 2022