UTM Field Test (UFT)
Project Overview
The need of small Unmanned Aircraft Systems (UAS) operators to access airspace continues to grow with more business cases requiring drones to operate both in visual line-of-sight (VLOS) and beyond visual line-of-sight (BVLOS). The FAA recognizes the need to support more complex UAS operations at low altitudes (under 400 feet above ground level) in a safe, equitable, and efficient way. The FAA continues to collaborate with industry and government to improve UAS Traffic Management (UTM) through research, engineering, and other activities.
These efforts include the UTM Field Test (UFT) project that will field-test new capabilities and proposed standards that support small UAS operation in the real world. 
The FAA is conducting the UFT in collaboration with two FAA Test Sites:
The UFT project will conduct flight tests in complex environments including operations over people, at night, and among diverse missions, as well as test updates to UTM technology such as data correlation using remote identification and updated cybersecurity framework.
Operational view of UTM Field Test with UAS activity during the day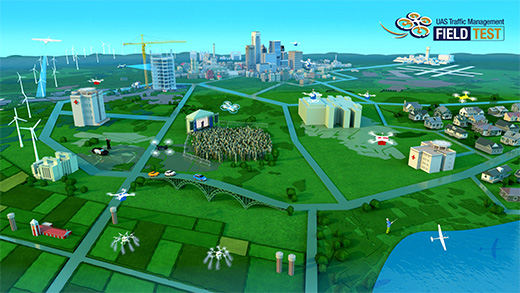 Operational view of UTM Field Test with UAS activity during the night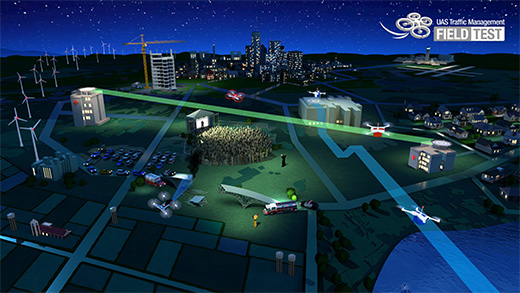 The test outcomes will provide the FAA with information to support policy development and will help industry update standards to support routine BVLOS operations. Test infrastructure updated through field testing activities will allow for continued collaboration between the FAA and the UTM community and support maturation of UTM ecosystem.
UTM ecosystem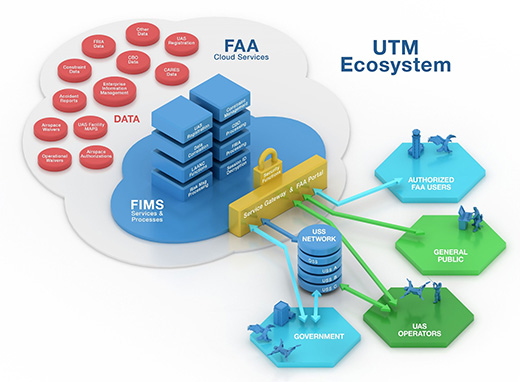 (click to enlarge)
UTM Field Test will help improve UTM capabilities and services within UTM ecosystem.
UFT Reference Documents
Contact
Last updated: Thursday, June 30, 2022