UTM Pilot Program (UPP)
Program Overview
Small Unmanned Aircraft Systems (sUAS) operators are continuously exercising new applications for (sUAS), including goods delivery, infrastructure inspection, search and rescue, and agricultural monitoring. There has been limited infrastructure available to manage the widespread expansion of sUAS operations within the National Airspace System (NAS). In response to this need, the Federal Aviation Administration (FAA) Extension, Safety and Security Act of 2016 (PDF) established the UTM Pilot Program (UPP) to define an initial set of industry and FAA capabilities required to support UTM operations.
Phase One (1)
On January 14, 2019, then Transportation Secretary Elaine L. Chao announced the selection of three FAA UAS Test Sites to partner with the agency in UPP:
UTM services demonstrated in UPP Phase One included: (1) the exchange of flight intent among operators, (2) the generation of notifications to UAS Operators regarding air and ground activities, known as UAS Volume Reservations (UVRs), and (3) the ability to share UVRs with stakeholders, including other UAS Service Suppliers (USS) and the Flight Information Management System (FIMS).
Testing was completed in cooperation with the National Aeronautics and Space Administration (NASA), industry stakeholders, UAS Integration Pilot Program (IPP) participants, and the selected FAA UAS Test Sites.
For more information on UPP Phase One, please read the UPP Summary Report (PDF).
Phase Two (2)
As directed by the FAA Reauthorization Act of 2018 (H.R. 302 SEC. 376(b)) (PDF), UPP was required to meet additional objectives prior to completion. These objectives include testing of Remote Identification (RID) technologies and operations with increasing volumes and density.
In April 2020, the FAA selected two FAA UAS Test Sites to partner with the agency in Phase 2:
The FAA conducted the second phase of work in fall of 2020 in cooperation with NASA, industry stakeholders, UAS Integration Pilot Program (IPP) participants, and the selected FAA UAS Test Sites. UPP Phase 2 moves toward the deployment of RID technologies in increasingly complex environments to enable a UTM ecosystem.
Watch demonstration videos for each UPP 2 use case on FAA's YouTube channel. View the progress report (PDF) and final report (PDF).
As the FAA, NASA, and partners move forward, the primary goal for UPP is to develop, demonstrate, and provide enterprise services that will support the implementation of initial UTM operations using a cloud service infrastructure. These enterprise services will support the sharing of information that promotes cooperative separation and situational awareness.
UTM Ecosystem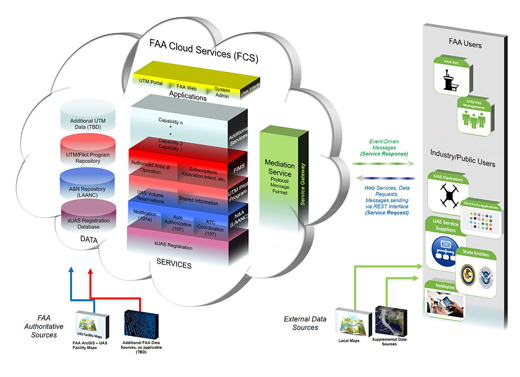 (click to enlarge)
UPP demonstrations will showcase the initial integrated UTM ecosystem, UTM operational concept, and UTM capabilities.
UPP: A Model Toward an Operational Concept
As UAS traffic demand increases in the NAS, it is necessary for the FAA, along with NASA and industry partners, to develop a means to accommodate these operations in a safe and efficient manner. As an initial step in completing UPP Phase 1—and in support of the UTM ecosystem—the prototype Flight Information Management System (FIMS) has been transitioned to test facilities at the William J. Hughes Technical Center (WHJTC) for integration and testing. FIMS is a central component of the ecosystem providing the FAA with access to UTM data.
UPP High-Level Operational Concept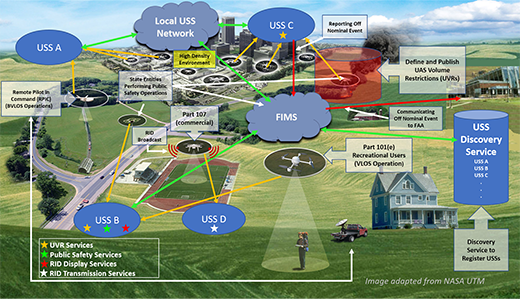 (click to enlarge)
New UTM capabilities and services will evolve as UTM operational concepts and data exchange requirements mature.
Frequently Asked Questions
What is the purpose of the UTM Pilot Program (UPP)?
The purpose of UPP is to evaluate results and determine the appropriate next steps, moving toward the development and deployment of prototype enterprise services into the FAA framework to support initial UTM operations. These enterprise services will be used to share intent and situational awareness information with the FAA and UTM operators.
How does UPP complement IPP?
UPP is a Congressional directive to the FAA and NASA to establish a Research Transition Team and partner with industry to help advance the safe integration of unmanned aircraft into the national airspace. IPP is a Presidential directive to the Secretary of Transportation and FAA to create a partnership framework for private sector and local/state/tribal governments to help direct broader national policy.
IPP's purpose was to advance the UAS industry by informing regulations that permit more complex, demand-driven UAS operations and push the boundaries of UAS use. In support of future UAS operations, UPP's purpose is to pilot a UTM ecosystem built on architectural infrastructure and data services that allow USSs, operators, and government organizations to communicate and share information that will move toward the FAA's future implementation of UTM.
The IPP program concluded on October 25, 2020. To continue work on the remaining challenges of UAS integration, the FAA launched a new program called BEYOND on October 26, 2020.
How will UPP support the implementation of UTM?
UPP will evaluate the FAA and NASA's UTM research technologies. The results from UPP will provide a proof of concept for UTM capabilities currently in research and development and will serve as the basis for initial deployment of UTM capabilities.
What is Remote ID?
Remote Identification is the ability of a UAS in flight to provide identification information that can be received by other parties. It is the next step to enable safe, routine drone operations by allowing the public, the FAA, law enforcement, and Federal security agencies to identify UAS flying in their jurisdiction.
What happens now that FAA has completed UPP Phase 2?
The next step is to take the results from UPP Phases 1 and 2 and inform stakeholders, enabling deployment of enterprise capabilities (including RID services.) The lessons learned from UPP will support ongoing policy and technology advancement efforts toward enabling BVLOS operations.

Contact
Email: FAAUTM@faa.gov
Quick Links
Last updated: Friday, May 27, 2022