On Airport Unmanned Aircraft System Operations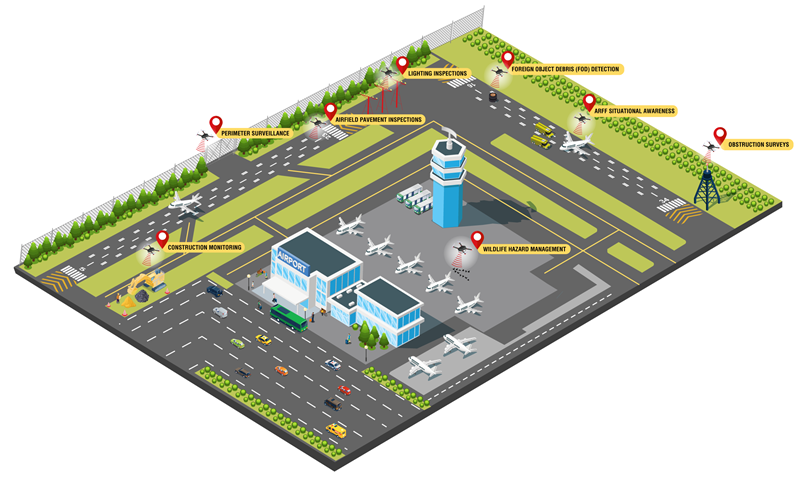 The proliferation of interest in and use of Unmanned Aircraft Systems (UAS), or drones, has led to significant policy and regulatory adaptations to integrate these platforms into the airport environment. As the technology and its use continues to mature, the FAA is committed to conducting research and providing policy and guidance to ensure the safe operation of UAS on-airports.
For questions about UAS registration, airspace authorization, waivers, law enforcement resources and more, visit www.faa.gov/uas/.
Airports Unmanned Aircraft System Contacts
Office
Contacts
FAA Airports Emerging Entrants Division
Mike Branum, Program Manager
817-222-5669
Michael.Branum@faa.gov
 
FAA Technical Center

Garrison Canter, UAS Research Lead
717-460-8594
Garrison.J.Canter@faa.gov

Michael DiPilato, Airport Research Specialist
609-485-7249
Michael.DiPilato@faa.gov

Airports Regional Contacts
Alaskan
Central (IA, KS, MO, NE)
Eastern (DC, DE, MD, NJ, NY, PA, VA, WV)
Great Lakes (IL, IN, MI, MN, ND, OH, SD, WI)
New England (CT, ME, MA, NH, RI, VT)
Northwest Mountain (CO, ID, MT, OR, UT, WA, WY)
Southern (AL, FL, GA, KY, MS, NC, PR, SC, TN, VI)
Southwest (AR, LA, NM, OK, TX)
Western-Pacific (AZ, CA, HI, NV, GU, AS, MH)
Additional Information
UAS Integration and Application at Airports
FAQs
UAS Guidance & Resources
Regulations and Policy
On or Near Airport
Airspace Authorizations
Related Research and Articles
ARFF Live Monitoring
Obstacle Data Collection
Evaluation of Unmanned Aircraft Systems for Airport Obstacle Data Collection
UAS obstacle data collection was conducted at five airports using a variety of UAS platforms, camera payloads, and data collection parameters. These data sets were processed using two types of aerial triangulation (AT) software and analyzed using three-dimensional (3D) stereoscopic analysis techniques. The UAS data sets were evaluated based on their image quality, completeness, and accuracy relative to current FAA standards. The accuracies of UAS-derived obstacle measurements were evaluated by comparing them with data sets collected using field survey techniques and aerial surveys utilizing manned aircraft. The results of both FAA and NGS review of the data found that UAS aerial imagery, in conjunction with 3D stereo analysis, is capable of collecting obstacle measurement data that meets current FAA Advisory Circulars 150/5300-17 and 150/5300-18 accuracy standards. The Office of Airports is currently evaluating the integration of the findings within the report into current policy and standard practice for obstacle data reporting.
Pavement Inspections
Wildlife Dispersal
Investigating nocturnal UAS treatments in an applied context to prevent gulls from nesting on rooftops
Ring-billed (Larus delawarensis) and herring (L. argentatus) gulls are numerous and widespread in North America. These gulls rank among the top 9 species for risk of bird-aircraft collisions (hereafter strikes). The ubiquitous presence of gulls in urban coastal environments, including rooftop nesting behavior, are factors impacting strike risk. The purpose of this research was to assess gull response to a small uncrewed aircraft system (UAS) in hazing flights at night during the nest-building phase. 
Testing a Key Assumption of Using Drones as Frightening Devices: Do Birds Perceive Drones as Risky?
Wildlife managers have recently suggested the use of unmanned aircraft systems or drones as nonlethal hazing tools to deter birds from areas of human-wildlife conflict. The research goal was to establish the degree to which the perception of risk by birds would vary between common drone platforms relative to a predator model when flown at different approach types.
Responses of Turkey Vultures to Unmanned Aircraft Systems Vary by Platform
A challenge that conservation practitioners face is manipulating behavior of nuisance species. The turkey vulture (Cathartes aura) can cause substantial damage to aircraft if struck. The goal of this study was to assess vulture responses to unmanned aircraft systems (UAS) for use as a possible dispersal tool.
Airport Cooperative Research Program (ACRP)
Last updated: Wednesday, September 27, 2023