On Airport Unmanned Aircraft System Operations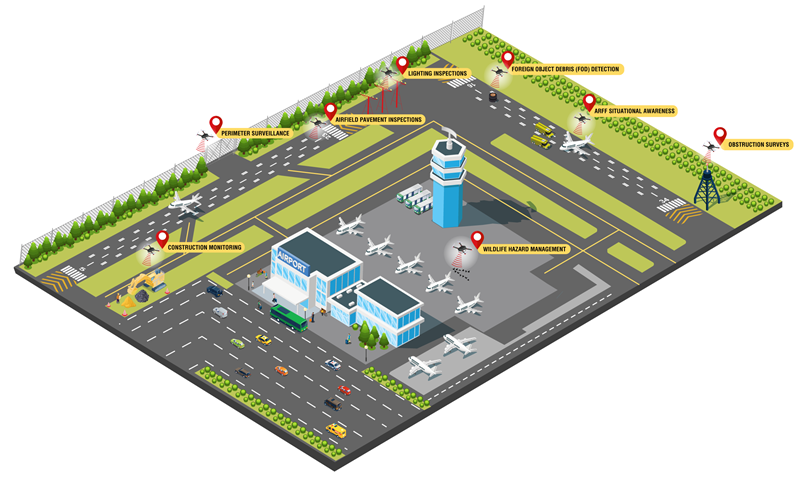 The proliferation of interest in and use of Unmanned Aircraft Systems (UAS), or drones, has led to significant policy and regulatory adaptations to integrate these platforms into the airport environment. As the technology and its use continues to mature, the FAA is committed to conducting research and providing policy and guidance to ensure the safe operation of UAS on-airports.
For questions about UAS registration, airspace authorization, waivers, law enforcement resources and more, visit www.faa.gov/uas/.
Airports Unmanned Aircraft System Contacts
Office
Contacts
FAA Airports Emerging Entrants Division
Mike Branum, Program Manager
817-222-5669
Michael.Branum@faa.gov
 
FAA Technical Center

Michael DiPilato, UAS Research Lead
609-485-7249
Michael.DiPilato@faa.gov

Garrison Canter, Airport Research Specialist
717-460-8594
Garrison.J.Canter@faa.gov

Airports Regional Contacts
Alaskan
Central (IA, KS, MO, NE)
Eastern (DC, DE, MD, NJ, NY, PA, VA, WV)
Great Lakes (IL, IN, MI, MN, ND, OH, SD, WI)
New England (CT, ME, MA, NH, RI, VT)
Northwest Mountain (CO, ID, MT, OR, UT, WA, WY)
Southern (AL, FL, GA, KY, MS, NC, PR, SC, TN, VI)
Southwest (AR, LA, NM, OK, TX)
Western-Pacific (AZ, CA, HI, NV, GU, AS, MH)
Additional Information
UAS Integration and Application at Airports
UAS Detection and Response on Airports [coming soon]
UAS Guidance & Resources
Regulations and Policy
On or Near Airport
Airspace Authorizations
Airport Cooperative Research Program (ACRP)
Last updated: Tuesday, November 29, 2022