Connecticut
Windsor Locks, Connecticut
Bradley International


ICAO

Identifier KBDL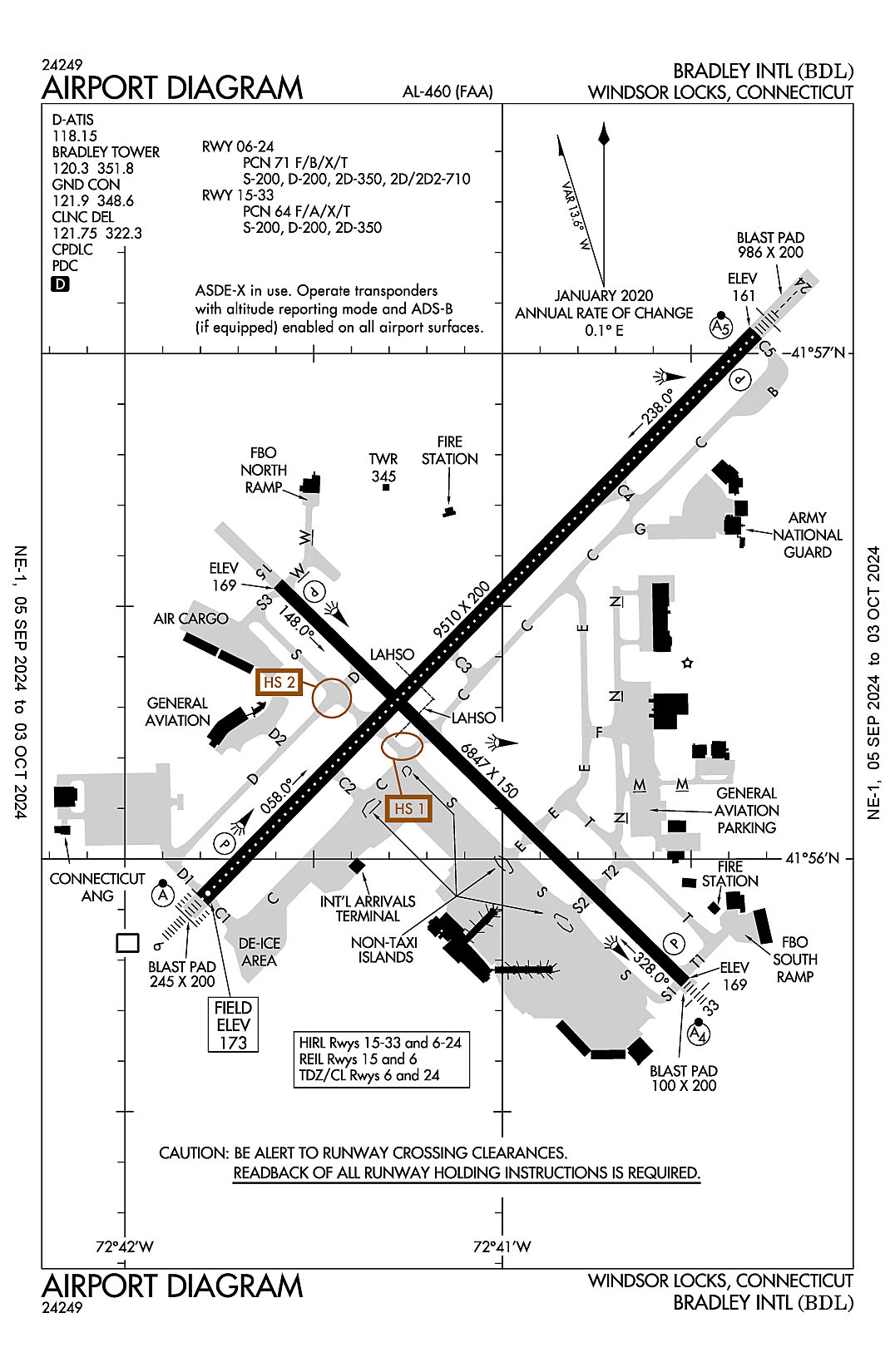 Windsor Locks, CT
Bradley Intl
ICAO Identifier KBDL
AD 2.2 Aerodrome geographical and administrative data
2.2.1 Reference Point: 41-56-20.516N / 72-41-3.537W
2.2.2 From City: 3 miles W of WINDSOR LOCKS, CT
2.2.3 Elevation: 173.3 ft
2.2.5 Magnetic Variation: 14W (1980)
2.2.6 Airport Contact: KEVIN DILLON, AAE
BRADLEY INTL AIRPORT
WINDSOR LOCKS, CT 6096 (860-292-2003)
2.2.7 Traffic: IFR/VFR
AD 2.3 Attendance Schedule
2.3.1 All Months, All Days, All Hours
AD 2.4 Handling Services and Facilities
2.4.1 Cargo Handling Facilities: YES
2.4.2 Fuel Types: 100LL, A
2.4.5 Hangar Space: YES
2.4.6 Repair Facilities: MAJOR
AD 2.6 Rescue and Firefighting Services
2.6.1 Aerodrome Category for Firefighting: ARFF Index I C certified on 5/1/1973
AD 2.12 Runway Physical Characteristics
2.12.1 Designation: 06
2.12.2 True Bearing: 44
2.12.3 Dimensions: 9510 ft x 200 ft
2.12.4 PCN: 71 F/B/X/T
2.12.5 Coordinates: 41-55-55.25N / 72-41-47.6885W
2.12.6 Threshold Elevation: 173 ft
2.12.6 Touchdown Zone Elevation: 173.3 ft
2.12.1 Designation: 24
2.12.2 True Bearing: 224
2.12.3 Dimensions: 9510 ft x 200 ft
2.12.4 PCN: 71 F/B/X/T
2.12.5 Coordinates: 41-57-2.3952N / 72-40-19.6697W
2.12.6 Threshold Elevation: 160.9 ft
2.12.6 Touchdown Zone Elevation: 170 ft
2.12.1 Designation: 15
2.12.2 True Bearing: 134
2.12.3 Dimensions: 6847 ft x 150 ft
2.12.4 PCN: 64 F/A/X/T
2.12.5 Coordinates: 41-56-32.6254N / 72-41-35.7104W
2.12.6 Threshold Elevation: 168.8 ft
2.12.6 Touchdown Zone Elevation: 170.8 ft
2.12.1 Designation: 33
2.12.2 True Bearing: 314
2.12.3 Dimensions: 6847 ft x 150 ft
2.12.4 PCN: 64 F/A/X/T
2.12.5 Coordinates: 41-55-45.3238N / 72-40-30.9557W
2.12.6 Threshold Elevation: 168.5 ft
2.12.6 Touchdown Zone Elevation: 171.4 ft
AD 2.13 Declared Distances
2.13.1 Designation: 06
2.13.2 Take-off Run Available: 9509 ft
2.13.3 Take-off Distance Available: 9509 ft
2.13.4 Accelerate-Stop Distance Available: 9509 ft
2.13.5 Landing Distance Available: 9509 ft
2.13.1 Designation: 24
2.13.2 Take-off Run Available: 9509 ft
2.13.3 Take-off Distance Available: 9509 ft
2.13.4 Accelerate-Stop Distance Available: 9509 ft
2.13.5 Landing Distance Available: 9509 ft
2.13.1 Designation: 15
2.13.2 Take-off Run Available: 6847 ft
2.13.3 Take-off Distance Available: 6847 ft
2.13.4 Accelerate-Stop Distance Available: 6847 ft
2.13.5 Landing Distance Available: 6847 ft
2.13.1 Designation: 33
2.13.2 Take-off Run Available: 6847 ft
2.13.3 Take-off Distance Available: 6847 ft
2.13.4 Accelerate-Stop Distance Available: 6847 ft
2.13.5 Landing Distance Available: 6847 ft
AD 2.14 Approach and Runway Lighting
2.14.1 Designation: 06
2.14.2 Approach Lighting System: ALSF2
2.14.4 Visual Approach Slope Indicator System: P4L
2.14.1 Designation: 24
2.14.2 Approach Lighting System: MALSR
2.14.4 Visual Approach Slope Indicator System: P4L
2.14.1 Designation: 15
2.14.2 Approach Lighting System:
2.14.4 Visual Approach Slope Indicator System: P4L
2.14.1 Designation: 33
2.14.2 Approach Lighting System: MALSF
2.14.4 Visual Approach Slope Indicator System: P4R
AD 2.18 Air Traffic Services Communication Facilities
AD 2.19 Radio Navigation and Landing Aids
2.19.1 ILS Type: DME for runway 06. Magnetic variation: 14W
2.19.2 ILS Identification: BDL
2.19.5 Coordinates: 41-57-17.2894N / 72-39-56.5118W
2.19.6 Site Elevation: 163.8 ft
2.19.1 ILS Type: Glide Slope for runway 06. Magnetic variation: 14W
2.19.2 ILS Identification: BDL
2.19.5 Coordinates: 41-56-5.5448N / 72-41-41.8869W
2.19.6 Site Elevation: 169.3 ft
2.19.1 ILS Type: Localizer for runway 06. Magnetic variation: 14W
2.19.2 ILS Identification: BDL
2.19.5 Coordinates: 41-57-17.8499N / 72-39-59.4045W
2.19.6 Site Elevation: 149.5 ft
2.19.1 ILS Type: DME for runway 24. Magnetic variation: 14W
2.19.2 ILS Identification: MYQ
2.19.5 Coordinates: 41-57-17.2894N / 72-39-56.5118W
2.19.6 Site Elevation: 163.8 ft
2.19.1 ILS Type: Glide Slope for runway 24. Magnetic variation: 14W
2.19.2 ILS Identification: MYQ
2.19.5 Coordinates: 41-56-53.5757N / 72-40-25.9626W
2.19.6 Site Elevation: 156.7 ft
2.19.1 ILS Type: Localizer for runway 24. Magnetic variation: 14W
2.19.2 ILS Identification: MYQ
2.19.5 Coordinates: 41-55-47.661N / 72-41-57.6296W
2.19.6 Site Elevation: 170.3 ft
2.19.1 ILS Type: DME for runway 33. Magnetic variation: 14W
2.19.2 ILS Identification: IKX
2.19.5 Coordinates: 41-56-37.9724N / 72-41-47.432W
2.19.6 Site Elevation: 181.8 ft
2.19.1 ILS Type: Glide Slope for runway 33. Magnetic variation: 14W
2.19.2 ILS Identification: IKX
2.19.5 Coordinates: 41-55-54.7672N / 72-40-38.5896W
2.19.6 Site Elevation: 167.6 ft
2.19.1 ILS Type: Localizer for runway 33. Magnetic variation: 14W
2.19.2 ILS Identification: IKX
2.19.5 Coordinates: 41-56-40.2961N / 72-41-46.2065W
2.19.6 Site Elevation: 168.3 ft
General Remarks:
ASDE-X IN USE. OPR TRANSPONDERS WITH ALT RPRTG MODE AND ADS-B (IF EQUIPPED) ENABLED ON ALL ARPT SFCS.
CAUTION: ANG RAMP MRK MAY NOT BE APPROPRIATE FOR LARGE ACFT: FLW MARSHALLERS INSTR.
OPS CTC AUTOVON 636-8385; COML 860-627-3001.
NMRS BIRDS FQTLY ON OR INVOF ARPT.
MILITARY: ANG: WHEN CKG ATIS, BIRDS IN VCY MAY INDC HEIGHTENED BIRD WATCH CONDITION (BWC). USAF ACFT CTC ANG AIRFIELD OPS ON UHF FOR CURRENT BWC & ANY ASSOCD RSTRNS.
MILITARY: ARNG - DSN 636-7519/7520. C860-292-4519/4520.
MILITARY: ANG: AFLD MGR DOES NOT ISSUE OR STORE COMSEC FOR TRAN CREWS.
MILITARY: ANG: PPR V220-2356.
LGTD OBST ANT 36 FT AGL/205 FT MSL (RWY 24 ILS/GS ANT) 162 FT NW OF TWY C CNTRLN MARKING BTN TWY B & TWY H.
FUEL: A++ (MIL).
NON-BASED DVRSN ACRS CTC ARPT OPS 860-627-3001 PRIOR TO DIVG & PRVD CO FLT OPS CTC INFO, ACFT TYPE, POB, INTL OR DOM FLT & GND OPS AGRMTS. ONLY 1 INTL ACR JETBRIDGE AVBL FOR PAX.
MILITARY: ARNG: OPR 1200-2030Z++ MON, TUE, FRI; 1200-0400++ WED, THU. 41.9 149.825 335.775 (HAVOC OPS).
NO DE-ICING AVBL AT ANG.
MILITARY: ANG: NSTD YELLOW AEROSPACE GND EQPT AND FIRE BOTTLE BOXES PAINTED ON ANG RAMP.
RWY 6 DE-ICE PAD CLSD TO ACFT WITH WINGSPAN 171 FT OR GTR EXC WITH FOLLOW-ME ESCORT BY ARPT OPS.
NO TRNG FLTS, NO PLAS, NO TGLS BTN: 2300 - 0700 MON THRU SAT & 2300 - 1200 SUN.
MILITARY: ANG: OPR 1200-2030Z++ MON-FRI (SAT, SUN UTA).
TWY J CLSD BTN S & R TO ACFT WITH WING SPANS IN EXCESS OF 170 FT.
TWY S HOLD PAD AT RWY 33 CLSD.
FIXED WING ACFT USE LOW IDLE FOR TAXI, NO ENGINE CHECKS OR POWER RUNS ALLOWED ON THE ARNG RAMP DUE TO POSSIBLE FOD HAZARD.
TWY C BTN TWY B & TWY H ACFT TAX SPD RSTRN OF 8 KTS/10 MPH MAX FOR ACFT WITH WINGSPAN 214 FT OR GTR.
BASH PHASE II INCRD BIRD ACTVTY SEP-OCT AND MAR-APR.
PARL TWY OPS ON TWY C & TWY B RSTRD TO ACFT WITH WINGSPANS OF 171 FT OR LESS.
(E117) CT ANG AND U.S. ARMY NG.
ACFT REQG US CUST SVCS MUST PARK ON THE CUST SPOT W/ THE NOSE OF THE ACFT FACING SW. CTC CUST AT 860-292-1314 WHEN PARKED.