District of Columbia
Washington, District of Columbia
Washington Dulles International


ICAO

Identifier KIAD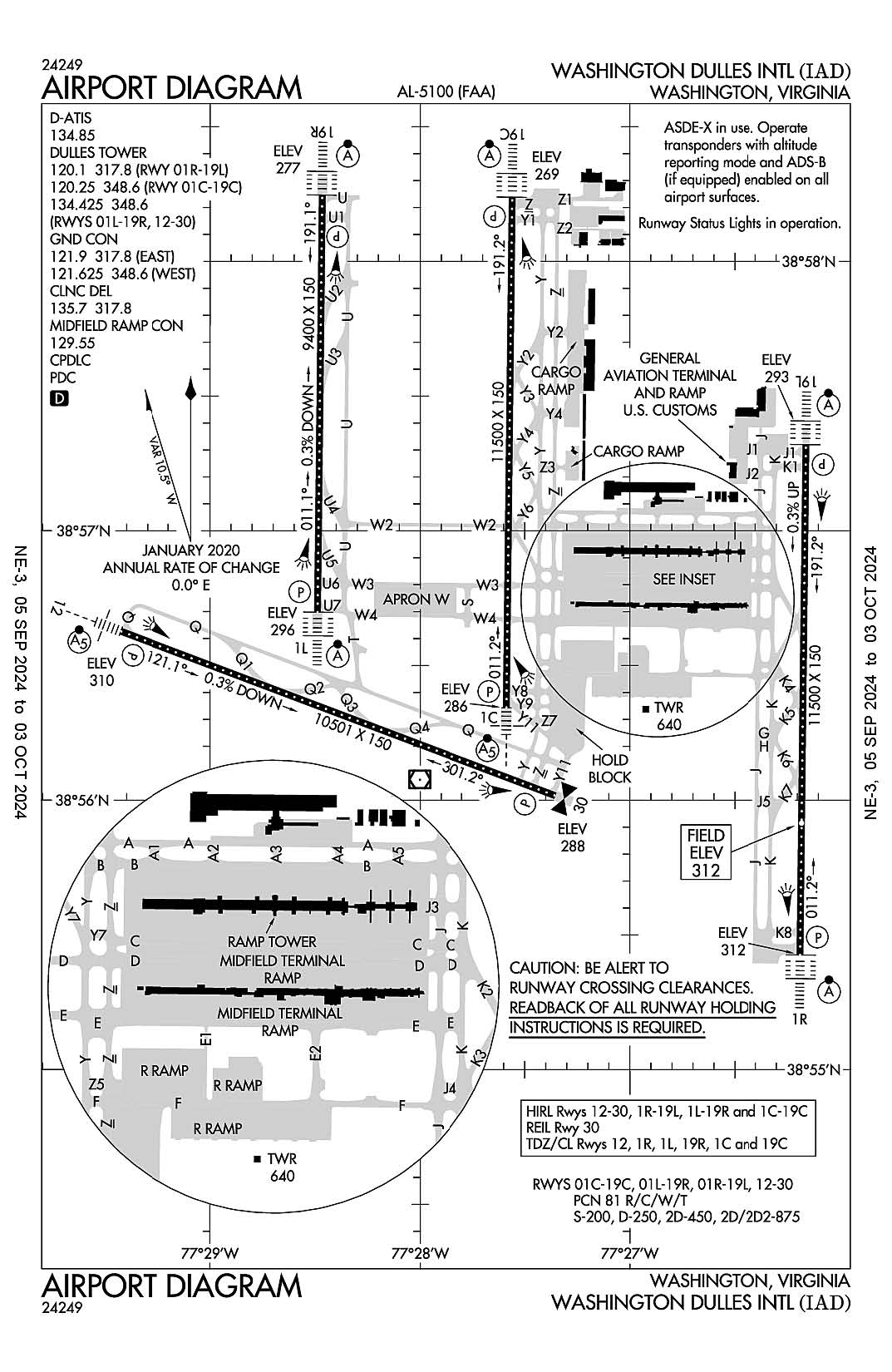 Washington, DC
Washington Dulles Intl
ICAO Identifier KIAD
AD 2.2 Aerodrome geographical and administrative data
2.2.1 Reference Point: 38-56-50.8N / 77-27-35.8W
2.2.2 From City: 20 miles W of WASHINGTON, VA
2.2.3 Elevation: 313 ft
2.2.5 Magnetic Variation: 10W (2000)
2.2.6 Airport Contact: RICHARD GOLINOWSKI
1 SAARINEN CIRCLE
DULLES, VA 20166 (703-572-2730)
2.2.7 Traffic: IFR/VFR
AD 2.3 Attendance Schedule
2.3.1 All Months, All Days, All Hours
AD 2.4 Handling Services and Facilities
2.4.1 Cargo Handling Facilities: YES
2.4.2 Fuel Types: 100LL, A
2.4.5 Hangar Space: YES
2.4.6 Repair Facilities: MAJOR
AD 2.6 Rescue and Firefighting Services
2.6.1 Aerodrome Category for Firefighting: ARFF Index I E certified on 5/1/1973
AD 2.12 Runway Physical Characteristics
2.12.1 Designation: 19C
2.12.2 True Bearing: 181
2.12.3 Dimensions: 11500 ft x 150 ft
2.12.4 PCN: 81 R/C/W/T
2.12.5 Coordinates: 38-58-14.3066N / 77-27-33.5452W
2.12.6 Threshold Elevation: 268.5 ft
2.12.6 Touchdown Zone Elevation: 271.3 ft
2.12.1 Designation: 01C
2.12.2 True Bearing: 1
2.12.3 Dimensions: 11500 ft x 150 ft
2.12.4 PCN: 81 R/C/W/T
2.12.5 Coordinates: 38-56-20.6392N / 77-27-35.1991W
2.12.6 Threshold Elevation: 286.1 ft
2.12.6 Touchdown Zone Elevation: 286.3 ft
2.12.1 Designation: 01L
2.12.2 True Bearing: 1
2.12.3 Dimensions: 9400 ft x 150 ft
2.12.4 PCN: 81 R/C/W/T
2.12.5 Coordinates: 38-56-41.88N / 77-28-29.3151W
2.12.6 Threshold Elevation: 296 ft
2.12.6 Touchdown Zone Elevation: 296.1 ft
2.12.1 Designation: 19R
2.12.2 True Bearing: 181
2.12.3 Dimensions: 9400 ft x 150 ft
2.12.4 PCN: 81 R/C/W/T
2.12.5 Coordinates: 38-58-14.7845N / 77-28-27.9825W
2.12.6 Threshold Elevation: 276.9 ft
2.12.6 Touchdown Zone Elevation: 278.4 ft
2.12.1 Designation: 01R
2.12.2 True Bearing: 1
2.12.3 Dimensions: 11500 ft x 150 ft
2.12.4 PCN: 81 R/C/W/T
2.12.5 Coordinates: 38-55-25.526N / 77-26-11.222W
2.12.6 Threshold Elevation: 311.7 ft
2.12.6 Touchdown Zone Elevation: 312.4 ft
2.12.1 Designation: 19L
2.12.2 True Bearing: 181
2.12.3 Dimensions: 11500 ft x 150 ft
2.12.4 PCN: 81 R/C/W/T
2.12.5 Coordinates: 38-57-19.185N / 77-26-9.526W
2.12.6 Threshold Elevation: 293.2 ft
2.12.6 Touchdown Zone Elevation: 302.2 ft
2.12.1 Designation: 30
2.12.2 True Bearing: 291
2.12.3 Dimensions: 10501 ft x 150 ft
2.12.4 PCN: 81 R/C/W/T
2.12.5 Coordinates: 38-56-0.997N / 77-27-21.233W
2.12.6 Threshold Elevation: 287.8 ft
2.12.6 Touchdown Zone Elevation: 287.8 ft
2.12.1 Designation: 12
2.12.2 True Bearing: 111
2.12.3 Dimensions: 10501 ft x 150 ft
2.12.4 PCN: 81 R/C/W/T
2.12.5 Coordinates: 38-56-37.58N / 77-29-25.599W
2.12.6 Threshold Elevation: 309.8 ft
2.12.6 Touchdown Zone Elevation: 309.8 ft
AD 2.13 Declared Distances
2.13.1 Designation: 19C
2.13.2 Take-off Run Available: 11500 ft
2.13.3 Take-off Distance Available: 11500 ft
2.13.4 Accelerate-Stop Distance Available: 11500 ft
2.13.5 Landing Distance Available: 11089 ft
2.13.1 Designation: 01C
2.13.2 Take-off Run Available: 11500 ft
2.13.3 Take-off Distance Available: 11500 ft
2.13.4 Accelerate-Stop Distance Available: 11500 ft
2.13.5 Landing Distance Available: 11500 ft
2.13.1 Designation: 01L
2.13.2 Take-off Run Available: 9400 ft
2.13.3 Take-off Distance Available: 9400 ft
2.13.4 Accelerate-Stop Distance Available: 9400 ft
2.13.5 Landing Distance Available: 9400 ft
2.13.1 Designation: 19R
2.13.2 Take-off Run Available: 9400 ft
2.13.3 Take-off Distance Available: 9400 ft
2.13.4 Accelerate-Stop Distance Available: 9400 ft
2.13.5 Landing Distance Available: 9400 ft
2.13.1 Designation: 01R
2.13.2 Take-off Run Available: 11500 ft
2.13.3 Take-off Distance Available: 11500 ft
2.13.4 Accelerate-Stop Distance Available: 11500 ft
2.13.5 Landing Distance Available: 11500 ft
2.13.1 Designation: 19L
2.13.2 Take-off Run Available: 11500 ft
2.13.3 Take-off Distance Available: 11500 ft
2.13.4 Accelerate-Stop Distance Available: 11500 ft
2.13.5 Landing Distance Available: 11500 ft
2.13.1 Designation: 30
2.13.2 Take-off Run Available: 10501 ft
2.13.3 Take-off Distance Available: 10501 ft
2.13.4 Accelerate-Stop Distance Available: 10501 ft
2.13.5 Landing Distance Available: 10501 ft
2.13.1 Designation: 12
2.13.2 Take-off Run Available: 10501 ft
2.13.3 Take-off Distance Available: 10501 ft
2.13.4 Accelerate-Stop Distance Available: 10501 ft
2.13.5 Landing Distance Available: 10501 ft
AD 2.14 Approach and Runway Lighting
2.14.1 Designation: 19C
2.14.2 Approach Lighting System: ALSF2
2.14.4 Visual Approach Slope Indicator System: P4R
2.14.1 Designation: 01C
2.14.2 Approach Lighting System: MALSR
2.14.4 Visual Approach Slope Indicator System: P4L
2.14.1 Designation: 01L
2.14.2 Approach Lighting System: ALSF2
2.14.4 Visual Approach Slope Indicator System: P4L
2.14.1 Designation: 19R
2.14.2 Approach Lighting System: ALSF2
2.14.4 Visual Approach Slope Indicator System: P4L
2.14.1 Designation: 01R
2.14.2 Approach Lighting System: ALSF2
2.14.4 Visual Approach Slope Indicator System: P4R
2.14.1 Designation: 19L
2.14.2 Approach Lighting System: ALSF2
2.14.4 Visual Approach Slope Indicator System: P4L
2.14.1 Designation: 30
2.14.2 Approach Lighting System:
2.14.4 Visual Approach Slope Indicator System: P4L
2.14.1 Designation: 12
2.14.2 Approach Lighting System: MALSR
2.14.4 Visual Approach Slope Indicator System: P4R
AD 2.18 Air Traffic Services Communication Facilities
AD 2.19 Radio Navigation and Landing Aids
2.19.1 ILS Type: Glide Slope for runway 01C. Magnetic variation: 10W
2.19.2 ILS Identification: OSZ
2.19.5 Coordinates: 38-56-31.0615N / 77-27-40.7425W
2.19.6 Site Elevation: 283.3 ft
2.19.1 ILS Type: Localizer for runway 01C. Magnetic variation: 10W
2.19.2 ILS Identification: OSZ
2.19.5 Coordinates: 38-58-24.6686N / 77-27-33.3933W
2.19.6 Site Elevation: 263.2 ft
2.19.1 ILS Type: Glide Slope for runway 19C. Magnetic variation: 10W
2.19.2 ILS Identification: DLX
2.19.5 Coordinates: 38-58-4.1832N / 77-27-37.9999W
2.19.6 Site Elevation: 266.3 ft
2.19.1 ILS Type: Inner Marker for runway 19C. Magnetic variation: 10W
2.19.2 ILS Identification: DLX
2.19.5 Coordinates: 38-58-22.9443N / 77-27-33.4218W
2.19.6 Site Elevation: 263.4 ft
2.19.1 ILS Type: Localizer for runway 19C. Magnetic variation: 10W
2.19.2 ILS Identification: DLX
2.19.5 Coordinates: 38-56-14.614N / 77-27-35.2866W
2.19.6 Site Elevation: 283.9 ft
2.19.1 ILS Type: DME for runway 01L. Magnetic variation: 10W
2.19.2 ILS Identification: OIU
2.19.5 Coordinates: 38-58-25.0778N / 77-28-31.1627W
2.19.6 Site Elevation: 279.3 ft
2.19.1 ILS Type: Glide Slope for runway 01L. Magnetic variation: 10W
2.19.2 ILS Identification: OIU
2.19.5 Coordinates: 38-56-52.8723N / 77-28-34.3495W
2.19.6 Site Elevation: 287.9 ft
2.19.1 ILS Type: Inner Marker for runway 01L. Magnetic variation: 10W
2.19.2 ILS Identification: OIU
2.19.5 Coordinates: 38-56-33.3915N / 77-28-29.4465W
2.19.6 Site Elevation: 275 ft
2.19.1 ILS Type: Localizer for runway 01L. Magnetic variation: 10W
2.19.2 ILS Identification: OIU
2.19.5 Coordinates: 38-58-24.7673N / 77-28-27.8426W
2.19.6 Site Elevation: 276.9 ft
2.19.1 ILS Type: DME for runway 19R. Magnetic variation: 10W
2.19.2 ILS Identification: ISU
2.19.5 Coordinates: 38-58-25.0778N / 77-28-31.1627W
2.19.6 Site Elevation: 279.3 ft
2.19.1 ILS Type: Glide Slope for runway 19R. Magnetic variation: 10W
2.19.2 ILS Identification: ISU
2.19.5 Coordinates: 38-58-4.4568N / 77-28-33.3233W
2.19.6 Site Elevation: 272 ft
2.19.1 ILS Type: Inner Marker for runway 19R. Magnetic variation: 10W
2.19.2 ILS Identification: ISU
2.19.5 Coordinates: 38-58-23.5142N / 77-28-27.8585W
2.19.6 Site Elevation: 276 ft
2.19.1 ILS Type: Localizer for runway 19R. Magnetic variation: 10W
2.19.2 ILS Identification: ISU
2.19.5 Coordinates: 38-56-31.8979N / 77-28-29.4605W
2.19.6 Site Elevation: 298.2 ft
2.19.1 ILS Type: DME for runway 01R. Magnetic variation: 10W
2.19.2 ILS Identification: IAD
2.19.5 Coordinates: 38-55-11.0826N / 77-26-8.8302W
2.19.6 Site Elevation: 313.9 ft
2.19.1 ILS Type: Glide Slope for runway 01R. Magnetic variation: 10W
2.19.2 ILS Identification: IAD
2.19.5 Coordinates: 38-55-35.845N / 77-26-4.749W
2.19.6 Site Elevation: 306.5 ft
2.19.1 ILS Type: Localizer for runway 01R. Magnetic variation: 10W
2.19.2 ILS Identification: IAD
2.19.5 Coordinates: 38-57-30.868N / 77-26-9.357W
2.19.6 Site Elevation: 301.8 ft
2.19.1 ILS Type: DME for runway 19L. Magnetic variation: 10W
2.19.2 ILS Identification: SGC
2.19.5 Coordinates: 38-55-11.0826N / 77-26-8.8302W
2.19.6 Site Elevation: 313.9 ft
2.19.1 ILS Type: Glide Slope for runway 19L. Magnetic variation: 10W
2.19.2 ILS Identification: SGC
2.19.5 Coordinates: 38-57-9.268N / 77-26-4.613W
2.19.6 Site Elevation: 291.1 ft
2.19.1 ILS Type: Localizer for runway 19L. Magnetic variation: 10W
2.19.2 ILS Identification: SGC
2.19.5 Coordinates: 38-55-11.807N / 77-26-11.427W
2.19.6 Site Elevation: 315.3 ft
2.19.1 ILS Type: Glide Slope for runway 12. Magnetic variation: 10W
2.19.2 ILS Identification: AJU
2.19.5 Coordinates: 38-56-30.399N / 77-29-15.535W
2.19.6 Site Elevation: 303.5 ft
2.19.1 ILS Type: Localizer for runway 12. Magnetic variation: 10W
2.19.2 ILS Identification: AJU
2.19.5 Coordinates: 38-55-57.27N / 77-27-8.47W
2.19.6 Site Elevation: 279.8 ft
General Remarks:
TAXILANE 'C' ACTIVE; PUSHBACK CLNCS ON NORTH SIDE OF MIDFIELD TERMINAL ARE ONTO TAXILANE 'D' ONLY UNLESS OTHERWISE AUTH.
RWY STATUS LGTS ARE IN OPN.
ASDE-X IN USE. OPERATE TRANSPONDERS WITH ALTITUDE REPORTING MODE AND ADS-B (IF EQUIPPED) ENABLED ON ALL AIRPORT SURFACES.
ENGINE RUN-UPS BTW 2200L & 0700L REQUIRE PRIOR APPROVAL FM ARPT OPS.
LARGE FLOCKS OF BIRDS ON & INVOF ARPT/DEER INVOF ARPT.
B747-8 RESTRICTED TO MAXIMUM TAXI SPEED 17 KTS (20 MPH) ON TWY J.
RUNUP BLX FOR RWY 30 DSGND AS NON-MOVEMENT AREA.
RWY 30 DEPARTURES USE UPPER ANTENNA FOR ATC COMMUNICATIONS.
ACR PUSH BACKS & PWR FM ALL APRON PSNS REQUIRE CLNC FM MWAA RAMP TWR.
ALL AIRCRAFT WITH WINGSPAN EXCEEDING 118 FT ARE RESTRICTED FROM USING TAXILANE A BTN A1 & A5.
ALL 180 DEG TURNS OUT OF APRON POSITIONS SHALL BE MADE USING MINIMUM POWER.
TWY E1 RESTRICTED TO ACFT WITH A WINGSPAN LESS THAN 79 FT.
FLIGHT TRAINING BETWEEN 2200-0700 IS PROHIBITED.
DURING PERIODS OF ACFT SATURATION LONG TERM PARKING MAY NOT BE AVAILABLE. SERVICES FOR FUEL AND GO ONLY WILL BE AVAILABLE.
ITNRNT ACFT CTC FBO ON 122.95 OR 129.77 FOR SVCS.
LDG FEE. FLIGHT NOTIFICATION SERVICE (ADCUS) AVBL. NOTE: SEE SPECIAL NOTICES --CONTINUOUS POWER FACILITIES.