American Samoa
Pago Pago, American Samoa
Pago Pago/International
ICAO Identifier NSTU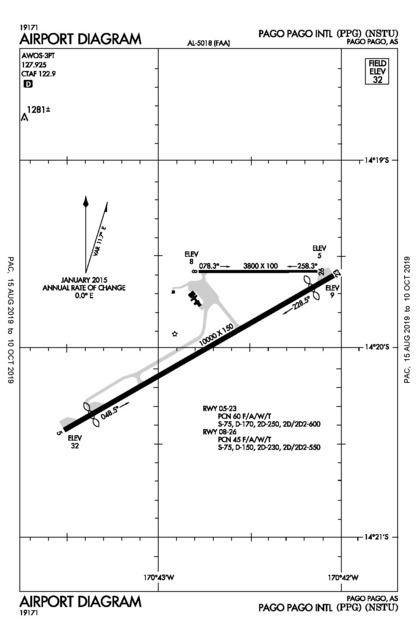 Pago Pago, AS
Pago Pago Intl
ICAO Identifier NSTU
AD 2.2 Aerodrome geographical and administrative data
2.2.1 Reference Point: 14-19-53.976S / 170-42-41.411W
2.2.2 From City: 3 Miles SW Of Pago Pago, AS
2.2.3 Elevation: 32 ft
2.2.5 Magnetic variation: 12E (1990)
2.2.6 Airport Contact: Dr. Claire Poumele
1539 AIRPORT WAY P.O. BOX 1539
Pago Pago, AS 96799 ((684) 733-3076)
AD 2.3 Attendance Schedule
2.3.1 - 2.3.11: ALL Months, ALL Days, ALL Hours
AD 2.4 Handling services and facilities
2.4.1 Cargo handling facilities: Yes
2.4.2 Fuel types: A1+,100
2.4.5 Hangar space: No
2.4.6 Repair facilities: None
AD 2.6 Rescue and firefighting services
2.6.1 Aerodrome category for firefighting: ARFF Index I C certified on 5/1/1973
AD 2.10 Aerodrome obstacles
2.10.1.a. Runway designation: 05
2.10.1.b Type of obstacle: Hill (446 ft above runway end). Lighted
2.10.1.c Location of obstacle: 1000 ft L of Centerline
2.10.1.a. Runway designation: 23
2.10.1.b Type of obstacle: Fence (8 ft above runway end). Lighted
AD 2.12 Runway physical characteristics
2.12.1 Designation: 08
2.12.2 True Bearing: 90
2.12.3 Dimensions: 3800 ft x 100 ft
2.12.4 PCN: 45 F/A/W/T
2.12.5 Coordinates: 14-19-35.128S / 170-42-46.745W
2.12.6 Threshold elevation: 8.3 ft
2.12.6 Touchdown zone elevation: 6.1 ft
2.12.1 Designation: 26
2.12.2 True Bearing: 270
2.12.3 Dimensions: 3800 ft x 100 ft
2.12.4 PCN: 45 F/A/W/T
2.12.5 Coordinates: 14-19-35.104S / 170-42-08.094W
2.12.6 Threshold elevation: 5.3 ft
2.12.6 Touchdown zone elevation: 6.2 ft
2.12.1 Designation: 05
2.12.2 True Bearing: 60
2.12.3 Dimensions: 10000 ft x 150 ft
2.12.4 PCN: 60 F/A/W/T
2.12.5 Coordinates: 14-20-25.817S / 170-43-30.843W
2.12.6 Threshold elevation: 31.9 ft
2.12.6 Touchdown zone elevation: 31.9 ft
2.12.1 Designation: 23
2.12.2 True Bearing: 240
2.12.3 Dimensions: 10000 ft x 150 ft
2.12.4 PCN: 60 F/A/W/T
2.12.5 Coordinates: 14-19-36.47S / 170-42-02.613W
2.12.6 Threshold elevation: 9.3 ft
2.12.6 Touchdown zone elevation: 9 ft
AD 2.13 Declared distances
2.13.1 Designation: 08
2.13.2 Takeoff run available: 3800
2.13.3 Takeoff distance available: 3800
2.13.4 Accelerate-stop distance available: 3800
2.13.5 Landing distance available: 3800
2.13.1 Designation: 26
2.13.2 Takeoff run available: 3800
2.13.3 Takeoff distance available: 3800
2.13.4 Accelerate-stop distance available: 3800
2.13.5 Landing distance available: 3800
2.13.1 Designation: 05
2.13.2 Takeoff run available: 9200
2.13.3 Takeoff distance available: 10200
2.13.4 Accelerate-stop distance available: 9200
2.13.5 Landing distance available: 8200
2.13.1 Designation: 23
2.13.2 Takeoff run available: 10000
2.13.3 Takeoff distance available: 10000
2.13.4 Accelerate-stop distance available: 10000
2.13.5 Landing distance available: 9200
AD 2.14 Approach and runway lighting
2.14.1 Designation: 05
2.14.2 Approach lighting system: MALSR
2.14.4 Visual approach slope indicator system: P4L
2.14.1 Designation: 23
2.14.4 Visual approach slope indicator system: P4L
AD 2.19 Radio navigation and landing aids
2.19.1 ILS type: Localizer for runway 05. Magnetic variation: 12E
2.19.2 ILS identification: TUT
2.19.5 Coordinates: 14-19-38.78S / 170-42-12.9W
2.19.6 Site elevation: 5.7 ft
2.19.1 ILS type: Glide Slope for runway 05. Magnetic variation: 12E
2.19.2 ILS identification: TUT
2.19.5 Coordinates: 14-20-13.06S / 170-43-15.19W
2.19.6 Site elevation: 25.4 ft
2.19.1 ILS type: DME for runway 05. Magnetic variation: 12E
2.19.2 ILS identification: TUT
2.19.5 Coordinates: 14-19-37.63S / 170-42-14.71W
2.19.6 Site elevation: 22 ft
General Remarks:
<ALL FLTS (EXCP SKED) PRIOR PMSN FROM AMGR WITH 24 HRS PRIOR NOTICE.
SEA SPRAY FM SURF & BLOW HOLES MAY DRIFT ACRS RWY 05/23 UNDER ROUGH SEA CONDS.
ALL ACFT TRANSITING PAGO PAGO (EXCP COMMERCIAL CARRIERS) MUST MAKE FUEL ARRANGEMENTS WITH PPG AT 684-733-3158.
ALL ACFT EXCDG 100000 GWT UPON TD TAXI TO THR TURN- ARND BFR TXG TO APRON. ACFT UNDER 100000 MAKE TURN-ARND WHERE FEASIBLE.
OLOTELE MT 1617 FT MSL 3.5 MILES WEST OF THLD RY 08.
PERMLY LGTD & MKD 226' TWR ATOP MT ALAVA 4.3SM NNE ARPT.
FOR NOTAM CONTACT NEW ZEALAND (643) 358-1688
FSS: NEW ZEALAND