Minnesota
Minneapolis, Minnesota
Minneapolis-St. Paul International (Wold-Chamberlain)


ICAO

Identifier KMSP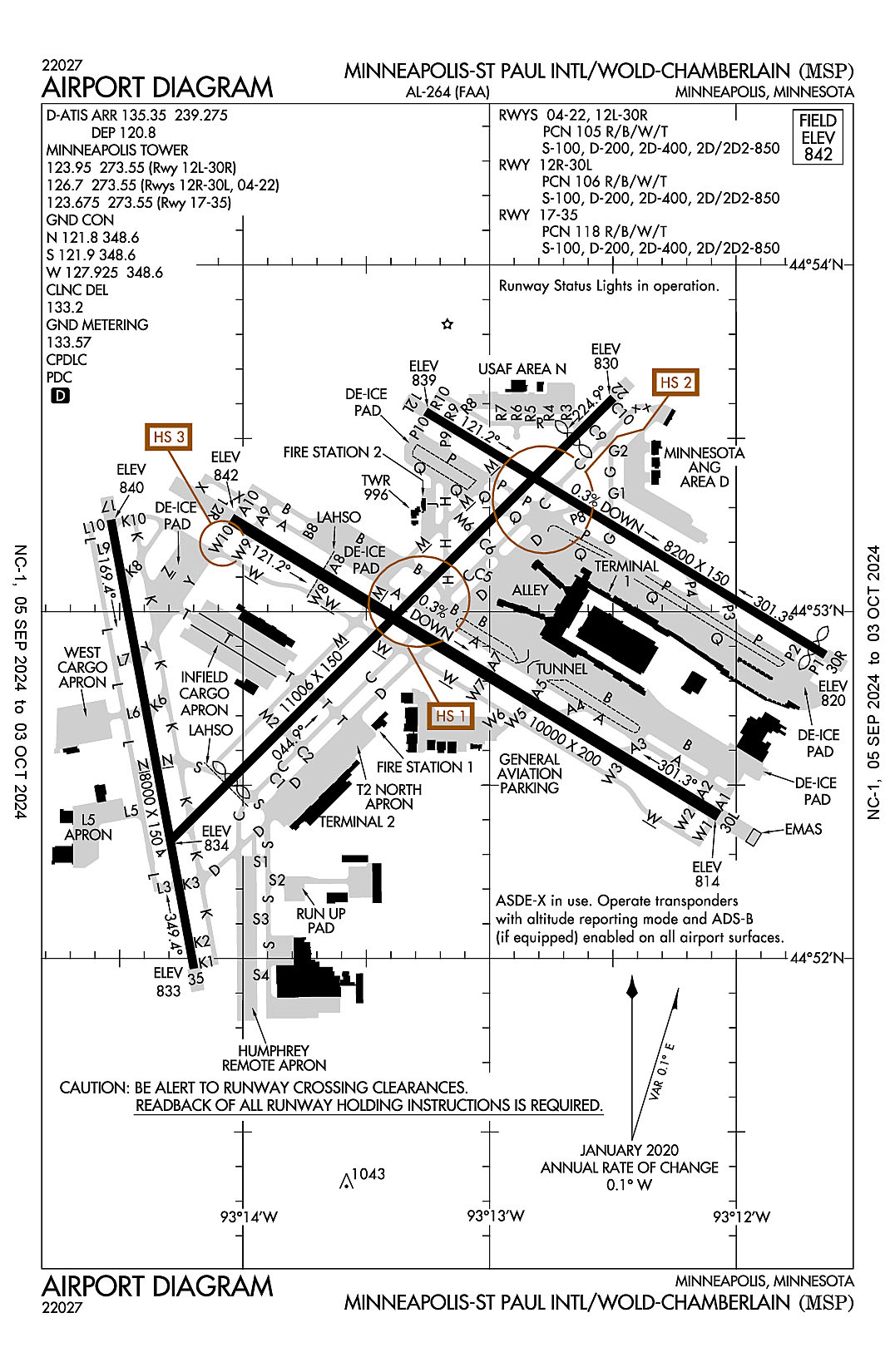 Minneapolis, MN
Minneapolis-St Paul Intl/Wold-Chamberlain
ICAO Identifier KMSP
AD 2.2 Aerodrome geographical and administrative data
2.2.1 Reference Point: 44-52-55.1N / 93-13-18.4W
2.2.2 From City: 6 miles S of MINNEAPOLIS, MN
2.2.3 Elevation: 841.8 ft
2.2.5 Magnetic Variation: 0E (2015)
2.2.6 Airport Contact: BRIAN RYKS
6040 28TH AVE S
MINNEAPOLIS, MN 55450 (612-726-8100)
2.2.7 Traffic: IFR/VFR
AD 2.3 Attendance Schedule
2.3.1 All Months, All Days, All Hours
AD 2.4 Handling Services and Facilities
2.4.1 Cargo Handling Facilities: YES
2.4.2 Fuel Types: 100LL, A, A++
2.4.5 Hangar Space: YES
2.4.6 Repair Facilities: MAJOR
AD 2.6 Rescue and Firefighting Services
2.6.1 Aerodrome Category for Firefighting: ARFF Index I E certified on 5/1/1973
AD 2.12 Runway Physical Characteristics
2.12.1 Designation: 04
2.12.2 True Bearing: 45
2.12.3 Dimensions: 11006 ft x 150 ft
2.12.4 PCN: 105 R/B/W/T
2.12.5 Coordinates: 44-52-20.158N / 93-14-17.9427W
2.12.6 Threshold Elevation: 833.5 ft
2.12.6 Touchdown Zone Elevation: 831.7 ft
2.12.1 Designation: 22
2.12.2 True Bearing: 225
2.12.3 Dimensions: 11006 ft x 150 ft
2.12.4 PCN: 105 R/B/W/T
2.12.5 Coordinates: 44-53-36.9917N / 93-12-29.8434W
2.12.6 Threshold Elevation: 830.3 ft
2.12.6 Touchdown Zone Elevation: 828.3 ft
2.12.1 Designation: 30R
2.12.2 True Bearing: 301
2.12.3 Dimensions: 8200 ft x 150 ft
2.12.4 PCN: 105 R/B/W/T
2.12.5 Coordinates: 44-52-52.5152N / 93-11-38.296W
2.12.6 Threshold Elevation: 819.5 ft
2.12.6 Touchdown Zone Elevation: 822.4 ft
2.12.1 Designation: 12L
2.12.2 True Bearing: 121
2.12.3 Dimensions: 8200 ft x 150 ft
2.12.4 PCN: 105 R/B/W/T
2.12.5 Coordinates: 44-53-34.6287N / 93-13-15.5666W
2.12.6 Threshold Elevation: 838.6 ft
2.12.6 Touchdown Zone Elevation: 840.7 ft
2.12.1 Designation: 12R
2.12.2 True Bearing: 121
2.12.3 Dimensions: 10000 ft x 200 ft
2.12.4 PCN: 106 R/B/W/T
2.12.5 Coordinates: 44-53-16.0438N / 93-14-2.8731W
2.12.6 Threshold Elevation: 841.8 ft
2.12.6 Touchdown Zone Elevation: 841.8 ft
2.12.1 Designation: 30L
2.12.2 True Bearing: 301
2.12.3 Dimensions: 10000 ft x 200 ft
2.12.4 PCN: 106 R/B/W/T
2.12.5 Coordinates: 44-52-24.68N / 93-12-4.2689W
2.12.6 Threshold Elevation: 814.4 ft
2.12.6 Touchdown Zone Elevation: 823 ft
2.12.1 Designation: 17
2.12.2 True Bearing: 170
2.12.3 Dimensions: 8000 ft x 150 ft
2.12.4 PCN: 118 R/B/W/T
2.12.5 Coordinates: 44-53-15.9127N / 93-14-32.1137W
2.12.6 Threshold Elevation: 840.4 ft
2.12.6 Touchdown Zone Elevation: 840.4 ft
2.12.1 Designation: 35
2.12.2 True Bearing: 350
2.12.3 Dimensions: 8000 ft x 150 ft
2.12.4 PCN: 118 R/B/W/T
2.12.5 Coordinates: 44-51-58.2366N / 93-14-11.9205W
2.12.6 Threshold Elevation: 833.3 ft
2.12.6 Touchdown Zone Elevation: 834.4 ft
AD 2.13 Declared Distances
2.13.1 Designation: 04
2.13.2 Take-off Run Available: 11006 ft
2.13.3 Take-off Distance Available: 11006 ft
2.13.4 Accelerate-Stop Distance Available: 11006 ft
2.13.5 Landing Distance Available: 9456 ft
2.13.1 Designation: 22
2.13.2 Take-off Run Available: 11006 ft
2.13.3 Take-off Distance Available: 11006 ft
2.13.4 Accelerate-Stop Distance Available: 11006 ft
2.13.5 Landing Distance Available: 10006 ft
2.13.1 Designation: 30R
2.13.2 Take-off Run Available: 8200 ft
2.13.3 Take-off Distance Available: 8200 ft
2.13.4 Accelerate-Stop Distance Available: 8200 ft
2.13.5 Landing Distance Available: 8000 ft
2.13.1 Designation: 12L
2.13.2 Take-off Run Available: 8200 ft
2.13.3 Take-off Distance Available: 8200 ft
2.13.4 Accelerate-Stop Distance Available: 7620 ft
2.13.5 Landing Distance Available: 7620 ft
2.13.1 Designation: 12R
2.13.2 Take-off Run Available: 10000 ft
2.13.3 Take-off Distance Available: 10000 ft
2.13.4 Accelerate-Stop Distance Available: 10000 ft
2.13.5 Landing Distance Available: 10000 ft
2.13.1 Designation: 30L
2.13.2 Take-off Run Available: 10000 ft
2.13.3 Take-off Distance Available: 10000 ft
2.13.4 Accelerate-Stop Distance Available: 10000 ft
2.13.5 Landing Distance Available: 10000 ft
2.13.1 Designation: 17
2.13.2 Take-off Run Available: 8000 ft
2.13.3 Take-off Distance Available: 8000 ft
2.13.4 Accelerate-Stop Distance Available: 8000 ft
2.13.5 Landing Distance Available: 8000 ft
2.13.1 Designation: 35
2.13.2 Take-off Run Available: 8000 ft
2.13.3 Take-off Distance Available: 8000 ft
2.13.4 Accelerate-Stop Distance Available: 8000 ft
2.13.5 Landing Distance Available: 8000 ft
AD 2.14 Approach and Runway Lighting
2.14.1 Designation: 04
2.14.2 Approach Lighting System: MALSR
2.14.4 Visual Approach Slope Indicator System: P4L
2.14.1 Designation: 22
2.14.2 Approach Lighting System: MALSR
2.14.4 Visual Approach Slope Indicator System: P4L
2.14.1 Designation: 30R
2.14.2 Approach Lighting System: MALSF
2.14.4 Visual Approach Slope Indicator System: P4L
2.14.1 Designation: 12L
2.14.2 Approach Lighting System: ALSF2
2.14.4 Visual Approach Slope Indicator System: P4L
2.14.1 Designation: 12R
2.14.2 Approach Lighting System: ALSF2
2.14.4 Visual Approach Slope Indicator System: P4L
2.14.1 Designation: 30L
2.14.2 Approach Lighting System: ALSF2
2.14.4 Visual Approach Slope Indicator System: P4L
2.14.1 Designation: 17
2.14.2 Approach Lighting System:
2.14.4 Visual Approach Slope Indicator System: P4R
2.14.1 Designation: 35
2.14.2 Approach Lighting System: ALSF2
2.14.4 Visual Approach Slope Indicator System: P4L
AD 2.18 Air Traffic Services Communication Facilities
AD 2.19 Radio Navigation and Landing Aids
2.19.1 ILS Type: Localizer for runway 04. Magnetic variation: 0E
2.19.2 ILS Identification: APL
2.19.5 Coordinates: 44-53-44.0038N / 93-12-19.9688W
2.19.6 Site Elevation: 832.1 ft
2.19.1 ILS Type: Localizer for runway 22. Magnetic variation: 0E
2.19.2 ILS Identification: SIJ
2.19.5 Coordinates: 44-52-12.792N / 93-14-28.3006W
2.19.6 Site Elevation: 831.4 ft
2.19.1 ILS Type: DME for runway 12L. Magnetic variation: 0E
2.19.2 ILS Identification: PJL
2.19.5 Coordinates: 44-53-3.674N / 93-11-48.8687W
2.19.6 Site Elevation: 824 ft
2.19.1 ILS Type: Glide Slope for runway 12L. Magnetic variation: 0E
2.19.2 ILS Identification: PJL
2.19.5 Coordinates: 44-53-31.1153N / 93-12-56.6941W
2.19.6 Site Elevation: 831 ft
2.19.1 ILS Type: Inner Marker for runway 12L. Magnetic variation: 0E
2.19.2 ILS Identification: PJL
2.19.5 Coordinates: 44-53-39.694N / 93-13-25.8963W
2.19.6 Site Elevation: 845.3 ft
2.19.1 ILS Type: Localizer for runway 12L. Magnetic variation: 0E
2.19.2 ILS Identification: PJL
2.19.5 Coordinates: 44-52-50.3312N / 93-11-33.2418W
2.19.6 Site Elevation: 813 ft
2.19.1 ILS Type: DME for runway 30R. Magnetic variation: 0E
2.19.2 ILS Identification: INN
2.19.5 Coordinates: 44-53-3.674N / 93-11-48.8687W
2.19.6 Site Elevation: 824 ft
2.19.1 ILS Type: Glide Slope for runway 30R. Magnetic variation: 0E
2.19.2 ILS Identification: INN
2.19.5 Coordinates: 44-53-3.4471N / 93-11-48.8472W
2.19.6 Site Elevation: 813.2 ft
2.19.1 ILS Type: Localizer for runway 30R. Magnetic variation: 0E
2.19.2 ILS Identification: INN
2.19.5 Coordinates: 44-53-40.841N / 93-13-29.92W
2.19.6 Site Elevation: 843.1 ft
2.19.1 ILS Type: DME for runway 12R. Magnetic variation: 0E
2.19.2 ILS Identification: HKZ
2.19.5 Coordinates: 44-52-26.9244N / 93-12-20.5476W
2.19.6 Site Elevation: 825.4 ft
2.19.1 ILS Type: Glide Slope for runway 12R. Magnetic variation: 0E
2.19.2 ILS Identification: HKZ
2.19.5 Coordinates: 44-53-7.28N / 93-13-53.62W
2.19.6 Site Elevation: 835.1 ft
2.19.1 ILS Type: Inner Marker for runway 12R. Magnetic variation: 0E
2.19.2 ILS Identification: HKZ
2.19.5 Coordinates: 44-53-20.8698N / 93-14-12.7019W
2.19.6 Site Elevation: 840 ft
2.19.1 ILS Type: Localizer for runway 12R. Magnetic variation: 0E
2.19.2 ILS Identification: HKZ
2.19.5 Coordinates: 44-52-20.3796N / 93-11-54.3455W
2.19.6 Site Elevation: 812.8 ft
2.19.1 ILS Type: DME for runway 30L. Magnetic variation: 0E
2.19.2 ILS Identification: MSP
2.19.5 Coordinates: 44-52-26.9244N / 93-12-20.5476W
2.19.6 Site Elevation: 825.4 ft
2.19.1 ILS Type: Glide Slope for runway 30L. Magnetic variation: 0E
2.19.2 ILS Identification: MSP
2.19.5 Coordinates: 44-52-27.0021N / 93-12-20.2067W
2.19.6 Site Elevation: 812.1 ft
2.19.1 ILS Type: Inner Marker for runway 30L. Magnetic variation: 0E
2.19.2 ILS Identification: MSP
2.19.5 Coordinates: 44-52-19.4377N / 93-11-52.1826W
2.19.6 Site Elevation: 808.1 ft
2.19.1 ILS Type: Localizer for runway 30L. Magnetic variation: 0E
2.19.2 ILS Identification: MSP
2.19.5 Coordinates: 44-53-22.4589N / 93-14-17.688W
2.19.6 Site Elevation: 840 ft
2.19.1 ILS Type: DME for runway 17. Magnetic variation: 0E
2.19.2 ILS Identification: TJZ
2.19.5 Coordinates: 44-53-24.6166N / 93-14-38.0356W
2.19.6 Site Elevation: 832.5 ft
2.19.1 ILS Type: Localizer for runway 17. Magnetic variation: 0E
2.19.2 ILS Identification: TJZ
2.19.5 Coordinates: 44-51-48.4327N / 93-14-9.3727W
2.19.6 Site Elevation: 830.4 ft
2.19.1 ILS Type: DME for runway 35. Magnetic variation: 0E
2.19.2 ILS Identification: BMA
2.19.5 Coordinates: 44-53-24.6166N / 93-14-38.0356W
2.19.6 Site Elevation: 832.5 ft
2.19.1 ILS Type: Glide Slope for runway 35. Magnetic variation: 0E
2.19.2 ILS Identification: BMA
2.19.5 Coordinates: 44-52-7.7086N / 93-14-20.1127W
2.19.6 Site Elevation: 829.9 ft
2.19.1 ILS Type: Inner Marker for runway 35. Magnetic variation: 0E
2.19.2 ILS Identification: BMA
2.19.5 Coordinates: 44-51-49.9075N / 93-14-9.7433W
2.19.6 Site Elevation: 832.6 ft
2.19.1 ILS Type: Localizer for runway 35. Magnetic variation: 0E
2.19.2 ILS Identification: BMA
2.19.5 Coordinates: 44-53-25.7158N / 93-14-34.6512W
2.19.6 Site Elevation: 845.3 ft
2.19.1 Navigation Aid Type: VOR/DME. Magnetic variation: 2E
2.19.2 Navigation Aid Identification: MSP
2.19.5 Coordinates: 44-53-47.3958N / 93-14-11.5137W
2.19.6 Site Elevation: 831.6 ft
General Remarks:
NOISE ABATEMENT PROCEDURES - 612-726-9411. NO STAGE 1 CAT CIVIL ACFT. NIGHT HR 2230-0600.
TRNG FLTS PROHIBITED. GA FLTS MUST TRMT AT THE FBO OR US CUSTOMS UNLESS APVD BY AMGR.
MILITARY RSTD: NO HAZ CL/DIV1.1 OR 1.2 EXPLOSIVES PERMITTED. LOADING OR UNLOADING OF HAZ CL/DIV 1.3, 1.4, 1.5 0R 1.6 MUST BE APV BY ARPT DRCT PRIOR TO FLT.
MILITARY: ARFC 934 AW OPS 1300-0400Z++ MON-FRI; CLSD WKEND AND HOL. UNIT TRNG ASSEMBLY WKEND 1330-2200Z++. ALL TRANS ACFT MUST RECEIVE PPR 48 HR PRIOR TO ETA - CTC AIRFIELD MGMT.
ASDE-X IN USE; OPR TRANSPONDERS WITH ALT RPRT MODE & ADS-B ENABLED ON ALL ARPT SFCS.
RWY STATUS LGTS IN OPRN.
TWY J CLSD TO ACFT WINGSPAN MORE THAN 85.5 FT.
133 AW AFLD MGMT - 324.1 REMARKS: CALL LIGHTHOUSE.
UNSKED ACFT AT TRML 2-HUMPHREY REQ TO CTC TRML 2 GATE CONTROL ON 122.95 OR CALL 612-726-5742 PRIOR TO ARR.
SIGNATURE FLIGHT SUPPORT 128.95
COMMUNICATIONS: MINNEAPOLIS AIR RESERVE STATION JOINT COMD POST - 252.1 REMARKS: CALL NORTHSTAR.
REMARKS: AFRC 934 AW CTC PTD VIKING OPS 20 MIN PRIOR LDG.
ALL GROUP VI ACFT WITH WINGSPAN GREATER THAN 214 FT PPR REQ PRIOR TO ARR - CTC AIRSIDE OPS 612-726-5111.
934 AW AFLD MGMT - PTD 282.675 REMARKS: CALL VIKING OPS.
BIRDS ON & INVOF ARPT.
ALL GA ACFT WITH LESS THAN 20 PAX THAT NEED TO CLEAR US CUSTOMS SHOULD CTC SIGNATURE FLT SUPPORT 128.95 OR 612-726-5700 PRIOR TO ARR.