North Mariana Islands
North Mariana Islands, Saipan Island
Francisco C. Ada/Saipan International


ICAO

Identifier PGSN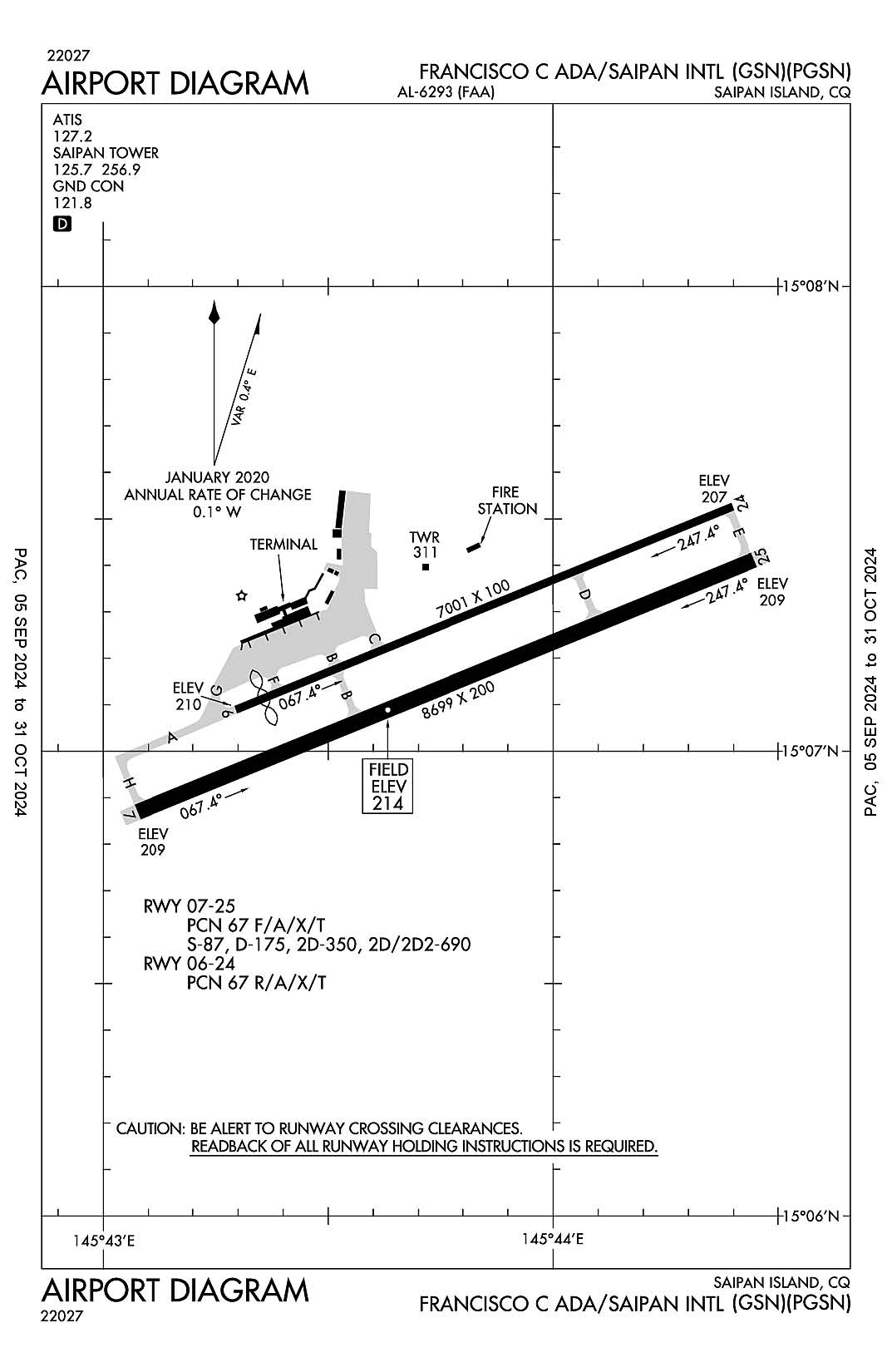 Saipan Island, CQ
Francisco C. Ada/Saipan Intl
ICAO Identifier PGSN
AD 2.2 Aerodrome geographical and administrative data
2.2.1 Reference Point: 15-7-12.895N / 145-43-47.951E
2.2.2 From City: 4 miles SW of SAIPAN ISLAND, MP
2.2.3 Elevation: 214 ft
2.2.5 Magnetic Variation: 2E (1985)
2.2.6 Airport Contact: CHRISTOPHER S. TENORIO
PO BOX 501055
SAIPAN, MP 96950 (670-285-2504)
2.2.7 Traffic: IFR/VFR
AD 2.3 Attendance Schedule
2.3.1 All Months, All Days, All Hours
AD 2.4 Handling Services and Facilities
2.4.1 Cargo Handling Facilities: YES
2.4.2 Fuel Types: 100,100LL, A1+
2.4.5 Hangar Space:
2.4.6 Repair Facilities: NONE
AD 2.6 Rescue and Firefighting Services
2.6.1 Aerodrome Category for Firefighting: ARFF Index I D certified on 1/1/1978
AD 2.12 Runway Physical Characteristics
2.12.1 Designation: 06
2.12.2 True Bearing: 68
2.12.3 Dimensions: 7001 ft x 100 ft
2.12.4 PCN: 67 R/A/X/T
2.12.5 Coordinates: 15-7-5.3655N / 145-43-17.7212E
2.12.6 Threshold Elevation: 209.8 ft
2.12.6 Touchdown Zone Elevation: 212.7 ft
2.12.1 Designation: 24
2.12.2 True Bearing: 248
2.12.3 Dimensions: 7001 ft x 100 ft
2.12.4 PCN: 67 R/A/X/T
2.12.5 Coordinates: 15-7-31.5859N / 145-44-23.8908E
2.12.6 Threshold Elevation: 206.5 ft
2.12.6 Touchdown Zone Elevation: 206.8 ft
2.12.1 Designation: 07
2.12.2 True Bearing: 68
2.12.3 Dimensions: 8699 ft x 200 ft
2.12.4 PCN: 67 F/A/X/T
2.12.5 Coordinates: 15-6-52.1086N / 145-43-4.5454E
2.12.6 Threshold Elevation: 209 ft
2.12.6 Touchdown Zone Elevation: 214 ft
2.12.1 Designation: 25
2.12.2 True Bearing: 248
2.12.3 Dimensions: 8699 ft x 200 ft
2.12.4 PCN: 67 F/A/X/T
2.12.5 Coordinates: 15-7-24.6959N / 145-44-26.7638E
2.12.6 Threshold Elevation: 209 ft
2.12.6 Touchdown Zone Elevation: 209 ft
AD 2.13 Declared Distances
2.13.1 Designation: 06
2.13.2 Take-off Run Available: 7000 ft
2.13.3 Take-off Distance Available: 6800 ft
2.13.4 Accelerate-Stop Distance Available: 6645 ft
2.13.5 Landing Distance Available: ft
2.13.1 Designation: 24
2.13.2 Take-off Run Available: 6400 ft
2.13.3 Take-off Distance Available: 7000 ft
2.13.4 Accelerate-Stop Distance Available: 6302 ft
2.13.5 Landing Distance Available: ft
2.13.1 Designation: 07
2.13.2 Take-off Run Available: 8699 ft
2.13.3 Take-off Distance Available: 8669 ft
2.13.4 Accelerate-Stop Distance Available: 8664 ft
2.13.5 Landing Distance Available: 8010 ft
2.13.1 Designation: 25
2.13.2 Take-off Run Available: 8699 ft
2.13.3 Take-off Distance Available: 8699 ft
2.13.4 Accelerate-Stop Distance Available: 8045 ft
2.13.5 Landing Distance Available: 8010 ft
AD 2.14 Approach and Runway Lighting
2.14.1 Designation: 06
2.14.2 Approach Lighting System:
2.14.4 Visual Approach Slope Indicator System: PSIL
2.14.1 Designation: 24
2.14.2 Approach Lighting System:
2.14.4 Visual Approach Slope Indicator System: PSIL
2.14.1 Designation: 07
2.14.2 Approach Lighting System: MALSR
2.14.4 Visual Approach Slope Indicator System: PSIL
2.14.1 Designation: 25
2.14.2 Approach Lighting System:
2.14.4 Visual Approach Slope Indicator System: P4L
AD 2.18 Air Traffic Services Communication Facilities
AD 2.19 Radio Navigation and Landing Aids
2.19.1 ILS Type: DME for runway 07. Magnetic variation: 2E
2.19.2 ILS Identification: GSN
2.19.5 Coordinates: 15-7-30.4581N / 145-44-34.0368E
2.19.6 Site Elevation: 211.1 ft
2.19.1 ILS Type: Glide Slope for runway 07. Magnetic variation: 2E
2.19.2 ILS Identification: GSN
2.19.5 Coordinates: 15-6-58.6872N / 145-43-13.0288E
2.19.6 Site Elevation: 206.5 ft
2.19.1 ILS Type: Localizer for runway 07. Magnetic variation: 2E
2.19.2 ILS Identification: GSN
2.19.5 Coordinates: 15-7-28.4649N / 145-44-36.3028E
2.19.6 Site Elevation: 205.8 ft
General Remarks:
FOR ARPT SECURITY CALL (670) 237-6529.
RWY 06/24 OPEN FOR TAXIING ONLY (NOT AVBL FOR LDG AND TKOF). OPEN FOR LDG AND TKOF WHEN RWY 7/25 CLSD.
PPR FM EXECUTIVE DIRECTOR COMMONWEALTH PORTS AUTHORITY SAIPAN CALL (670) 237-6500 MON-FRI 0730-1630 OTHER TIMES CALL (670) 237-6535.
IMMIGRATION & CUSTOMS AVBL DURG SCHEDULED OPNS. OTHER TIMES PRIOR ARRANGEMENTS MUST BE MADE WITH CBP PORT DIRECTOR CALL (670)288-0025/26.